Sports Shorts features the latest news in high school sports brought to you by Varsity Networks, the destination for high school sports media.
FOOTBALL: Rye Defeats Greeley 26-7
Rye, NY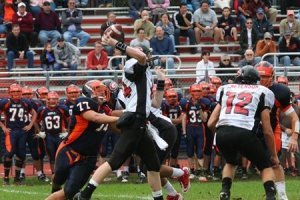 Rye won the game 26-7, riding the dynamic duo of RB's Joe Simolacaj and Jake Meyerson. Simolajac ran for 60 yards and two touchdowns, while Meyerson rushed for 97 yards. Freshman QB Andrew Livingston looked poised throughout the game, and connected with a nine-yard pass to WR Dylan Lynch to put Rye in the lead for good.
The Rye defense was outstanding throughout the entire game, limiting all section QB Justin Ciero to only 31 yards rushing on 17 carries while only allowing seven points.
The Garnets will look to get their second win when they take on Roosevelt HS on October 6 at 4 p.m.
SOCCER: Varsity Ties Platt 2-2 in Fourth Double Overtime Game Of The Season
Middletown, CT
After falling behind early 1-0, Rajeen Mayo picked the pocket of Platt's excellent sweeper and then find the back of the net with a beautiful shot. The Dragons continued to pressure our opponents and with 20 minutes left Ava Delmastro put MHS up 2-1, but Platt scored an incredible goal with only 13 seconds left in regulation to tie things up and the game finished 2-2.
Defensively, the team received excellent play from many players including Aaliyah Ahmad, Erin Gardell, Amber Drew, and Denese Samules while up fron Heather Cardoza, Kellie Gambell, and Mikaela Coady all provided offensive punch.
The team returns to play this Tuesday with a 7 p.m. home game against Bulkeley.
GOLF: Christoff and Grumley Qualify for PIAA West Regional
Johnsonburg, PA
Johnsonburg's Calvin Christoff and Cameron Grumley have qualified for the Regional Golf Tournament at Tom's Run in Blairsville. On Saturday, Calvin and Cameron competed in Round 2 of the District 9 Championships at a rainy and cold Pine Acres Country Club in Bradford. The top six golfers in the district championship advance to the regional golf tournament.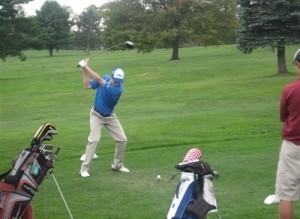 Christoff, who was tied for third at the start of the second round, fired an 85 to finish T-3. Grumley, outside of the top six at the start of the second round, carded a solid 81 to finish the championship in a tie for fifth place. Due to their great play over the two rounds of the Championship, both golfers have earned a spot at the PIAA West Regional. Congratulations and Good Luck!
Luke Shreffler, who also competed in the second round, shot a 92 in tough scoring conditions to finish 18th in the district.
FOOTBALL: Milk Can Stays At Chino
Chino, CA
Chino took the openning kickoff and drove to the Lugo 12 yard line and was forced to kick a field goal. The Cowboys then blocked a Don Lugo field goal attempt and ran the ball back to the Lugo 6 yard line where Xavier Brown scored. At half time Chino held a 9-0 lead. Don Lugo then drove the length of the field and scored a touch down on a four yard run. Chino then struck right back with a reverse that went 75 yards for touchdown. Chino went for two and failed.
Chino struggled on offense and played well on defense. Chino moves to 4-1 on the season and Lugo is now 3-2. Chino is 1-0 in the Mt Baldy League and Don Lugo is 0-1. Up next for the Cowboys is a trip to Chaffey friday night.
FOOTBALL: "Trinity Rallies To Beat West Mifflin 22-13" (Washington, PA)
FOOTBALL: "Laguna Hills Pulls Out Fourth Quarter Victory To Stay Undefeated" (Laguna Hills, CA)
FOLLOW HUFFPOST