The New Yorker Festival 2011: 'Arrested Development' Cast, Jonathan Franzen, Steve Martin, St. Vincent And More
The New Yorker put cultural figures from across the spectrum in the hot seat this past weekend for their whirlwind festival, playing to intimate crowds from Friday through Sunday. Guests ranged from Steve Martin and Jonathan Franzen to St. Vincent and the "Arrested Development" cast reunion. The Huffington Post attended a smattering of events and compiled the tidbits that inspired us, and more frequently, made us laugh. Read on for the best moments from the festival.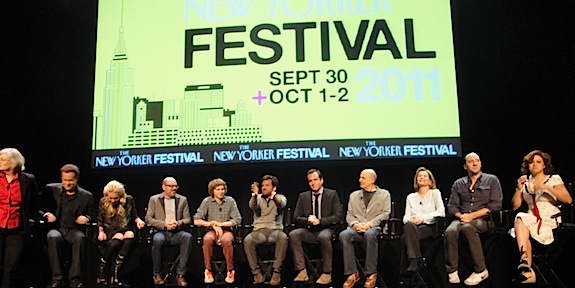 Gazelle Emami/The Huffington Post
The 'Arrested Development' Reunion
It's not surprising that "Arrested Development" was originally meant to be a heavily improvised show. The cast's sharp tongues began flying early into the talk, moderated by Nancy Franklin, TV critic for The New Yorker. The entire cast was present Sunday -- Will Arnett, Jason Bateman, Michael Cera, David Cross, Portia de Rossi, Tony Hale, Alia Shawkat, Jeffrey Tambor, Jessica Walter, creator Mitchell Hurwitz, and narrator Ron Howard by phone -- for their first reunion since the series wrap party in 2005.
The big news out of the talk was what fans had been waiting to hear... sort of. There will indeed be a movie, and better yet, another season of "Arrested Development" to set up the film. That is, if the business/studio end of things line up. In a way, we're still in the same place we were before, with business as the only obstacle to getting this done. But the news of a series run-up to the film is enough to make the biggest pessimist hopeful. Big news aside, the group spent the bulk of the evening reminiscing about their early days with the show.

- Gazelle Emami
Nancy Franklin on the audience not taking photos or using flash:
"We will be doing it, for money, outside," Jeffrey Tambor deadpanned.
"And other kinds of flashing is OK," David Cross chimed in.
On The Movie:
"We're 80 percent of the way to an answer. We don't completely own the property, there are business people involved and studios. But just creatively, I have been working on the screenplay for a long time." - Mitch Hurwitz
"We're trying to do a limited run series into the movie… A limited run TV series. We're hoping to do nine or 10 episodes, with one character per episode, where the first character would just be Buster." - Hurwitz

On a possible scenario for Buster's episode:
The scene opens with a group of scientists in lab coats waiting for somebody. Buster comes through the doors wearing a white lab coat, and they say, "well you don't get to wear the lab coat. We're experimenting on you." From there, we meet the people in Buster's life, including his therapist, Dr. Tobias Funke. By the end of the episode, we would reach a "point of peril" in Buster's life, and then jump over to say Maebe (Shawkat), who is living with Cornel West. - Hurwitz
On Jeffrey Tambor setting the tone for the show from the very first line he spoke:
"Jeffrey wasn't even a regular at that point," Hurwitz said.
"I had a bowel movement if that's what you mean," Tambor quipped.
On getting the first script:
"There was a cover letter that came with the script that said… maybe it was just sent to me," de Rossi said. "That said, pretty much, no diva-type behavior, we're gonna not really have fancy trailers. I remember reading that and thinking, what am I getting myself into."
On Maebe's first kiss with George Michael:
It was her real-life first kiss, too.
Buster's feelings on the element of surprise:
"By the way, you know, a seal's gonna bite your hand," Hale said dryly. "By the way, Liza Minnelli is going to be your girlfriend."
On how much got cut:
"I made it a mission to not cut scenes, but to cut lots of little things inside scenes. Like a phone never rings for more than half a ring and no one ever crosses a room." - Hurwitz
On Amy Poehler's guest-starring role:
"There's a scene where my real wife came, and, played the wife of my character, and, she's no longer with us," Will Arnett said, with unintentionally morbid implications (which the crowd laughed at anyways).
"No!" he said quickly, realizing his mistake. "No, she's not in New York!"
He continued, saying that Poehler's part had ended before it resolved her role in the plot. So Arnett took it to the writers, and in an hour's time, they had written out an entire new scene for her on a napkin.
On rumors of Michael Cera being the holdout standing in the way of a movie:
"I thought it would be funny [to put that out there]… but it really turned ugly. For those of you have been following this saga, Michael's been great and he's always been game." - Hurwitz
On why the show got cancelled:
"This was in the advent of the DVR and everyone was able to pause stuff. This was before they started monitoring these views." - Jason Bateman
"It was also a year before they started counting college campuses." - Hurwitz
On Bateman as the "normal one":
"If we had not had him to play off of -- we were the satellite around him -- it wouldn't have worked. With a lesser person it would not have worked." - Jessica Walker
On their models in comedy:
"I love so many models." - Arnett
Final words:
"This is the first time that we've all been together, and as we all stood there waiting to come out and we were all talking to each other [pause]. This means a lot to us, too, so thank you." - Arnett
Final dance:
The chicken dance.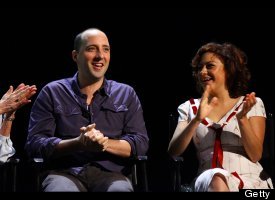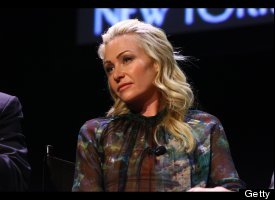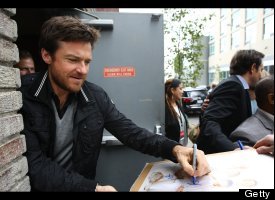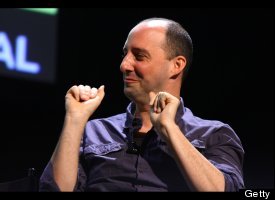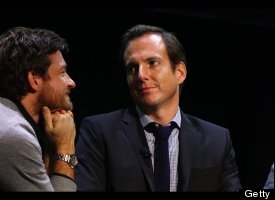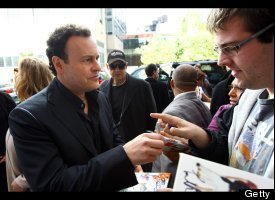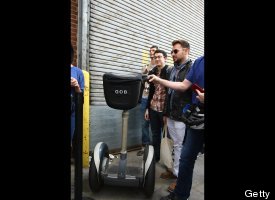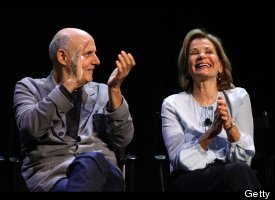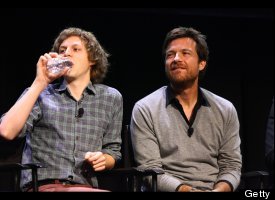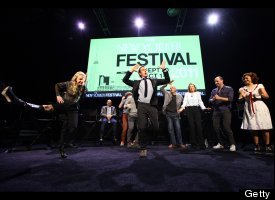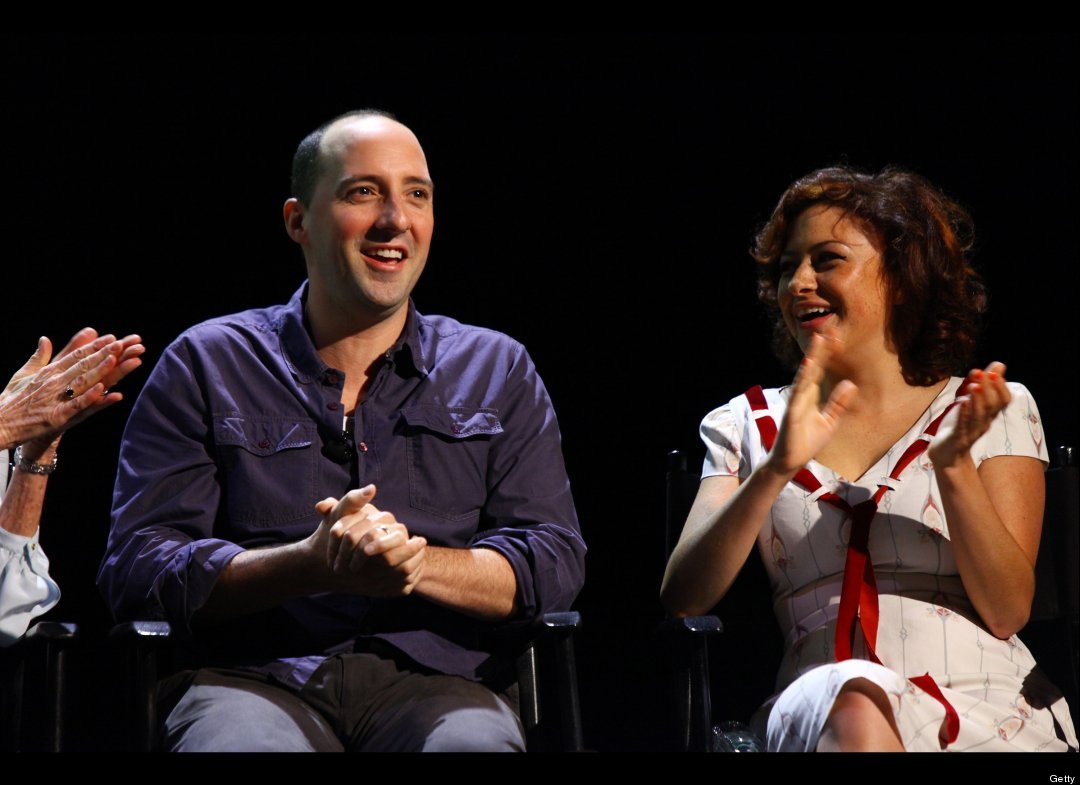 >Up Next: Jonathan Franzen, Jhumpa Lahiri and Nicole Krauss