Afghanistan: Security Situation Alarming According To ICRC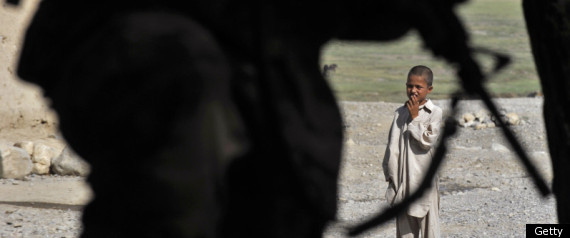 KABUL, Afghanistan (AP) -- The International Committee of the Red Cross said Tuesday that deteriorating security in Afghanistan has impeded access to medical care, driving it to critically low levels in some areas of the country after nearly a decade of war.

"Despite improvements in the quality of life for certain sectors of the population over the past decade, the security situation in many areas of the country remains alarming," said Jacques de Maio, the ICRC's head of operations for South Asia. "Access to medical care is at a critically low point in conflict-affected areas, with local clinics closed in some places because of fighting, attacks on premises, or intimidation of staff."
Although the ICRC did not name the hardest affected areas, instability and violence continue throughout Afghanistan as the conflict passes the 10-year mark this week.
A recent U.N. report said that the monthly average number of clashes and other attacks was running nearly 40 percent higher than the same time last year.
In the midyear report, the U.N. said 1,462 Afghan civilians lost their lives in crossfire between Taliban insurgents and Afghan, U.S. and NATO forces. During the first half of last year, 1,271 Afghan civilians were killed, mostly by roadside bombs.
That U.N. report said airstrikes conducted by the U.S.-led coalition remained the leading cause of civilian deaths. In the first six months of this year, 79 civilian deaths were attributed to air strikes -- up 14 percent from the same period last year, the U.N. report said.
"Many communities in rural areas feel vulnerable as never before," the ICRC said. "Conflict-related displacement is up over 40 percent in comparison to last year in parts of the north."
The ICRC said that even residents in the central regional regions of Logar and Wardak provinces, near the capital, no longer feel safe, although these areas were considered relatively safe as little as two years ago. The situation has deteriorated so much in both provinces that travel after dark is not safe. Wardak was also the province where the Taliban shot down a U.S. helicopter in August that killed 30 American troops, most of them elite Navy SEALs. Last month a powerful truck bomb outside a coalition base in Wardak wounded 77 U.S. soldiers.
The ICRC said residents in Logar and Wardak "are being intimidated and coerced by all parties into taking sides."
"All they actually want to do is to keep out of harm's way," de Maio said.
In other developments, NATO said one of its service members died from a roadside bomb in eastern Afghanistan. Another died Monday of a non-battle related injury. No other details were provided. So far this year, 457 international troops have been killed in Afghanistan.
In the south, where the Taliban is strongest, an Afghan policeman and two children were killed Monday evening when a bomb exploded near where police draw water, said Samunwal Bacha Khan, police chief in the Shah Wali Kot district of Kandahar province. Two other policemen and eight children playing near the water were wounded, he said.
The U.S.-led coalition has had some military success in the south, but for many Afghans freedom of movement is also tied to security. Hassle-free travel from one end of Afghanistan to the other is no longer possible. Last week, NATO said that its statistics show that insurgent attacks in the first eight months of the year were down 2 percent compared with the same period last year.
___
Associated Press Writer Mirwais Khan in Kandahar contributed to this report.
Afghanistan and Pakistan have long been uneasy allies against the Taliban insurgency, and relations have become increasingly strained since the death of Rabbani, who was appointed by the government to try to broker peace with the Taliban. A host of Afghan officials have publicly accused Pakistan and its spy agency of supporting the militants behind the slaying.
Pakistan's government said it was cooperating and denied involvement in the Sept. 20 killing.
"Prime Minister (Reza Yousuf) Gilani had offered cooperation in the investigation into professor Rabbani's assassination during his visit to Kabul," said Pakistani Foreign Ministry spokeswoman Tehmina Janjua. "Pakistan stands by this commitment."
The assassin gained entry to Rabbani's home by claiming to be a peace emissary from the Taliban's governing council, which is based in Pakistan. As he neared Rabbani he detonated explosives that were hidden inside his turban.
Speaking to reporters, Zia said the sophistication of the bomb pointed to a link with Pakistan.
He said the commission was also basing its accusations of Pakistani involvement on the confession of the suspected mastermind, Hamidullah Akundzadeh, an Afghan who was arrested 18 hours after Rabbani was assassinated.
The intelligence service says the bomber was a Pakistani man named Esmatullah.
"Why are we claiming Pakistan government is behind this attack? Because the explosive that was in that hat was not the idea of a few Taliban leaders," Zia said. "It was a very sophisticated device inside that hat."
He said that just one hour before his news conference the Pakistani government delivered a message through its embassy informing "us that they are not ready to cooperate with us."
He added that their explanation suggested Pakistan was upset with remarks about the case that Afghan officials had made to the media.
"Now we have to go to the U.N. for help," he said.
Zia stopped short of directly accusing Pakistani intelligence authorities of being behind the explosive device, but Afghan Interior Minister Bismullah Khan Mohammadi said Oct. 1 in an Afghan parliamentary session that the ISI was involved in the killing.
Zia said that according to Akundzadeh's confession, the plan to assassinate Rabbani was hatched six months ago and that he was targeted for being both a high-ranking official and the head of the peace council.
He alleged that the Pakistani agency knew about the attack, which he said also had the involvement of the Quetta Shura, the ruling council of the Taliban that is based in the southern Pakistani city of the same name.
"They have the full support of the Pakistan government," he said.
Pakistan denied the allegation last Sunday, calling it "baseless." It said the evidence given to Pakistan consisted solely of the confession of Akundzadeh.
"Instead of making such irresponsible statements, those in positions of authority in Kabul should seriously deliberate as to why all those Afghans who are favorably disposed toward peace and toward Pakistan are systematically being removed from the scene and killed," said Pakistan's Foreign Ministry in a written statement issued on Sunday.
Karzai has not openly blamed Pakistan for the killing, but has said they have not done enough for peace.
"Regretfully, the Islamic Republic of Pakistan did not cooperate with Afghanistan to bring peace and security. We hope is that Pakistan government understands it's in people's interest to assist both countries in bringing peace and stability," Karzai said in a nationally televised address on Monday.