UFO hunters are now turning to an Obama administration initiative in the hopes of revealing what the government really knows about extraterrestrials.
Under the White House's "We the People" program, citizens can appeal to officials "to take action on a range of important issues facing our country."
"If a petition gets enough support," the government website promises, "White House staff will review it, ensure it's sent to the appropriate policy experts and issue an official response."
Gentlemen, start your intergalactic engines . . .
WATCH THIS OFFICIAL WHITE HOUSE PETITION PROMO:
By "enough support," the administration means a petition has to receive just 5,000 signatures within 30 days to warrant an official White House response. That's a low enough threshold to get a lot of conspiracy theorists licking their suspicious chops.
As soon as the White House announced its We the People program, UFO/ET proponent Stephen Bassett wasted no time penning the first alien disclosure petition which reads:
We, the undersigned, strongly urge the president of the United States to formally acknowledge an extraterrestrial presence engaging the human race and immediately release into the public domain all files from all agencies and military services relevant to this phenomenon.
Bassett is executive director of Paradigm Research Group which advocates for the truth about UFOs.
"In 1996, when I launched the Paradigm Research Group, I registered as a lobbyist on behalf of a number of organizations on this particular subject -- the idea of total disclosure of an ET presence on Earth by the world governments," Bassett told The Huffington Post.
"Everything PRG does, including World Disclosure Day -- all of it contributes to this process."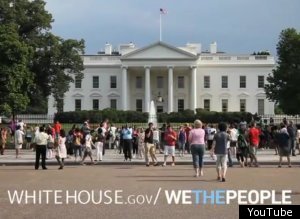 And now the die is cast, because within just four days of Bassett's petition being registered, it amassed more than the necessary 5,000 signatures to warrant an official White House response.
And that just delighted arch UFO skeptic Robert Sheaffer. "Well, now we've got something to look forward to!" he said sarcastically.
"It would be one thing if what it were asking is, 'Please reveal all that you know about extraterrestrials.' But this wording pre-supposes that the contact is already going on," Sheaffer told HuffPost. "It doesn't allow the possibility that there isn't an extraterrestrial presence already engaging the human race."
Sheaffer, author of the new book, "Psychic Vibrations," suggests President Obama made a mistake by offering to respond to any petition with a relatively modest number of signatures, "because there's no shortage of bizarre and marginal groups and beliefs that can raise 5,000 signatures."
As Alejandro Rojas pointed out in his recent HuffPost blog, there are examples of prior American presidents -- such as Bill Clinton and Jimmy Carter -- who tried to obtain information about UFOs. Even John F. Kennedy asked his staff to provide him with UFO materials.
So now, both alien believers and skeptics are playing a mutual waiting game as they anticipate someone at 1600 Pennsylvania Ave. in Washington to tell us who's right.
"The response from the White House could be utterly trivial," said Bassett. "They could just blow it off by saying something like, 'Our policy is that we don't investigate this phenomenon anymore' -- which is a lie -- 'and whatever this phenomenon is, it doesn't pose a threat' -- which they don't know for sure."
And a White House spokesman told HuffPost, "It's not going to be practical for us to start commenting on each individual petition ahead of their getting officlal responses."
But when that official response about extraterrestrials on Earth comes -- as it must -- will you believe it?
CHECK OUT THE FOLLOWING UFO ITEMS:
This cigar-shaped UFO was photographed by general aviation pilot David Hastings as he piloted a Cessna Skymaster plane over the Mojave Desert on Sept. 9, 1985. There has never been an indication of hoax in this case, which remains unexplained to this day.

An unidentified flying object was photographed by a government employee over the Holloman Air Development Center in New Mexico in 1964. Conspiracy theorists have claimed the photo is proof that the U.S. government has been in contact with aliens.

While descending an Austrian mountain in 1954, photographer Erich Kaiser captured an image of what he called mysterious silvery-white flying objects.

Mexican Air Force pilots filmed strange, brightly lit objects that moved quickly in the skies on March 5, 2004. Some scientists said the phenomenon could have been caused by gases in the atmosphere.

America's most infamous UFO case centers in Roswell, N.M. Some people claimed an alien spacecraft crashed there in 1947; the military said it was a weather balloon.

The Air Force issued "The Roswell Report" in 1997. Countering claims that aliens were recovered at the New Mexico site, the report said military officials picked up 200-pound dummies, above, that were used in an experiment.

Video grab close up. What looks like an alien creature with visible head, neck, arms and body standing in the Brazilian rainforest in Manaus, Brazil. In this Amaz-alien footage, a lone unidentified being appears to stand in the jungle of Brazil -- even arching its back -- just feet away from a bright flashing blue light. In what some allege as proof that Earth is being visited by aliens from another planet, the video was obtained by paranormal writer Mike Cohen who says the video was taken by two British tourists visiting the Manaus region of the Amazon jungle.

A large circle and geometric pattern local residents say were created by a UFO appeared in a rice field in Krasakan hamlet in Sleman, Yogyakarta, on the morning of Jan. 23, 2011.

Stan Romanek claimed that this still image from a three-minute video he shot in 2003 shows an alien looking into his home in Nebraska. In the film, a strange face appears to be popping up and down outside Romanek's window.

This eyewitness drawing of an alleged UFO sighting is in one of 19 once-secret files posted to the British National Archives website. The files cover sightings reported between 1986 and 1992. Although many of the reports were debunked, some remain unexplained.

An investigator in 1989 measures markings that some said were left behind by a UFO in Normandy, France. France began releasing its "X-Files" on UFO sightings in 2007.

President Jimmy Carter, shown here in 1971, reported that he saw a UFO above Leary, Ga., in 1969. He filed a report about the sighting to the International UFO Bureau in 1973.

Astronaut Gordon Cooper, who piloted Mercury and Gemini space missions in the 1960s, once said he saw a "typical saucer shape, double-cylindrical shape, metallic" UFO. He was also outspoken on the idea that some UFOs were interplanetary vehicles visiting Earth.