New Trade Deal Would Benefit Big Pharma At AIDS Programs' Expense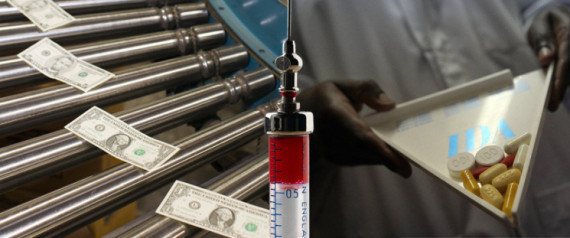 The strict patent protections in the leaked draft of the Trans-Pacific negotiations come as no surprise to many public health advocates, who point to tight connections between the Obama administration, including USTR, and the pharmaceutical industry.
While doctors and nonprofits have been denied access to key documents and details of the negotiations, corporate executives and lobbyists -- including the top lobbyist at Abbott -- have been permitted to review key texts in the trade pact thanks to their positions on U.S. trade advisory boards.
The Industry Trade Advisory Committee on Chemicals, Pharmaceuticals, Health/Science Products and Services , which provides USTR with input on medical issues, features representatives from three Big Pharma companies, as well as two chemical firms and seven medical technology companies. Another consultative group, the Industry Trade Advisory Committee on Intellectual Property Rights, includes representatives from drug giant Johnson & Johnson, as well as the drug industry lobbying groups PhrMA and BIO. A representative from the U.S.-China Business Council, an umbrella group that includes Abbott and heavyweights Merck and Pfizer, is also on the board.
"The issues under consideration could have dramatic impacts on public health systems across the developing world," says Malpani of Oxfam. "The lack of transparency has prevented public health and public interest groups from ensuring that the United States adopts a balanced approach towards intellectual property and access-to-medicines issues."
But public health groups don't point just to those advisory boards. Stanford McCoy, USTR's top trade negotiator for intellectual property, lobbied on intellectual property at the influential D.C. law firm Covington & Burling before moving to USTR in 2006. His top deputy, Kira Alvarez, was a lobbyist for the drug company Eli Lilly before joining the agency.
Then there's William Daley, President Barack Obama's chief of staff, who was on Abbott's board until he took his current role at the beginning of this year and who has, as The Huffington Post reported, a long history of supporting corporate patent rights on critical AIDS medicines.
Daley served on Abbott's board in 2007 when Thailand decided to import a generic version of Kaletra after its government declared AIDS a public health emergency. Though Thailand was acting within its rights under WTO treaties, Abbott withdrew applications for other life-saving medications in the country -- including the heat-stabilized version of Kaletra coveted by public health advocates -- in an effort to pressure Thailand into reversing its decision, a move that drew international criticism.
Abbott spokesman Dirk Van Eeden declined to comment on the Abbott board's activities surrounding the Thailand event, but says, "The patent system allowed the development of the medicines doctors and patients rely on today and makes it possible for scientists to develop the medicines people will need in the future."
An Obama administration spokesperson, who would only speak on the condition of anonymity, says Daley is not involved in official Trans-Pacific negotiations. But Daley has been lobbied on the trade pact by both the U.S. Chamber of Commerce and Senate Majority Leader Harry Reid (D-Nev.), suggesting he is playing at least an informal role in the negotiations.
The USTR spokesperson tells HuffPost that "the transparency and inclusiveness of these negotiations are unprecedented" and says the agency has reached out to several public health advocates for comment on the agreement.
The trouble is, USTR has asked for comment on documents that it bans public health professionals from actually viewing.
"It's pretty insulting for USTR to claim these negotiations are transparent," says Love, who notes that USTR has reached out to his group for comment. "As a practical matter, we can't offer much input unless we see the text or have someone at least explain what it says."
The USTR spokesperson declined to comment on the leaked proposal when asked by HuffPost. But the agency's secrecy is bewildering to public health advocates.
"The other countries can see the documents. The drug lobbyists can see the documents. Why can't we?" says Judit Rius Sanjuan, manager of Doctors Without Borders' Access to Essential Medicines campaign.
USTR also notes it released a "white paper" outlining its plans to ensure access to medicines for countries involved in the Trans-Pacific deal. But the white paper is scant on policy detail, instead laying out a series of goals. The publication of the white paper prompted immediate outrage from public health advocates, with Public Citizen's Maybarduke calling it "insulting" and "primarily window dressing." KEI's Love called it "a white wash." Doctors Without Borders' Sanjuan said, "USTR simply does not acknowledge that high priced brand-name drugs imposed by monopolies are a principal barrier to access to medicines."
"This is not an access plan, it's a clear subterfuge toward ensuring the Obama administration can continue to carry the water of Big Pharma," said Matthew Kavanaugh, director of U.S. advocacy for the Health Global Access Project (Health GAP), a nonprofit dedicated to expanding HIV treatment.
Left in the dark by the official channels of trade pact negotiations, public health groups must rely on documents illegally sent to them to stay informed. Much of the concern among Oxfam, Doctors Without Borders, Public Citizen and KEI stems from a leaked version of the trade pact's intellectual property chapter, posted online at KEI. The nonprofit groups would not disclose who leaked the draft, citing the need to protect their source, and USTR would not comment on the validity of the document.
* * * * *
If the draft's proposals pan out, the final deal would tighten patent laws, stymieing AIDS efforts in Vietnam and other Pacific nations. Over the past 10 years, as patents have expired on early HIV medications, market competition from generic drugs has driven prices down by roughly 99 percent, according to data compiled by Doctors Without Borders. Those lower prices have allowed more than 6 million people worldwide to access life-saving medication that would have been otherwise unaffordable.
Still, the high prices of new, patent-protected second-line HIV drugs remain a problem. Over time, most people infected with HIV will develop resistance to standard treatments and need the second-line drugs, according to the WHO, meaning demand for these drugs will only increase over time.
Further, older medications often come with severe side effects -- the federal government's report on Vietnam AIDS relief cites "severe anemia" as a common one. These older drugs are also less effective in developing nations, according to experts, because they need refrigeration, which is often not readily available, or have highly complex treatment schedules that either require regular laboratory access or prove hard to follow for people living on a few dollars a day without a consistent routine. Newer drugs, such as the heat-stabilized version of Kaletra prized by PEPFAR for its Vietnam efforts, could address many of these issues -- if they were affordable.
"We need the newer medicines, which are massively more expensive and more likely to be patented," says Health GAP's Kavanaugh. "As these new classes of medicines come onto the market, they could revolutionize HIV care. But if we change patent laws in places like Vietnam, they will never be affordable there."
Public health advocates say patent restrictions have also caused AIDS treatment gaps in the U.S. As prices fell dramatically for AIDS medicine globally over the last 10 years, prices for new HIV/AIDS drugs in the United States have jumped by 60 percent, according to data from the AIDS Healthcare Foundation -- in large part because of the restrictive patent system in the U.S.
Newer medications are more effective and come with fewer side effects, making them far preferable to older generic drugs. But the high prices on these critical new medications have sparked a funding shortage in the federal government's domestic AIDS relief program, forcing more than 9,000 low-income Americans onto waiting lists for HIV drugs. "The waiting lists are a national disgrace," says James Driscoll, a consultant to the AIDS Healthcare Foundation, a nonprofit dedicated to eradicating HIV.
Driscoll and other public health advocates emphasize that this waiting list exists in the world's richest country -- a sign that applying the same patent standards in developing countries could prove disastrous.
The Obama administration's efforts to restrict the ability of developing countries to access medication goes beyond HIV treatment: The standards currently being pushed by USTR in the trade deal would apply to all drugs, including vaccines and treatments for heart disease, cancer and other life-threatening illnesses.
But the effect the Trans-Pacific deal could have on AIDS treatment is particularly poignant, with the government spending millions on PEPFAR programs in Vietnam. Of the roughly 300,000 people estimated to be living with HIV in Vietnam, only 31,000 are receiving life-saving medication through PEPFAR. Just 30 percent of adults with "advanced HIV" in Vietnam are receiving drugs through all existing relief efforts, according to the most recent U.N. estimate.
Over the last 10 years, millions of people have received live-saving AIDS drugs because patents have expired. But if USTR succeeds in establishing new, more restrictive patent standards, that trend could stop, hindering efforts to close the still formidable global HIV treatment gap.
"This is about the White House protecting these companies, like Pfizer, Merck, Abbott and Bristol-Myers Squibb," says KEI's Love. "It's going to mean that either the U.S. pays more foreign aid, or we just let people die."
This story was updated to include information on USTR's access-to-medicines white paper.
Clarification: This story previously attributed data on the 60 percent increase in U.S. AIDS medication prices over the past decade to Doctors Without Borders. The data was compiled by the AIDS Healthcare Foundation.
Earlier on HuffPost:
RELATED:
Subscribe to the HuffPost Hill newsletter!