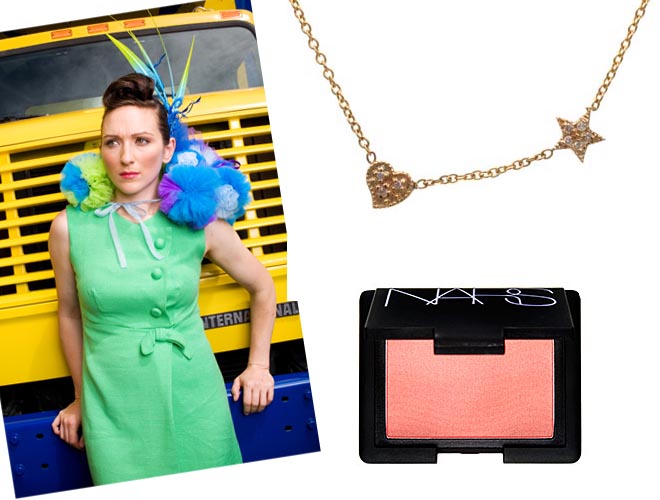 Photo: Garrett MacLean
My Brightest Diamond's Shara Worden was recently hailed by Spin as making "art-pop at its most stirring." And we find Worden's eclectic style pretty riveting too. In honor of her upcoming album, All Things Will Unwind, we asked her to share her ultimate fashion and beauty essentials.
1. Bobby pins: Sometime around the age of 17, I gave up curling and plastering my bangs for more wild twists and twirls that were held fast by bobby pins. I've tried to change my bobby-ing ways by getting new haircuts, but I always find myself back in the looping process eventually. I like the way a pinned curl can at once evoke an ocean wave, a bird's feather or Roy Orbison's famous slick swirl.

2. NARS orgasm blush: Since I have really pale skin, I'm always in need of a dash of color and this blush is a staple in my bag. What more is there to say, but that it has a great name, too!

3. Farnsworth lip balm: I recently moved to Detroit, in part so that I could be a part of the urban gardening movement that is happening in the city. My neighbors are keeping bees and making these beautiful crèmes and lip balms which remind me of home, even when I'm far away.

4. ALDO ankle boot: When touring, I don't want to pack a lot of shoes, and so I spent a lot of time searching for the perfect ankle boot that would be comfortable for a lot of walking, as well as performing. These Aldo boots are a must-have for me!

5. Lena Wald "Heart and Star" necklace from Twist : I toured with The Decemberists for about a year and a half singing the role of "The Queen" in their rock opera The Hazards of Love. When the tours came to a close, the band sent me this sweet necklace as a thank you and I wear it ever day as a beautiful reminder of our time together.