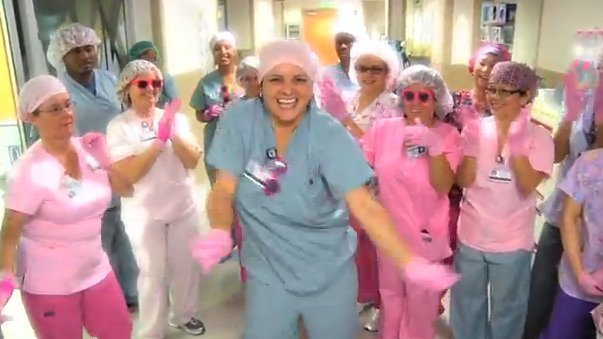 If you haven't heard October is breast cancer awareness month, you just might be living under a rock.
What might surprise you, though, is that hospital staff in the US and Canada have been rocking out in the name of breast cancer awareness. (Scroll to watch.)
The Pink Glove Dance Competition kicked off on Aug. 1, as an online video contest for a prize of $10,000. More than 135 groups submitted videos of doctors, nurses, volunteers and other staff dancing around for the cause, according to the website. The winner will be announced Oct. 28.
According to the official rules, entries will be judged on originality, creativity, video production quality and audience appeal. The winner of the contest receives $10,000 to donate to the breast cancer charity of their choice.
A portion of medical supply manufacturer Medline's pink exam gloves goes to the National Breast Cancer Foundation.
The entries have been creating quite a buzz on YouTube, with Victoria Hospital's video even being among the most viewed and share videos in Canada on Tuesday.
An estimated 230,480 cases of invasive breast cancer will be diagnosed in the US in 2011, according to the Susan G. Komen Foundation. However, research over the years has made a difference is catching the disease.
"We can find it earlier, treat it more effectively, reduce recurrence and enhance survival," Dr. Freya Schnabel, director of breast surgery at NYU Langone Medical Center, told Health.com.
Contestants had a choice of dancing to one of seven songs, including Katy Perry's "Firework," and Pink's "Raise Your Glass." You can vote for your favorite dance here. Check out some of the entries below.
SUBSCRIBE TO & FOLLOW IN(FORMATION)
The reality of being a woman — by the numbers. Learn more