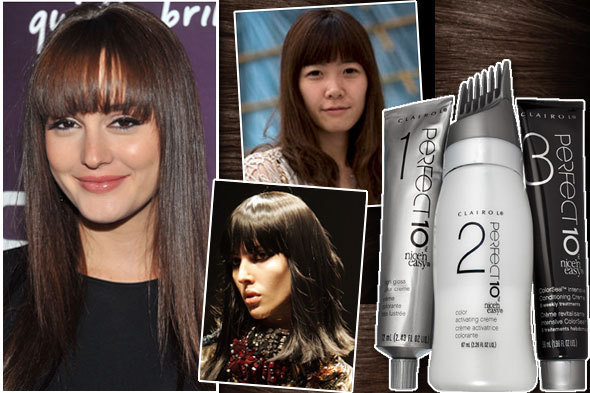 Banging brunettes. Photos: Leighton Meester, Henry S. Dziekan III/Getty Images; Annie, StreetPeeper.com; Clairol Perfect 10 hair color; Model on the Lanvin Fall 2010 runway, Tony Barson/WireImage.
Going to the dark side never looked so good!

Leighton Meester, Rose Byrne and Jennifer Love Hewitt have all turned heads with their new darker 'dos complete with bangs. Elsewhere, Lanvin designer Alber Elbaz sent lythe ladies down his Fall 2010 runway topped with espresso-colored coiffs, while beautiful brunettes ran rampant backstage at Catherine Malandrino's first Ready-to-Buy Fall 2011 show. And cool girls rocking the hot hair hue are constantly being featured on street style blogs like The Satorialist and Street Peeper.
"Italian and American cinema from the '40s to '60s was popular, using Ava Gardner and Sophia Lauren as inspirations," explained Clairol Color Director Marie Robinson on the runway inspiration. "Their rich and realistic, even these shades of darkest brunette can look beautiful and sexy."
Robinson recently transformed Scarlett Johansson's locks into a natural mink brown shade using subtle highlights and made Alicia Silverstone's strands a dark caramel.
She added, "Clients often come into my salon with pictures of celebrities latest hues. At the moment, many women love the darker mahogany of Julianne Moore and Kristen Wiig went a rich, medium brown."
And Robinson agrees that fringe looks great with dark hair. "No matter how you wear, it even if it's a ponytail, bun or chignon, it always looks stylish," she said.
But there are two important questions the pro thinks women should ask their colorist before sitting down in the chair:
1. Is my desired hair color shade change realistic for me?
2. Will this particular color be a good fit for my skin tone?
"Drastic hair color changes such as going blond to brunette should be done at a salon for best results," said Robinson. "However, women can easily maintain their new brown locks with at-home hair color. Your colorist can recommend an at-home hair color that works for your particular shade; Personally I love Clairol Perfect 10's variety of brunette."
Robinson has five easy maintenance tips that will guarantee your brown color remains healthy-looking and gorgeous:
1. Use a shampoo and conditioner specially formulated for color-treated hair that will continually nourish and help protect the hair.
2. Treat your hair to a weekly deep conditioner.
3. Use a heat protection spray when heat styling.
4. Reduce exposure to the sun and chlorinated water.
5. Do your roots every four to five weeks, if you're a blonde going brown to keep up with roots from looking too transparent.
Are you dye-ing to color your hair brown this fall?
Tell us your thoughts in the comments section and check out which retro hairstyle is in-demand again.