Real Life Pumbaa And Timon: Worcestershire Micro Pig, Meerkat
"The Lion King" just made a triumphant return to the box office, with new 3D animation that is supposed to bring the classic film to life. But while new pop-out art is nice, it doesn't come close to comparing to the realism going down in Worcestershire, England.
Disney fans, meet the real Pumbaa and Timon.
Stranded after his father's death, a young Simba is rescued by the duo of meerkat Timon and warthog Pumbaa. A seemingly unlikely pairing, it works well, what with their jovial nature and carefree lifestyle. You wouldn't believe it'd work in real life, but, as relayed by the Daily Mail, a strikingly familiar friendship is taking hold at Tropical Inc, a company that cares for and brings animals to birthday parties and school events.
"There was a little chicken wire fence between them and Timon was desperately trying to find a way through to get to Pumbaa," Kelly Shambly said, telling the story of how the organization's baby meerkat first saw, and pursued, their new micro pig. Both of the nine-week old animals, Shambly said, mimic their on-screen counterparts, from whom they get their respective names.
"He is really outgoing and always looking to explore the world," she said of Timon. "He's interested in anything new, and having a big pig next to him was obviously an exciting thing... Pumbaa is definitely more reserved and slopes about the place in an unenthusiastic manner much like pigs often do."
Hakuna Matata.
PHOTOS: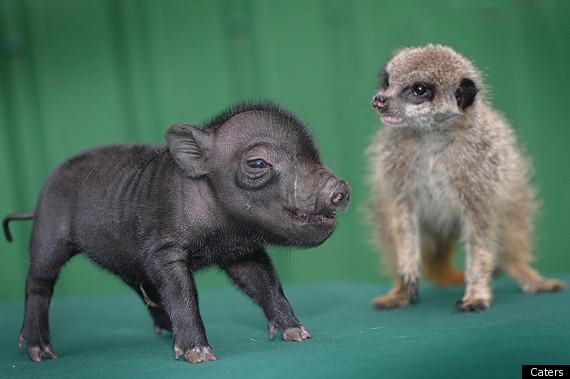 WATCH: