Once the star second baseman of a dynastic New York Yankees club, Chuck Knoblauch's fall from grace has been both precipitous and public.
Very early on Saturday morning, Knoblauch -- or someone who hacked his verified Twitter account -- authored another troubling chapter in his post-career life. In the wee hours, those following Knoblauch were surprised by an extremely vitriolic tweet about the former ballplayer's current fiancée Cheri Olivera.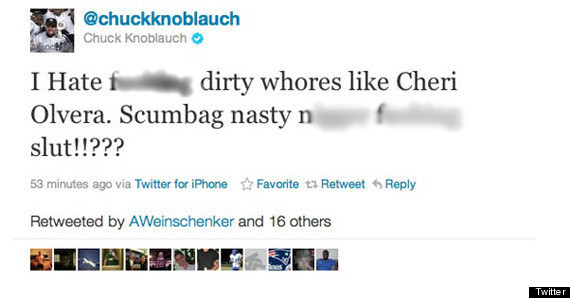 (Tweet blurred by HuffPost Sports)
The profanity-laden tweet was later deleted, and Knoblauch tweeted that his account had been hacked.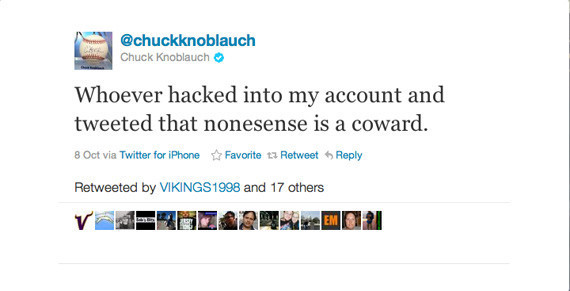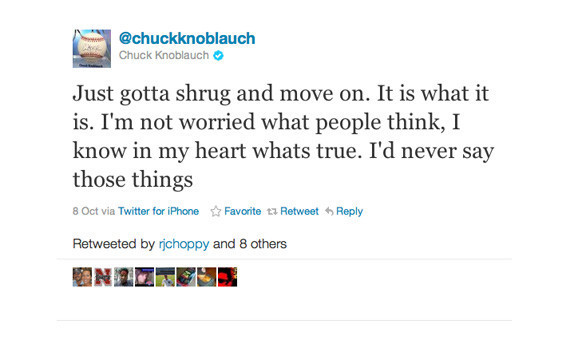 The obscene tweets on Knoblauch's timeline, come less than week after University of Michigan quarterback Denard Robinson had his Twitter account hacked by an ex-girlfriend. In that case, a scorned lover was lashing out at an athlete. Here an athlete -- or someone who gained access to his account -- lashed out a partner.
For her part, Olivera is no stranger to ballplayer-related controversy. Nor is she unaccustomed to harsh language, as evidenced by a profane voicemail she left for her ex-fiancee Brian Giles, another Major League alum. Olivera unsuccessfully sued Giles for $10 million with Knoblauch acting as a witness on her behalf.
A second-round draft pick out of Texas A&M in the 1989 MLB Draft, Knoblauch began his career with the Minnesota Twins in 1991, winning Rookie Of The Year honors and a World Series ring in his debut campaign. A few All-Star selections later, he was traded to the Yankees in 1997, where he would go on to win three more World Series championships. Knoblauch's slide arguably began with a series of errant throws to first base in 1999. All of a sudden a player who had previously been awarded a Gold Glove Award for his defensive prowess was having trouble closing out even the simplest of plays. Knoblauch had developed an acute case of "Steve Sax Syndrome" -- the fielders' version of Steve Blass disease" -- and lost his ability to throw accurately to his target. Knoblauch moved to left field and eventually retired in 2002.
In 2007, Knoblauch was named to the Mitchell Report, which listed players that had used performance enhancing drugs during their career. While Knoblauch initially denied using, he came clean in 2009 and admitted that he had used HGH during his playing career, although he claimed it "didn't make me any better." A year later Knoblauch plead guilty to misdemeanor assault in connection with allegedly strangling his then wife.