With Goldman's Foray Into Higher Education, A Predatory Pursuit Of Students And Revenues
Education Management Corp. was already a swiftly growing player in the lucrative world of for-profit higher education, with annual revenues topping $1 billion, but it had its sights set on industry domination. So, five years ago, the Pittsburgh company's executives agreed to sell its portfolio of more than 70 colleges to a trio of investment partnerships for $3.4 billion, securing the needed capital for an aggressive national expansion.
One of the new partners brought an outsized reputation for market savvy, deep pockets and a relentless pursuit of profits -- the Wall Street goliath, Goldman Sachs.
After the deal closed and Goldman became a partner, employees soon noticed a drastic shift in culture. Longtime admissions managers were replaced, ushering in an era in which recruiters were endlessly hounded by supervisors about hitting weekly enrollment targets. The admissions staff nearly tripled, requiring expanded floor space to accommodate a sales force of more than 2,600 across the country.
Management handed down revamped telemarketing scripts designed to prey on poor and uneducated consumers, honing in on their past mistakes in life as a ploy to convince them that college would solve all their problems, according to conversations with more than a dozen current and former Education Management Corp. employees over the past two months.
"You'd probe to find a weakness," said Brian Klein, a former admissions employee who worked for three years at Argosy University Online, one of four major colleges operated by EDMC. "You basically take all that failure and all those bad decisions, and you spin it around and put it right back in their face as guilt, to go to this shitty university and run up all of this debt."
Just as the subprime mortgage bubble was giving way to a bust that would help trigger a devastating financial crisis, Goldman Sachs, a firm that had been at the center of Wall Street's rampant mortgage speculation, found its way to a new area of explosive growth: In claiming what would eventually become a 41 percent stake in Education Management Corp., Goldman secured itself a means of tapping into the boom in for-profit higher education. The federal government was boosting aid to college students nationwide, just as a declining economy prompted millions of Americans to seek refuge in higher education, leading to dramatically expanding enrollments at many institutions.
But unlike in the mortgage markets, where some unwise or unlucky investor got saddled with the bad loans after the festivities ended and home prices fell, this new market in higher education boasted seemingly unlimited growth potential at virtually zero risk. The burden of college loan repayment falls entirely on students' backs, shielding corporations from the consequences of default. The colleges essentially receive all their revenues upfront, primarily through federal government loans and grants for tuition, regardless of whether students are able to gain employment and pay back their loans.
Soon after the Goldman buyout, the newly private Education Management LLC embarked on its most ambitious period of growth -- one that has recently brought it crosswise with federal prosecutors, who have accused the company of widespread fraud in its recruitment processes.
The timing for expansion had been ideal: With the help of current House Speaker John Boehner, Congress in February 2006 deregulated the world of online learning, opening a significant frontier to colleges seeking to expand their enrollments. A month after the online learning law took effect, in March, EDMC's board of directors announced the acquisition by Goldman and its partners.
The company's newly installed board, which included representatives from Goldman Sachs and the other private equity investors, sought a new team of executives to run the operations. They drew from the ranks of EDMC's biggest competitor, the University of Phoenix. Chief among those new recruits was Todd S. Nelson, the longtime former chairman and chief executive of Phoenix's parent company, the Apollo Group.
Under Nelson, the University of Phoenix had become the unquestionable star of the for-profit higher education world, boasting more than 300,000 students and revenues topping $2.4 billion in 2006 -- triple the revenues from five years earlier. But he left abruptly in 2006, after signing a $9.8 million settlement with the Department of Education over allegations of widespread recruiting violations at the school -- allegations that have now resurfaced at EDMC.
Revenues grew swiftly at EDMC after the company was taken private in 2006
Under Nelson's new leadership, enrollment and profits at EDMC skyrocketed further. The number of online recruits in particular grew at an astronomical rate, increasing fivefold between 2006 and 2009, after deregulation allowed the company's classrooms to become completely virtual. By late 2009 the company tapped Wall Street again, with an initial public offering that netted more than $330 million.
But a recent complaint from the U.S. Justice Department detailed a business bent on recruiting students at all costs, a description supported by the accounts of the employees interviewed by the Huffington Post. Hidden behind the upbeat earnings calls and bullish quarterly reports was a cutthroat sales culture that rewarded employees who regularly bent the truth and took advantage of underprivileged and unsuspecting consumers, employees said.
Goldman Sachs and Providence Equity Partners, the other major private equity player in the deal, declined to comment for this article.
According to a statement from EDMC, "the company's focus on the student experience and success did not change after the 2006 transaction." The statement noted that EDMC has doubled expenditures on capital improvements intended to benefit students in the five years after the private equity deal.
But employees recounted a distinct culture shift once the company went private under Goldman Sachs and the other private equity investors, as day-to-day operations warped from a commitment to students and their success into an environment laser-focused on hitting mandated enrollment targets. New recruits were viewed simply as a conduit for federal student assistance dollars, the employees said, and pressure mounted from management to enroll anyone at any cost.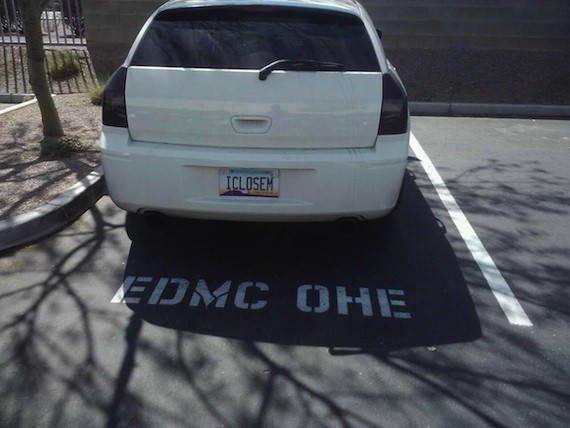 A vanity plate for an admissions director at EDMC's Online Higher Education Division in Phoenix. Photo credit: EDMC online admissions employee
Recruiters told people with felony criminal records that pursuing a criminal justice degree would allow them to achieve their dreams of joining the FBI -- an impossible scenario, because the bureau is barred from hiring people who have been convicted of such offenses. They convinced students with no access to a computer or Internet that they could use the local library for classes, even though they would need to save files and download specific software to access coursework.
"It just got to the point where I felt like I was lying to these people on a regular basis," said Patrick Flynn, a recruiter at EDMC's South University online from 2006 through 2009, when he quit. "Honestly, I just felt dirty doing the things I was doing. It's almost like they were trying to make me take advantage of people's belief in what this education was going to get them, when I didn't buy into it myself."
EXPONENTIAL GROWTH
Education Management Corp. had grown from humble roots, getting on the map by purchasing the Art Institute of Pittsburgh in 1970. After EDMC went public the first time in 1996, the company expanded rapidly by acquiring other accredited colleges and trade schools -- a common growth strategy in the for-profit higher education industry. Between 2001 and 2006, the company bought more than three dozen new colleges across the country, ranging from culinary schools to traditional four-year liberal arts colleges.
By the time Goldman and the seasoned team of University of Phoenix executives arrived in 2006 and 2007, EDMC was already a juggernaut. It owned more than 70 college campuses across the country and had doubled its revenues over the previous five years. During that timeframe, its student population tripled to more than 72,000 -- larger than mammoth state universities such as Ohio State and the University of Texas.
But the Goldman investment promised to propel the company to even greater heights. Like many companies in 2006, Education Management Corp. was attracted to private equity as a way to realign the company and maximize future profits. Easy credit before the financial crisis made 2006 a record year for corporate buyouts.
"Taking the company private will provide us with patient capital and a long-term strategic horizon," then-chief executive John "Jock" McKernan Jr., a former Maine governor and congressman who is married to Sen. Olympia Snowe (R-Maine), told investors on a conference call in 2006. "It will allow us to accelerate our strategies to expand our traditional and online program offerings and also give us an opportunity to enter additional new geographic markets."
For the new investors, 2006 opened a particularly attractive opportunity to invest in higher education. After years of lobbying by the for-profit college industry, John Boehner, then the chairman of the House education committee, helped to eliminate a key provision that had moderated the growth of exclusively online universities.
The so-called 50 percent rule, which required half of all students to be at a ground campus in order for a school to be eligible for federal aid, had been put in place to discourage dubious distance education programs that offered subpar learning. Boehner helped to nix the rule in a budget agreement that took effect in early 2006, allowing schools to expand enrollments -- and revenues -- without having to invest in additional ground campuses. A spokesman for Boehner did not respond to requests for comment.
"When Goldman shows up at the party, they show up as the smartest guys in the room," said Barmak Nassirian, who followed EDMC's rise over the past decade as the associate executive director of the American Association of Collegiate Registrars and Admissions Officers. "2006 was the significant year, because that was the year that the smartest people figured out how easy it was going to be to grow geometrically. You'd have to be from Mars not to know that they were smelling an easy path to big bucks."
Subscribe to the HuffPost Money newsletter!