Norma Kamali's 3D Shopping Site and Wellness Cafe (PHOTOS)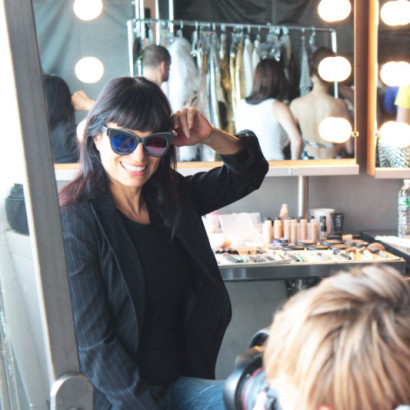 Photo by Hannah Leiden
To most people, raw, organic "chocolate mousse" made from Irish moss doesn't sound all that appealing. However, when the company you happen to be sharing it with is legendary designer Norma Kamali and the space in which you're eating it in is her store/showroom/Wellness Cafe, the taste is a lot sweeter on the tongue than you'd imagine. This is exactly how I got to know Norma a little more than a week ago, over some surprisingly delicious, non-dairy non-fat, all pure dessert in the middle of the afternoon. Not only did I discover her extreme passion for health and wellness, but I also got to delve into the creative genius behind her latest 3D video integration.
Norma's one and only outpost in the world, located in midtown Manhattan, is her own little mecca for everything inspirational and aspirational about the brand that she's spent the last 35 years building. Though the label has become famous for such staples like Farrah Fawcett's famous red bikini, the sleeping bag coat and shoulder pads for women in the 80's, Norma Kamali has managed to remain fresh and furiously relevant.
Case in point: the Norma Kamali Spring 2012 collection, which was shown on dancing, smiling models via a 3D film, rather than through a traditional lookbook or runway show, the latter of which she hasn't done in years. Norma said that she was inspired to use the technology after watching the documentary Cave of Forgotten Dreams. She told me that, "it's a great documentary, but it's a documentary and it's dry. However, from the minute the film opened, because it's done in 3D, I was captivated by the details that just popped off of the screen and really it was just ordinary clothes and places." Though 3D is something others in the fashion business have definitely started to embrace in the last couple of years, Norma clarified that what they did was something different, "I know Burberry's had their shows videotaped in 3D, but ours was a little unique because of the way we filmed and edited it." She continued, "we used two cameras, we edited each camera to a different kind of depth and so sometimes there were three or four layers and each layer was 3D." Norma was also quick to point out that, "the real innovative part of the whole thing are the shopping pages that are in 3D, that's where we really wanted to try out something new and different."
New and different it is indeed, as Norma Kamali is the first designer to integrate this type of 3D technology into an ecommerce site. And for Norma herself, it's not about being the best or the fastest in the market place, for her it really is about having fun with fashion. She explained that, "we want to feel good when we have clothes, we don't want to look sad. I really like an esoteric runway show where it's very somber and serious because it's bold and profound, but I think it's good to have balance." She continued, "I'm not as profound as everybody else."
While the designer may not classify herself as profound, she's certainly passionate about all things wellness. Whether it's the happiness that comes from wearing her sequined, bedazzled or fringe-laced clothing or the health benefits of olive oil and Chinese medicine, Norma's goal in life is to affect the way we feel both inside and out and she carries that out through the Wellness Cafe in the back of her store.
While sitting amongst the Organic Avenue juices, natural olive oils and mineral based beauty products Norma said, "I know that what I'm doing makes women feel happy and I know that it could empower them, but I really wanted to do something that's going to affect the way people feel and improve their overall health, so I started the cafe as a meeting place for that kind of discussion." She continued, "I'm actually trying to really push the ideas I have about health and beauty with the CFDA right now since I'm on the board and I feel that it's my purpose to bring the topic of wellness to the surface for the fashion industry." Norma took one more big scoop of chocolate mouse and said with a laugh, "I'm on the board of the CFDA, but I'm not sure why because I'm so fringe. But I'm there."
Check out photos from the Norma Kamali boutique below and watch her latest 3D film:
(All Photos by Damon Scheuler)