Family vacations in the Southeast area of the United States can be rewarding experiences or absolute disasters -- it all depends on pre-trip homework. To make planning easier, we've done all the preparation. As part of a Huffington Post Travel series on traveling with children, here are recommended attractions for those planning Southeast family vacations.
Earthshine Mountain Lodge, North Carolina
This mountaintop resort has both relaxation and fun.
Earthshine Mountain Lodge
offers high-flying adventures on their zip course and relaxation in their natural surroundings. Each booking includes free all-you-can-eat country buffets, fruits and beverages available all day and free activities every night for everyone to enjoy. The rooms are private and overlook the mountains for further relaxation, family fun and long-lasting vacation memories.
Address: 1600 Golden Road, Lake Toxaway, NC 28747
Phone: 828-862-4207
Hours: The resort is open during the summer season from late May through early September, and in the fall from early September through November.
Price: Prices are per night and per person: Adults, $177; youth ages 10 to 15, $117; children ages 6 to 9, $97; children ages 3 to 5, $30; children ages 2 and younger, free.
Siesta Key, Florida
Siesta Key, Fla. was voted the
number one beach in America
for a reason. The sugar-white sand is perfect for building a sand castle, hunting for treasure, pitching a volleyball net or just soaking up the rays. The summer months offer warm Gulf waters and amazing sunsets. The waves are family-friendly and child-safe as they typically range only in inches. The large beach offers a snack bar, showers, bathrooms, picnic tables and shaded trees. The beach is both alcohol and smoke-free.
Six Flags Over Georgia
West of Atlanta,
Six Flags over Georgia
has something for kids of all ages. The park boasts wild roller coasters, including the Georgia Scorcher, which is one of the southeast's fastest stand-up roller coasters. Inside the park, the entire family can cool down on Skull Island, an interactive water park complete with watersides, lazy river and waterspouts. Throughout the park, kids of all ages can interact with some of their favorite Looney Toon characters.
Address: 275 Riverside Parkway, Austell, GA 30168
Phone: 770-739-3400
Hours: The park's hours vary depending on the season. Please call or visit the park's website for more information.
Price: Adults, $52.99; children shorter than 48 inches, $37.99; children under the age of two, free.
Ruby Falls, Tennessee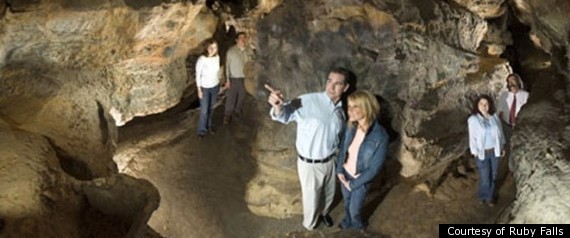 Home to America's highest underground waterfall, Ruby Falls is a family must-see attraction in the Southeast. Located on Lookout Mountain, all visitors descend deep into the ground to explore underground caves. The incline railway train ride to the top of the mountain is an experience in itself offering great views of the city of Chattanooga below.
Natural Science Center, North Carolina
The
Natural Science Center
in Greensboro, N.C. is a hands-on interactive natural science museum and rescue center. Families can view endangered species or create science experiments from their latest geological find. They are encouraged to learn about the various species the center hosts in their Discovery Park.
Address: 4301 Lawndale Drive, Greensboro, NC 27455
Phone: 336-288-3769
Hours: The Natural Science Center is open Monday through Sunday from 9 a.m. to 5 p.m. It is closed on Thanksgiving, Christmas and New Year's Day. Closing time is 2 p.m. on Christmas Eve and New Year's Eve. The Animal Discovery Center is open Monday through Sunday from 10 a.m. to 4 p.m.
Price: Adults, $8; children ages 3 to 13 and seniors 65 and older, $7; children two and younger, free.
The Pink Palace, Tennessee
The
Pink Palace
is a one-of-a-kind experience that will give families an inside look to the natural culture of the Mid-South. From hands on interactive exhibits on the Civil War to a full size replica of the first self-service grocery store in the south, Piggly Wiggly, this museum is fun for a variety of ages. Fossils of prehistoric dinosaurs are available for the entire family to feel and interact with the ever-changing timetable of the Earth.
Address: 3050 Central Ave. Memphis, TN 38111
Phone: 901-636-2320
Hours: The museum is open Monday through Saturday from 9 a.m. to 5 p.m. and Sunday from 12 p.m. to 5 p.m. It is closed Thanksgiving Day, Christmas Day and New Year's Day.
Price: Adults, $9.75; seniors 60 and older, $9.25; children, ages 3 to 12, $6.25; planetarium and IMAX tickets available at an additional cost.
Fakahatchee Strand Preserve State Park, Florida
The Fakahatchee Strand Preserve State Park is home to Florida's rare and endangered Panther. They have been spotted on Janes Scenic Drive exploring the scenic surroundings. The park has 20 miles of American Rainforest that is home for many of Florida's indigenous species. Families can hike on its 2,000-foot-long nature trail boardwalk as well as canoe or kayak on the river.
What is your family's favorite vacation destination in the Southeast?
FOLLOW HUFFPOST