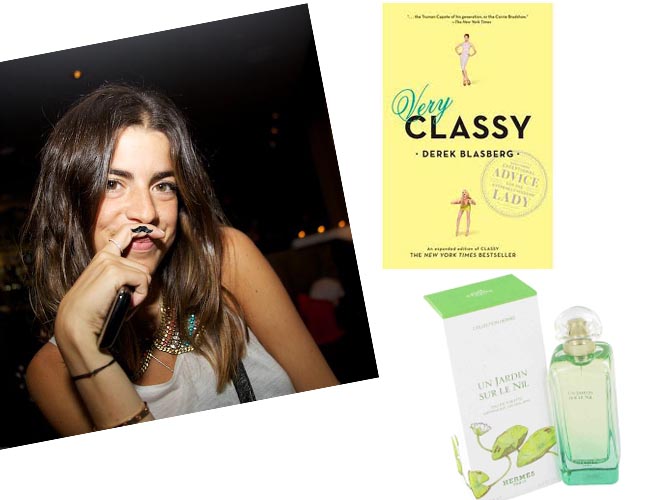 When we caught up with Man Repeller's Leandra Medine at New York Fashion Week, we learned the story behind her blog's quirky name and the trends on her wish list for fall. Here's what else has been on the style maven's radar.
What's the last song you downloaded?
I'm not sure, but it was definitely by Lana del Ray.
First designer purchase?
Jimmy Choo flat sandals that I still wear. They tie up my ankle and cut off my circulation; it rocks.
What's the last thing you bought that you loved?
A colorblocked navy and green Dries van Noten turtleneck sweater vest.
Facebook or Twitter?
Tumblr
What's your rule to dress by?
If you get it right, wear it several days in a row.
What trend do you hope dies?
None! There's charm in some capacity to every trend. I just think practicality should die. Crocs, blech.
If you could only wear clothes from one decade, what would it be?
The '50s emulating the '20s.
What's on your nightstand?
Derek Blasberg's Very Classy, a Jewish prayer book, my phone chargers, a bottle of water.
What's your signature scent?
Hermes' Un Jardin sur le Nil.
Who would be your ideal shopping buddy of all time?
Taylor Tomasi-Hill: The way that woman puts together clothing is really an artform.
If you could have one super power what would it be?
To split oceans like Moses.
What item do you wear every day?
Cartier love bracelet. Don't be fooled though. My dad gave it to me.
Last thing you read?
I reread The White Album earlier this month.
If you could only shop in one store for the rest of your life, what would it be?
My mom's closet, durrrr. It's free and, you know, not limited to one store.
What's your beauty must-have?
Cetaphil.
SUBSCRIBE AND FOLLOW
Get top stories and blog posts emailed to me each day. Newsletters may offer personalized content or advertisements.
Learn more