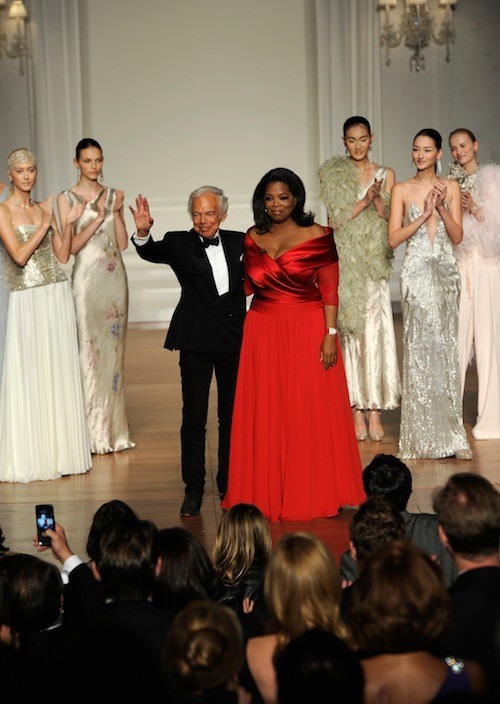 Though a a high wattage of of celebrities, socialites and designers including Jerry and Jessica Seinfeld, Naomi Watts, Uma Thurman, Jessica Alba, Camilla Belle, Anna Wintour, Michael J. Fox, Martha Stewart and Diane Von Furstenberg gathered at Lincoln Center's Alice Tulley Hall Monday night, two stars undeniably shone brightest - Ralph Lauren and Oprah Winfrey.
They converged for "An Evening with Ralph Lauren" hosted by the former television talk show queen benefiting the Ralph Lauren Center for Cancer Care and Prevention and Lincoln Center for Performing Arts, a black-tie followup of sorts to their previously televised one earlier this year.
While the evening was indeed to celebrate the acclaimed American designer, Lauren himself couldn't help but sing Winfrey's praises before the onstage affair, which included a video that recapped his accomplishments and the presentation of his Spring 2012 runway show. "She's a great friend of mine. She's very, very kind to be here tonight, so I'm thrilled to be with her. She's a very smart, very optimistic woman and very professional. I think she has done her job really well, and has made a lot of people very happy, and is there for the right reasons."
When asked how he prepared for the evening, he replied, "I didn't ask to see the questions first because I felt it would be much more interesting to see what she asked, and if I can't answer, I'm going to run!"
His son David Lauren wasn't too worried for his father. "Oprah is Oprah," he said. "She has got the magic touch and she can take someone who's as private as my father and make him feel comfortable, even in front of a few thousand people, so she's the best. This is really the first time he's ever done anything like this, so we're hoping for some surprises and that Oprah will bring out of him some comments that you've never been able to learn about what his creative outlook creates over 45 years."
Others in attendance, of course, reminisced about their personal connection with the designer including their first Ralph Lauren purchases. "Oh my gosh, I think it was a classic polo pony shirt, or I was really big on long sleeve Rugby shirts," exclaimed Bravo personality Andy Cohen.
Belle offered a different response: "I think it may have been a blazer. I wore it a lot; it just fits perfectly and it goes with everything."
Prabal Gurung, meanwhile, was hoping to get an inkling of Lauren's special sauce. "The unifying line of democracy between art and commerce, I think he has walked it so well. He has made fashion a viable business without comprising his vision. It's incredible. How does he stay on course to his vision. I just want a few formulas to take with me back to my office."
When Winfrey finally took the stage, she opened with a several choice words: "Now he would tell you that the fabric of America defined his work, but truly in so many ways, he actually designed the fabric of America as we all know it today."
Lauren, with tears in his eyes, was visibly moved. "We all become something we work on becoming...I worked and had a vision. I didn't know where my vision was going to take me, so the lifestyle that I have now is something I never thought I'd have... I think somewhere along the way, this is what happened."
But the designer was full of jokes as the duo discussed his career. "How do you keep reinventing after over 40 years?" Oprah asked. He deadpanned, "You copy—that's why I am still here, Oprah."
In related news, take a look at Oprah's style evolution.