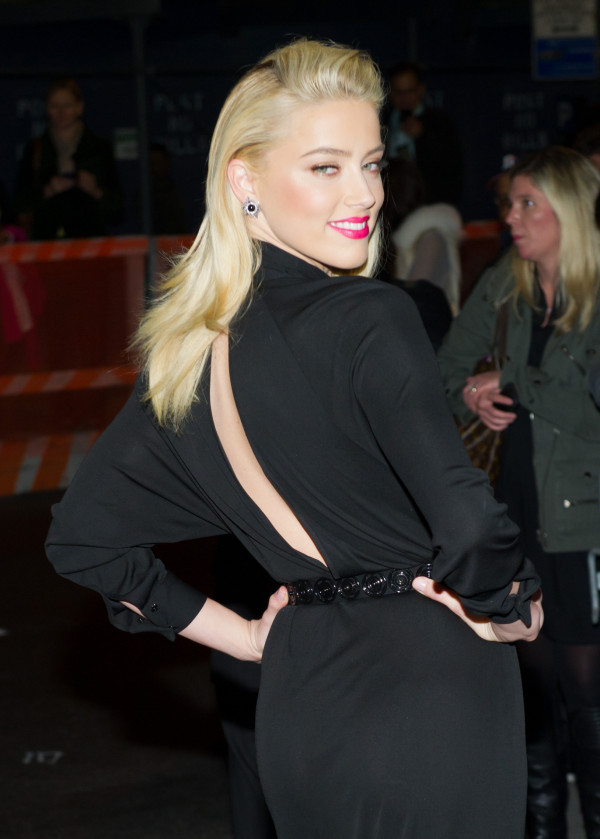 Last night, at the Playboy-hosted premiere of "The Rum Diary" at MoMA, attendees were excited to see Johnny Depp, Amber Heard and the film, but, most importantly, wanted to share their plans for Halloween. Victoria's Secret model Behati Prinsloo confessed that she is "nervous" for Halloween, considering she wore her best costume ever last year: "I went as the 'Day of the Dead' kind-of bride. My friend did my makeup and it was amazing. This year, I'm really nervous to top it, so I don't know. I have this cool hat with a face on it that's really crazy, so I'm thinking of doing something with it, but I literally have no idea yet."
Betsey Johnson, on the other hand, knows exactly what she is doing: "I'm gonna dress up in my bikini on the beach. Finally!" Where is she going? Who knows! Johnson had to ask her assistant, "Cabos San Lucas. I've never been there before." Apparently, the fashion designer known for closing her runway shows with a cartwheel likes any place that is warm. How, then, did she survive an October night with only an Alexander McQueen scarf for warmth? "I think my work is hot."
As a series of lights flashed behind us, Betsey screamed, "Oh my, Johnny!" and ran under the press barrier, pushing me out of the way and then grabbing my arm with joy as she craned her neck in hopes of seeing the film's star: Johnny Depp. As excited by the demonstration of 69-year-old Betsey's flexibility as the possibility of seeing the star in the flesh, I followed her. "Oh! It's not Johnny Depp, It's Keith Richards!" I told her. Richards had attempted to sneak in to the film discretely, as Twiggy had a few minutes before, by wearing sunglasses and avoiding the press. (Sorry guys, we saw you.)
As Betsey jumped under yet another rope to go chase down Keith Richards, we spoke to Depp's co-star, Amber Heard who plays Chenault, a Connecticut-born blonde bombshell dating Depp's on-screen rival Sanderson (Aaron Eckhart). Heard first appears in the film swimming in the nude, and Depp's character Paul Kemp confuses her for a mermaid. On the red carpet, the starlet wore a black long-sleeved Jean Paul Gaultier dress - appropriate for the 1950's era of the film. Her character Chenault paraded around in bathing suits and revealing summer dresses, which Heard admits to do as well. She relates to her character's personal style, "They're actually very similar. I wear a lot of those clothes."
Of her character, Heard explains: "I take parts that I feel a connection to and in this case, Chenault is a rebel and she just happens to look like the opposite of that. She encompasses this idea of the American dream and the 1950s, 1960s possession of the kind of perfect housewife. She might look like that but she's a rebel underneath and I certainly relate to that." The same is true for her co-star, Heard explained, "The beautiful thing about Johnny is that it's almost impossible to pin him down into a certain category or put him in a box. It's impossible to categorize him and that's what makes him so special." Looks like the stars of "The Rum Diary" have something in common.
Heard, Depp, Richards, Johnson and Prinsloo weren't the only beautiful faces present at the screening. Take a look in our gallery for Zoe Kravitz, Patti Hansen, Dree Hemingway and many more:

SUBSCRIBE TO & FOLLOW LIFESTYLE
HuffPost Lifestyle is a daily newsletter that will make you happier and healthier — one email at a time. Learn more