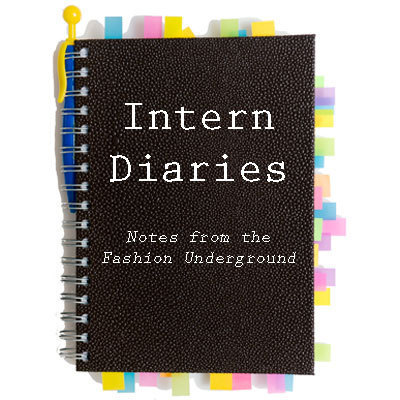 Intern Diaries: Notes from the Fashion Underground is a column that goes straight to the source of the fashion industry--the free labor. In this column, anonymous interns tell all about their terrible bosses and entitled coworkers as they endure ridiculous tasks which include, but are not limited to, fetching dry-cleaning, going on coffee runs and acting as a substitute nanny. This week's intern is a female college student working at a fashion magazine in New York City.
DAY ONE
7:15 A.M. My alarm goes off too soon. I feel like I just fell asleep. Do I have to shower or will my dry shampoo do the trick?
8:30 Off to an early morning pick up at a legendary, American fashion house. I could get used to this.
9:15 I can't get used to this. I am waiting, tweeting and playing on my phone for an hour, only to find out that their intern labeled the garment bag wrong and it was in front of me the entire time.
9:30 It's raining outside, time to book it to the subway. Boss is going to wonder what is taking so long. I stop in Dunkin' Donuts and grab her favorite coffee to distract her from the wasted time.
11:00 Email the contact at Christian Dior to confirm that he is sending a messenger to pick up three garment bags. I happily volunteer to prepare the clothes for their return = anything to get my hands on Dior!
12:30 P.M. Lunch time. Everyone looks so chic in line ordering sushi and salads.
1:15 An editor asks me to organize her cubicle, but gives little instruction. Here goes nothing. How can someone possibly have so many magazines? She gets invited to countless runway shows. Attending fashion week is my ultimate dream; I know I am in the right place.
2:30 All the interns are asked to hastily clean the fashion closet because a television crew is coming to film in five minutes. Thanks for the warning.
3:45 In the copy room I come face-to-face with my favorite editor. Bummer, I hate my outfit today. I need to start setting aside more time in the morning, so that I look my best.
5:30 I'm hungry again. Does anyone eat around here? I need energy, so I sneak a banana.
6:00 Looks come in for an upcoming shoot. A celebrity will grace the cover, but her dress size is questionable and causes a lot of stir in the closet. Will the clothing fit her? How much photo shopping will be required?
7:00 Time to merchandise and steam the clothing racks. Why am I still here? How did we acquire this many racks?
8:15 There are photos that I need to reprint immediately because an editor is not happy with the color. I remember something being wrong with the printer toner, must be it.
9:30 Finally, I can go home. I head to the elevators, but see Editor-In-Chief waiting. I remember that I hate my outfit today and don't want to be stuck in the same elevator with her for 44 floors. Wait until she leaves.
9:45 Want to meet friends for a drink, but remember tomorrow is a big day because editors have a run through for the photo shoot. Bed is calling my name.
DAY TWO
7:15 A.M. I have a feeling today will require two cups of coffee and an extra comfortable pair of shoes. I've yet to find a stylish pair of comfortable flats. And by comfortable, I mean flats that allow me to run to Madison Avenue and back without causing blisters.
8:45 The first intern to get into the office. I take advantage of the extra time by enjoying the gorgeous view. I don't want to get caught snapping photos on the job.
8:55 Asked to go on a run to get boss' Louis Vuitton bag fixed. Wait, I thought I still had five more minutes of free time.
9:30 The address from the email was wrong. Now I have no idea where I am. Thank God for Hopstop.
10:30 A slight detour later, and I'm back in the closet. A messenger drops off five garment bags that need to be checked in and placed on their appropriate styling racks, I always hate the messenger.
11:15 Beauty editor needs a sandwich, and apparently she needs it right now. No specified cheese, my boss tells me to just get something plain. I hope she likes swiss...
11:30 Advised to begin packing trunks with clothes and accessories for the photo shoot in Dallas this weekend, a tedious task. Every item must be photographed and accounted for.
1:30 P.M. Why did I start this project? I'm so hungry and the cafeteria stops serving lunch at 2.
1:45 Make it to lunch just in the knick of time. Catch up on my texts and chat with my fellow interns about hopefully leaving early today.
3:00 Gushing over the spring 2012 Donna Karan cuffs that were just delivered. I was told early on not to touch the accessories table as it is not my department.
3:15 Do the editors really need 70 pairs of shoes to choose from for one editorial?
3:30 Begin making a mood board for fashion assistant. Seems that everyone's inspiration comes from someone else. Reminds me of the collages I made in high school.
4:30 Sneak a peek at my cell phone. My emails sure pile up throughout the day.
5:00 Realize I'm definitely not leaving early. I don't know what early is anymore.
6:15 I need to get a pair of Marni heels shipped to Milan tonight that need to arrive in two days. I'm not sure if this is even possible. UPS isn't as kind after hours.
6:45 Everyone is slowly trickling out of the office, must be nice.
7:00 Organize and file look books from spring 2012 shows. Some of these companies are so creative. Prada's look book stands apart from the rest as it is nearly double in size.
7:30 Get distracted by incoming emails.
8:15 One more task before I have permission to head home: alphabetize the style.com photos from the fall runway shows. Most of them are correct, and I admit to skipping past the entire M-S section.
DAY THREE
7:00 A.M. Rise and shine. No time to press the snooze button this morning as I woke up from a text saying that I need to go in early to sift through "urgent" emails.
9:30 It's raining, again, and I need to make a return. I venture outside and the wind breaks my umbrella after one block. I'm scared to tell my boss, but there's no way I can trek it to Park Avenue. What's a girl have to do to get a cab expensed around here?
11:30 I'm told to find a custom cookie bouquet for an editor's birthday by tomorrow afternoon. Each cookie needs to have a different design of fashion brand logos. Cupcakes would probably be easier, but no, cookies it is. It seems like an impossible demand, but I'll try.
1:00 P.M. Still no luck with the cookie bouquet. Every store says it's too late of notice, shocker, and my boss still wont take no for an answer.
2:15 One of the interns quits because she can't handle the pressure. That only means more work for us, but she will be missed.
3:00 Working with so many girls in a small area can get hectic. I head to the bathroom and get some water for a breather.
3:15 Overhear an assistant bragging about her new Fendi flash drive. I guess designers can jazz anything up these days.
4:00 I need to track a dress that was shipped to Paris last week and still hasn't arrived. It's difficult to understand these international addresses and telephone numbers.
4:45 Finally, the cookies are officially a no go. I start calling florists.
5:00 I have to create a binder of inspiration tears for an editor. This is what I do in my spare time, so I actually enjoy this task.
6:00 Not getting out so lucky. A PR firm emailed and can't find the Chanel jacket we were supposed to return today. I need to find this jacket because it can't be lost on my watch.
6:30 Mistake was the PR firm's fault, a common occurrence.
6:45 Boss wants to go home early, so she says we can all leave. I can hardly contain my excitement.
SUBSCRIBE TO & FOLLOW LIFESTYLE
HuffPost Lifestyle is a daily newsletter that will make you happier and healthier — one email at a time. Learn more