California Schools Bring Breakfast Out Of The Cafeteria And Into The Classroom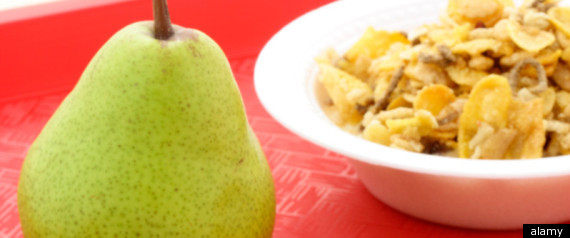 This article comes to us courtesy of California Watch.
Every morning in Sarah McKerr's third-grade class at Foster Elementary School in Compton, students turn in their homework and file back to their seats with something in hand: a free breakfast.
Over the past year, the Compton Unified School District has moved breakfast out of the cafeteria and into the classroom at 21 of its 22 elementary schools, including Foster. It's one of several districts in the state that is feeding more students by changing where and when they eat.
Compton Unified officials said full bellies have brought several benefits: More breakfast participation has allowed schools to maximize their resources and receive greater federal reimbursements. Student attendance and performance have improved, and school nurses are treating fewer students for stomachaches.
And because teachers must check off names of students participating, McKerr uses the time to multitask. She stations herself by the coolers of bananas and milk cartons, waiting to see who comes with a worksheet. "It makes it that much easier for me to figure out who did their homework," she said.
Like most districts in the state, Compton Unified used to serve breakfast in school cafeterias before the start of class. Because its schools have large proportions of low-income students, the meal is universal -- free to all students -- regardless of whether they meet the federal income standards for free or reduced-price meals. Yet few students showed up.
"You used to be very lucky if you had 15, 10, 30 (percent)" of students come to breakfast in the cafeteria, said Cheryl Johnson, the district's classroom breakfast coordinator.
Since implementing breakfast in the classroom at the start of class, however, participation has skyrocketed. At Foster, participation jumped from 19 percent to 73 percent; other schools in the district saw similar spikes.
Advocates hope more schools will follow Compton's lead.
About 56 percent of California students - more than 3.4 million - qualify for free or reduced-price meals, but less than one-third of those eligible take part in school breakfast. Difficulty getting to school early, social stigma and the timing of appetites can impede or discourage participation in traditional cafeteria breakfast programs.
Classroom breakfast is a model that is gaining traction in California -- particularly at elementary schools. In a classroom breakfast, students spend the first 10 to 15 minutes of class eating at their desks while teachers proceed with their usual instruction. The details of the program, such as who delivers the meals, what food is served and how teachers use the time, vary by school.
"What we'd like to do is teach the younger kids to eat breakfast. If we can teach young children, by the time they're in middle and high school, they'll already have that habit," said Nicola Edwards, a nutrition policy advocate at California Food Policy Advocates. "It's setting them up for healthy eating behavior later in life."
Research has linked school breakfast programs with higher test scores and grades, improved attendance, and fewer referrals to school nurses. In California, districts so far have mostly anecdotal evidence, but some are beginning to document and quantify the changes that follow classroom breakfasts.
California Food Policy Advocates has hired a consultant to evaluate Compton Unified's classroom breakfast program. It's also leading a campaign to implement and expand breakfast programs at districts throughout the state - especially those where a large low-income student population means need is great and universal breakfast is feasible.
Next month, the Los Angeles Unified School District, the state's largest district, will launch a yearlong pilot program for universal classroom breakfast at three elementary schools. The district started pilot programs at one middle school and two high schools at the beginning of the school year.
"If they can do it, LA Unified can do it," Laura Benavidez, the district's deputy director of food services operations, said of large urban districts that have created classroom breakfast programs. "We hope the enthusiasm catches."
The outcome of the pilot program could have tremendous consequences for Los Angeles Unified, where nearly 77 percent of students qualified for free or reduced-price meals in 2009-10. More than 330,500 eligible students did not participate in breakfast that year. If the district's breakfast participation had matched its lunch participation, it would have received an additional $28.8 million in federal reimbursements, according to a California Food Policy Advocates analysis.
Statewide, California school districts could have gained more than $351 million in federal reimbursements if breakfast participation were as high as lunch participation. For districts stretched thin by budget cuts, the reimbursements are critical.
MEALS MEAN MONEY
Finances were a major incentive when the Hawthorne School District began breakfast in the classroom at its 12 schools in 2002. The district's lunch program had pushed its food services budget into the red, so it needed to boost breakfast participation to increase its federal reimbursements.
Hawthorne went from serving about 1,875 breakfasts a day to 7,500 -- a participation rate well above 80 percent. It's been able to cover its labor costs and grocery bills ever since, said Anna Apoian, the district's director of food services.
For most districts, there are startup costs for getting classroom breakfast programs off the ground. But with high participation, school meal programs can become self-sustaining, officials said.
"The numbers speak for themselves," said Criss Atwell, director of nutrition services for Modesto City Schools. "If you're serving 700 students with the same amount of labor that you're serving 150 students, it's obviously beneficial financially."