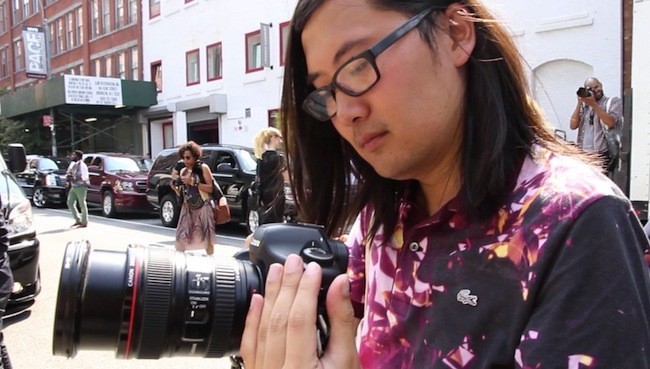 Though it may come as a surprise, street style photographer Phil Oh of Street Peeper didn't always have it all figured out when it came to his fashion career: "I just showed up at Fashion Week with a camera. I was 26 years old, had no real interest in fashion." In fact, he says, "I didn't know what Balenciaga was. I didn't know what Celine was. I had no idea who Phoebe Philo was. I didn't know who Marc Jacobs was. I just sort of showed up to Fashion Week and started taking pictures of people that I thought looked cool."
Clearly, Oh had an undeniable talent, despite his lack of knowledge. In just a few short years, Street Peeper has become one of the leading street style blogs, and his images are regularly used by Vogue.com.
Thus, it makes sense that Moda Operandi, home of the instant, high fashion trunk show, decided to profile Oh in their latest video, which we are releasing exclusively on Stylelist. Set to moody music, the short flick chronicles Oh's experience during New York Fashion Week while he captured tastemakers and celebrities like Anna Dello Russo, Taylor Swift and even Moda Operandi founder Lauren Santo Domingo. Highlights include Oh running off mid-interview and being carded by Lincoln Center security.
Oh explains it concisely, "People think of fashion shows as what's on the runway, but what goes on outside is also a fashion show in its own right." As you watch him compete with hordes of other snappers outside the shows, he laughs that "it is more absurd every year."
Watch below for more, and for instant Moda Operandi membership click here.
SUBSCRIBE AND FOLLOW
Get top stories and blog posts emailed to me each day. Newsletters may offer personalized content or advertisements.
Learn more