Mayor Vincent Gray's Tax Hike For Movie Concessions Gets Thumbs Down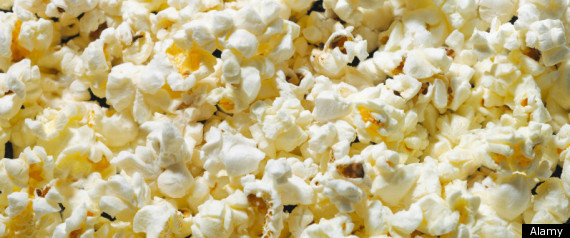 WASHINGTON -- D.C. Mayor Vincent Gray's proposed 5 percent tax hike on movie theater concessions, first reported Wednesday by the Washington Business Journal, has local theater organizations steaming.
In a statement released Thursday, the mayor's office said that the additional tax revenue would be used as incentives to encourage opening the first movie theater east of the Anacostia River and to bring film production to the city, thereby creating jobs and promoting small businesses. Gray said the measure would also create tourism opportunities.
"This incentive will attract major film and television productions that may have gone elsewhere and, ultimately, pay for itself with the increased revenue it will generate," Gray stated. "It is a win-win."
The District of Columbia currently levies a 10 percent tax on restaurant meals and liquor consumed on the premises, which applies to movie concessions.
Todd Halstead, deputy director of government affairs for the National Association of Theatre Owners, which is based in the District of Columbia, told the Washington Business Journal that the mayor's plan is "misdirected and unfair."
"Movie theaters share a portion of ticket revenue with the studios," Halstead said. "They operate on thin margins. Why would someone want to open a theater if their main source of revenue is subject to a tax?"
Josh Levin, owner of the independent West End Cinema, is also concerned, pointing out to The Huffington Post that the current sales tax is unpopular with patrons.
"I can tell you that customers frequently complain about the amount of the tax," he said. "And if the proposal is to add an additional 5 percent, I can tell you the customers are going to complain that much more."
Levin also revealed that he's had conversations with the city about opening movie theaters east of the Anacostia River and bringing production companies to the District, but he's wary of Gray's funding mechanism. Although "both are laudable goals," he said, "I am not sure that further taxing existing business in an industry that's already seen a lot of consolidation is really the way to go."
Thursday afternoon at Regal Cinemas at Gallery Place, theatergoers were split in their reactions.
James Murphy, who lives on New Hampshire Avenue NW, was against the tax increase. "Money's tight, and it's getting tighter," he said.
Amanda Barber, a Columbia Heights resident, was also unhappy about the proposed hike. Concession prices, she said, are "already really high as is... Probably it would affect more my buying things at movies."
Not everyone was opposed, however. John Brown, who is visiting from San Diego, supports "taxing people so we can get out what we need to get out of." He noted that Californians pay multiple taxes, including a levy of 50 cents extra per gallon of gas. "This is the time when people have to step up," he said.
This past spring, Gray, a noted movie lover, proposed another tax increase that would have affected the theatergoing public. When his 2012 budget was introduced, it included a stipulation that D.C. theater tickets would be subjected to the city's 6 percent sales tax. Gray predicted that the measure would generate $2,303,000 in 2012 and nearly $10 million over the next four years. That plan was eventually dropped.