Got a Google TV? Time to download the update!
The new software brings some cosmetic changes, as well as more functionality. Aesthetically, Google says it has updated the appearance of YouTube on the TV screen, as well as the main interface of apps. Below, the new homescreen: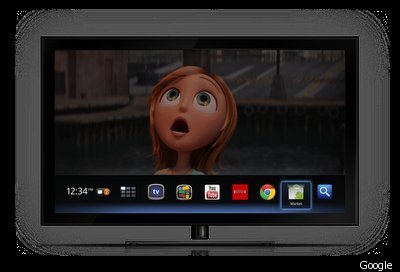 Google has also updated what it does best -- search -- on Google TV, with a new cross-platform app called "TV & Movies." From the blog post, here's Google explaining its search upgrades:
We've improved search across the board for content from Live TV, Netflix, YouTube, HBO GO, and more. But what if you don't know what to search for? There's now an app called "TV & Movies" that let's you easily browse through 80,000 movies and TV episodes across cable or satellite, Netflix, Amazon, YouTube, and many other sites. If you've opted in to recommendations, we can better predict what you want to watch next.
Finally, Google announced that app developers can now develop new apps for Google TV as well as adapt existing apps for the Google TV software; those apps will be available for download through the Android Market for those with Google TVs.
The software updates will begin rolling out to those with Sony televisions with Google TV next week, with Logitech Google TV boxes coming soon thereafter.
Though Google has issued software updates before, this is the most major one yet; considering that it was as recent as last December that Google was asking television manufacturers not to include Google TV until they figured out their software, it is fair to say that it has been a bumpy road for Google's television venture.
And that road may get rockier still. The Apple rumor mill has ground out another whopper: Apple may be developing an HDTV set. A line in Walter Isaacson's biography of the Apple co-founder set off recent speculation about an Apple TV set. "I'd like to create an integrated television set that is completely easy to use," Jobs said, according to the bio. "It would be seamlessly synced with all of your devices and with iCloud," Jobs also said to Isaacson. "It will have the simplest user interface you could imagine. I finally cracked it."

SUBSCRIBE AND FOLLOW
Get top stories and blog posts emailed to me each day. Newsletters may offer personalized content or advertisements.
Learn more