Mitt Romney Limits National Media Exposure With Frontrunner Strategy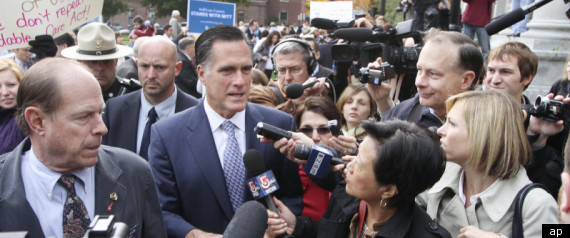 NEW YORK -- When a group of national political reporters arrived at Mitt Romney's New Hampshire summer house in July 2010 for an off-the-record barbecue, the former Massachusetts governor greeted them warmly and handed out beers from a nearby cooler.
The dozen or so scribes -- from such outlets as Time, Politico, CNN, Fox News and the Washington Post -- spent the next few hours eating burgers, taking boat rides and chatting with the former and future presidential candidate. Before leaving, guests even huddled around the Romneys' television to watch LeBron James make his much-hyped decision to join the Miami Heat live on ESPN, according to reporters who've covered Romney. After the show, Romney said goodnight as several reporters and aides departed to keep the drinks and conversation flowing at nearby Wolfeboro Inn.
But since that lighthearted evening on Lake Winnipesaukee, national political reporters haven't had many similar chances to get close to the Republican candidate. The Romney campaign, running this cycle from a frontrunner position, has scaled back on the candidate's accessibility from four years ago and rarely allows for such unguarded moments on the campaign trail. While Romney has taken the stage for primetime debates and has done a few cable news hits, he's avoided lengthy interviews with magazines to which he spoke in 2008 -- such as Time and Newsweek -- and hasn't appeared on any of the Sunday morning chat shows, a traditional pit stop for any presidential contender.
On Sunday, Fox News host Chris Wallace called attention to Romney's absence from "Fox News Sunday" and his competitors' programs.
"With Governor Perry's appearance, we have now interviewed all of the major Republican candidates in our 2012 one-on-one series except Mitt Romney," Wallace said. "He's not appeared on this program or any Sunday talk show since March of 2010. We invited Governor Mitt Romney again this week, but his campaign says he's still not ready to sit down for an interview."
During recent Republican debates, Romney has twice mentioned an interview he gave to a top national political journalist, Dan Balz of the Washington Post. That interview, however, took place in June 2007. Romney hasn't given a substantive interview to the influential Washington paper this time around.
"Four years ago, he was quite accessible," said the Washington Post's Karen Tumulty, who covered the candidate last cycle for Time.
Tumulty recalled flying with Romney from Boston and traveling around Iowa for a May 2007 cover story. Several months later, she sat down again with Romney to talk about health care in Massachusetts. "You could ask him pretty much about anything," she said. "He talked quite expansively about his growing up, his faith, his business career."
Balz, who attended the July 2010 barbecue but declined to discuss it given the off-the-record ground rules, said he found Romney was "more open and available" during the last presidential race. "In general, I think they have kept him as much as possible out of the press spotlight," Balz said. "And I think it's part of what has been their overall strategy, which has been to act like a frontrunner and not do a lot of interviews."
STRATEGY FOR A NEW REALITY
The strategy makes sense in several ways. Romney doesn't need to build name recognition through magazine profiles as he did four years ago. Also unlike 2008, there isn't a Democratic race grabbing headlines and competing for oxygen on cable news, thus leaving the Republican primary as the only game in town. And throughout the race, Romney has remained in the first tier of candidates and always part of the conversation.
Scott Conroy, who covered Romney in 2008 as a CBS News campaign embed and now writes for Real Clear Politics, recalled how there were some events last cycle to which just a handful of reporters showed up. "Now it seems like every time Romney has an event, the entire Beltway media universe descends," he said.
The Romney campaign recognizes that it doesn't need to fight for airtime or column inches as it did in 2008 and, as a result, has become more strategic about media access.
"In 2008, Mitt Romney was new to the national stage and not very well-known outside of Massachusetts," spokesman Eric Fehrnstrom said in an email to The Huffington Post. "There was an obvious benefit to doing a lot of earned media because it helped raise his profile, and we wanted to increase name awareness and recognition. The downside was that we often found ourselves at the mercy of the daily news cycle and answering questions about whatever happened to be in the headlines that day. One of the things we learned from that experience is that we had to do a better job of getting his message across in media interviews."
This cycle, Fehrnstrom said, the campaign is "generally more careful about when and where we put him out to do interviews."
"We don't chase the headlines of the day," he continued. "When he does an interview, we try to do it around a policy announcement so he can talk substantively about the issues. This allows us to focus on the reasons why he got into the race in the first place, and that's to talk about jobs and how he can turn around the economy."
Still, the Romney campaign doesn't ignore the headlines of the day.
According to reporters, Romney staffers immediately email articles -- and even political reporters' tweets about the candidate -- to the campaign war room. But while keeping on top of everything written about the candidate, the Romney campaign doesn't overreact to pieces that may depict him in a less-than-flattering light. Multiple reporters even described the Romney press shop as having a "zen" approach to the media. In keeping with Romney's slow-and-steady 2012 strategy, regardless of who may be the Republican flavor of the moment, his press team seems to take the long view. They aren't wasting time fighting every single blog post.