Mitt Romney Limits National Media Exposure With Frontrunner Strategy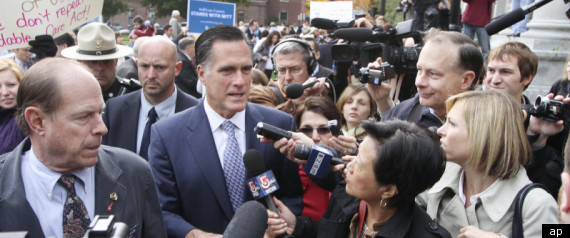 Reporters also give the Romney team high marks for professionalism and responsiveness, noting how it keeps them updated on the candidate's travel schedule and is on point at events.
Such attention to detail was on display this past Friday. Before Romney arrived for a Manchester, N.H., town hall meeting filled with a few hundred Granite Staters, a campaign volunteer asked over a microphone whether all the members of the media had found places to plug in their video and audio equipment. "Do all the members of the media have a place to plug in? Is everybody plugged in who needs to be plugged in?" said the volunteer.
Print reporters also had no reason to complain at the event. Wireless Internet service, the holy grail of on-the-road reporting, was not only accessible in the room but blazing fast.
Reporters say the disciplined and professional Romney press operation likely stems from the top.
"Romney is a very unemotional kind of data-driven person, and so I think that's reflected in the way they interact with the media," Conroy said. "It never seems emotional. They have a job to do, and we have a job to do."
Although the Romney press team isn't proactive in trying to generate tons of additional exposure for the candidate, it doesn't ignore the media's unceasing appetite for campaign news. Staffers regularly feed scoops, such as endorsements or fundraising numbers, to must-read blogs and email newsletters favored by political junkies, such as Politico's Playbook or the Playbook-inspired campaign cheat sheet, Morning Score.
Also, the campaign puts the candidate himself out there when such access may have an impact. So far, Romney has met with several newspaper editorial boards in early primary states, including New Hampshire's Union Leader and Foster's Daily Democrat, the Las Vegas Review-Journal, and the Eagle-Tribune of Lawrence, Mass. This week, Romney will sit down with another New Hampshire paper, the Portsmouth Herald.
On the trail, the candidate is willing to take questions from national reporters but only during agreed-upon "press avails." Romney, a former CEO who once sought order in the boardroom, seems to expect a similar level of structure in the candidate-reporter relationship. In early 2008, Romney had a famously testy exchange with the Boston Globe's Glen Johnson after the reporter -- then with the Associated Press -- interrupted the candidate and challenged his claim about not having lobbyists working on the campaign.
Romney's rules of order were on display earlier this month, too. During a New Hampshire campaign event, he ignored reporters' questions before backtracking to inform one scribe exactly when he will and will not answer queries, according to CNN's Peter Hamby.
"I do press avails, and then I answer questions that are important questions in the length that I want to do. But what I don't do is in a group like this is stop and rattle off [answers] to people just as we walk along," Romney said.
"So that way you don't get the chance to hear the full answer that I'd like to give," he continued, according to CNN. "So those are important questions. I'll be happy to address them in a press avail or the town meeting. But in events like this, I don't take press questions because it doesn't give you or me the chance to have a full discussion of the topic."
Ashley Parker, a New York Times reporter currently on the Romney beat, wrote Friday about how the candidate expects reporters to play by the rules of scheduled press avails and how he "avoids parrying with reporters on rope lines or other unregulated moments."
"When a New York Times reporter happened upon Mr. Romney changing planes in Minneapolis this month," Parker wrote, "the candidate warded off the reporter's question by pointing to a traveling aide half his age and explaining, 'I've got to do what my media guy tells me.'"
THE PRESS IS ALWAYS WITH US
While Romney may be wary of getting too chummy with reporters on the trail, he isn't one to take harsh swipes at the media like rivals Rick Perry, Michele Bachmann or Newt Gingrich. The other candidates' views may have a trickle-down effect within their campaigns. The Perry campaign, for example -- which operates under the idea that the establishment media have lost their influence and can be largely circumvented on a national level -- has gained a reputation among political reporters as unresponsive to their questions and needs on the trail.
On the other hand, Kevin Madden, a former Romney media staffer who now serves as an informal adviser to the candidate, said that Romney understands the "level of scrutiny and attention" one receives when running for president -- an attitude that could influence how even his junior staffers deal with the press. "Oftentimes when you have a candidate who thinks the press is being unfair, the campaign internalizes it," Madden said. "They reflect that attitude with the press."
Griping about the press may lead to cheers from one's base, but it's unlikely to be successful on a national level. In 2008, the Hillary Clinton campaign in the Democratic primary and the John McCain campaign in the general election complained publicly (and privately with editors and reporters) that the media were going easier on Barack Obama. The media-bashing strategy didn't work out for them, and it doesn't lead to goodwill for any candidate with national political reporters, who -- for better or worse -- will continue closely watching and scrutinizing a candidate's every move and utterance on the campaign trail.
Madden, who served as national press secretary during Romney's previous presidential race, contends that Romney understood in 2008, and again in 2012, that he has to take his lumps now and again in the press. Although Madden isn't part of the Romney press shop this time around, he sounded a bit zen-like himself when talking about dealing with the media.
"Presidential campaigns are the process of begging for the right to be humiliated," Madden said. "The quicker you make your peace with that, the better you will be working in that environment."
Reporter Jon Ward contributed to this article.
Below, a slideshow of awkward Mitt Romney moments: