Forever 21 is in hot water again, this time over one of its cheap accessories.
The "Oriental Girl" necklace, which Forever 21 is selling for the very Forever 21-ish price of $1.50, features a tiny charm in the shape of a young Asian girl with a white face and a dark bun; her features were stereotypical enough to rankle some of the blogosphere. Styleite noted:
"It's bad enough to sell merchandise that's offensive to a group of people you have no connection with, but it's a whole other level of insensitivity to sell something that pokes fun at the ethnicity you come from."
Fashionista spied the necklace in conjunction with the chain store's "Native American Girl" necklace, commenting:
"Apparently, Forever 21 thinks that people want to wear outdated, cultural stereotypes as necklaces."
Forever 21 has had their share of consumer complaints over "offensive" merchandise recently, most notably, their "I'm Allergic to Algebra" tee, which was marketed towards the company's usual young female demographic. Is the company on a fast track to losing customers if they keep making insensitive merchandise?
Well, maybe. But honestly, with this item, we're not quite sure why all the fuss. While we understand and sympathize with the post-colonial objections to the term "Oriental," the Chang family who owns F21 are Asian themselves. And as far as the necklace in question, the stereotypical Asian features displayed on the girl could have way more overtly offensive. She looks more like Olive Oyl from Popeye, no?
Check out the necklace below and decide for yourself in our poll: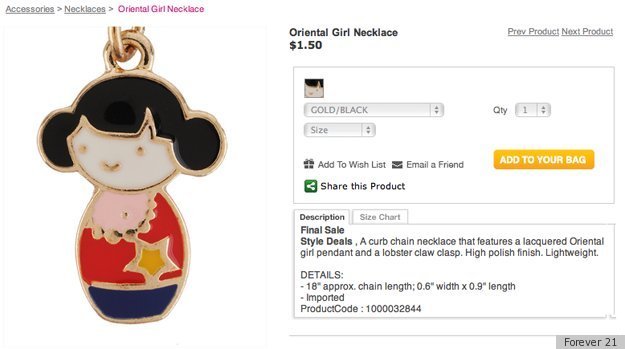 SUBSCRIBE TO & FOLLOW LIFESTYLE
HuffPost Lifestyle is a daily newsletter that will make you happier and healthier — one email at a time. Learn more