Halloween Candy Aftermath: Best Pictures Of Kids Hopped Up On Sugar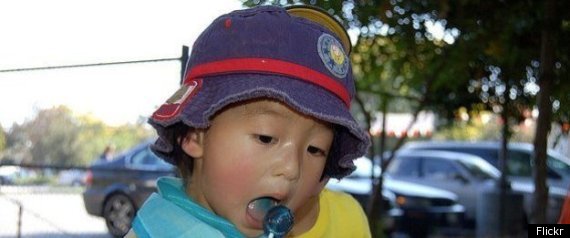 Welcome to November. The Halloween fun is over. Or is it? We're betting there are still some plastic pumpkin buckets filled with bite-sized treats in your kitchens -- and that you have hyper kids to prove it. Maybe you promised you'd only let them nibble on Halloween night. ("Just one lollipop." "Ok, three bite-size Snickers.") Or maybe you let everyone have at it in one giant candy gorge-fest. But no matter when you open the candy corn, there's no denying what comes next.
It's the Halloween hangover.
So, you sent us adorable photos of your kids in costume. Now, we want to see the aftermath. Click through the slideshow to see the best sugar highs we've captured so far, and then send us your best. If we're all going to have to spend the next week (or month!) monitoring candy-intake, we need a whole new batch of cute faces to get through the mayhem.
Loading Slideshow
How Many Licks Till The Center?

Halfway Done

Sweet N' Sour

We're Guessing This Picture Isn't From This Year's Halloween, But That Kid Is A Few Tootsie Rolls Ahead Of The Rest

"Try To Take My Candy, See What Happens"

Too Excited To Take The Wrapper Off

CAUGHT!

Gotta Stay Hydrated

There's Candy In Sight

What Happens When You Take Candy From An Ogre

Where To Start?

Will Fight 4 Food

Supersize That, Please

Cheater!