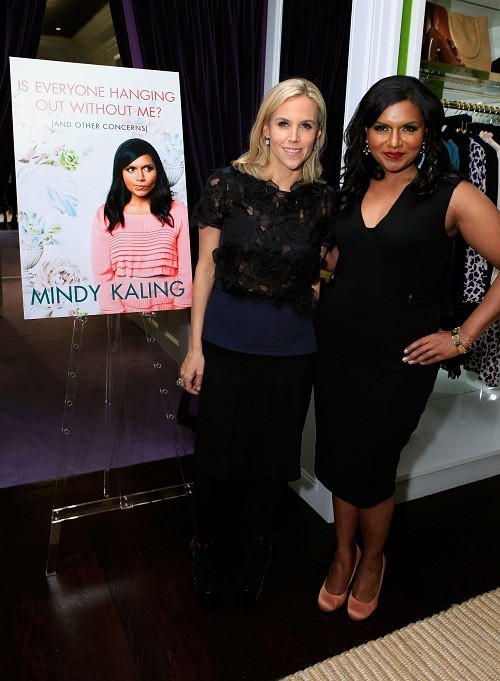 WireImage
I'm not the first person to have a girl crush on Mindy Kaling. The writer/actress is undeniably the best part of "The Office" as the perennial teenager Kelly Kapoor, and her Twitter musings such as, "Still recovering from my OG @toryburch bash. Removing eye makeup from last night, only to put more eye makeup on for 'The View'" keep me entertained for days. So, when I heard Kaling was going to become a true multihyphenate with her new tome, "Is Everyone Hanging Out Without Me?," I was immediately intrigued. Replete with childhood memories, style advice and more, the book, much like Kaling herself, is a riot in its own right. We chatted with the new author at her Tory Burch-thrown fete to discuss Indian fashion, L.A. versus NY style and, of course, diets.
How did you decide to write a book?
My manager, Howard, he loves me, he was like, "Mindy, I feel like you could do more than what you're doing as Kelly." And I was like, "Howard, I'm writing and acting," and he's like, "I don't care, I still think you can do more," and I was like,"Okay." So I started taking notes and started doing the book.
The book is dedicated to your parents; what do they think of the final product?
My parents love it, but my parents think I'm Kate Middleton – I'm so perfect to them, like, I could have written a much worse book or something offensive and they would've loved it. I'm basically a princess.
Your relationship with Tory started via Twitter when you called her a "closeted bling-loving Indian woman."
I was like, "Oh, she should be Indian, I can't believe she's not," so she's honorary in my mind. I mean look at her love of prints and bling and tunic-cut things in bright colors. I feel like she has the aesthetic of a lot of Indian women, like a lot of my aunts and cousins, which is completely unafraid of color, detailing and embellishments. I'm over-the-top like that, and Tory is so fashionable and has the best taste. It's ethnic in the best way.
What are your thoughts on Indian fashion?
I don't know that much, but I do know that an Indian wedding could be pretty amazing. I would love to have a giant Indian wedding that lasts several days. Even though I was born and raised here, I would love to do a straight-up wedding in Mumbai for like four weeks.
How would you describe your L.A. writer's style?
I'm never in heels. I'm always in Converse or ballet flats. You can usually find me in J.Brands, Tory cardigan and like, a Rachel Roy jewelry kind of look. I also own a lot of J. Crew and American Apparel. That's like pretty much it. Being comfortable and casual is the most important thing.
And, what about here in New York?
I wouldn't go anywhere without heels on. Look at mine tonight!
You love fashion; who are some of your favorite designers?
Well, one is standing four feet away from here! Charlotte Ronson is, to me, the epitome of the first date. I have gone on a ton of first dates, thanks to Charlotte.
Are they successful?
One is successful, might turn boyfriend. But her looks aren't trying too hard ever – very girly without being infantilizing. I love her stuff.
In the book, you talk about being average when it comes to stylists dressing you, not too skinny or large.
I'm pretty middle of the road. Most people would prefer it one way or the other, but I'm just right. Of course I diet sometimes like everyone does, it's like America's favorite activity.
SUBSCRIBE TO & FOLLOW LIFESTYLE
We're basically your best friend… with better taste. Learn more