Food Informants is a week-in-the-life series profiling fascinating people in the food world. We hope it will give you a first-hand look at the many different corners of the food industry. Know someone who would make a great Food Informant? Tell us why.
Chef Stephen Kalil joined PepsiCo and Frito-Lay in 2007 as their first ever corporate chef. In his role, he leads and inspires product development through the application of "Culinology", the blending of culinary arts and food science and technology. He is based at Frito-Lay headquarters in Plano, Texas.
Read Chef Stephen's diary below to learn about some of the new products PepsiCo is working on.
Monday, September 12
6:08am: Feed Tabitha, our adorable French bulldog. She is now six years old.
6:52am: Car service to the airport. The driver is Hanny. He's Lebanese like me. We compare notes on local Dallas restaurants and stores specializing in Middle-Eastern cuisine. I'm headed to Los Angeles take part in a PepsiCo intercultural culinary event (more on that to come).
7:23am: Checking in for flight. With the culinary equipment we travel with (knives in tow), checking bags is a must. I joined PepsiCo in 2007 as the company's first-ever corporate executive chef and split my time between traveling and doing events such as cooking demonstrations that showcase PepsiCo's product portfolio and actually leading product development at Frito-Lay's Culinary Innovation Center in Plano, Texas. Food is a science, but in the end it all comes down to taste, flavor, texture and finding what appeals to consumers. When I came on board, our R&D efforts were shifting from beyond being just the largest U.S. snack food maker to having a broader food base. Now, I'm helping brands incorporate Culinology -- the blending of culinary arts, food science and technology -- to develop more complex flavor profiles that differentiate and elevate our products. Consumers have become quite savvy with regards to food, global cultures and cuisines, so part of my job is finding ways to continually deliver on expectations.
8:19am: Through security... now some nourishment. I head to Starbucks, which sells our Naked Juice brand. What's great about working for the world's second largest food and beverage company is that you're reminded of what you do wherever you go -- whether looking down the supermarket aisles, watching a TV ad or seeing one of our delivery trucks on a route. Fact of the day: PepsiCo partners with Starbucks to make the bottled Frappuccino drinks.
2:00pm: First stop in California is a site visit to LA Plaza de Cultura y Artes, the nation's premier center of Mexican American culture. We'll be doing a culinary demo here tomorrow, when PepsiCo announces that it will donate $1 million to establish a teaching garden and Culinary Arts Program for Hispanic youth that teaches the importance of healthy eating and exercise, while raising awareness of agriculture and cultural heritage. Product inspiration comes from a variety of sources, including emerging demographics and cultural behaviors, and we're definitely seeing Hispanic foods and flavors expanding across the country. Earlier this year, we developed a guacamole seasoning packet for our Dip Creations line, where a consumer just needs to add two avocados, mix and mash. We also launched Tapatio-hot-sauce-flavored Doritos, Fritos and Ruffles after our folks from the field found that many in the Southwest and on the West Coast would carry it around to add to their meals. The flavors include a combination of red chili peppers, spices and garlic.
3:19pm: Next stop: Wolfgang Puck Catering to meet the staff and start prepping for tomorrow's demo. First, working the Esquitas (Mexican Cream Corn), then the avocado hummus.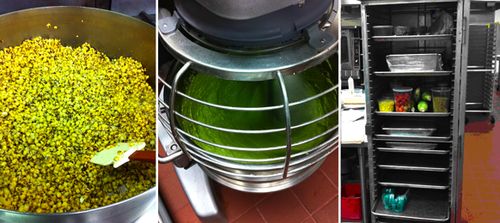 6:01pm: Finally arrive at the hotel.
7:11pm: Ironing my chef coat for tomorrow's demo.
7:18pm: Check in on the building of the set. We hired production staff from the local California cooking show "Bringing It Home" so they are letting us use their set for our demo.
8:10pm: Meet the rest of the team in the lobby for a rundown of tomorrow before heading to the BoHo Gastro Pub for dinner. Table for six, please!
9:25pm: First out of the gate is creamed wild mushrooms. Thumbs up. Then Mac and Cheese with bacon (done right). Mussels, pepperoni pizza (my favorite food of all time), burrata with heirloom tomatoes and a balsamic reduction. Simple and delicious.
Tuesday, September 13
8:59am: Checking out.
9:28am: After finalizing prep and gathering ingredients, we're finally loading the van to go to LA Plaza.
11:18am: Presenting tasting portions of the recipes we are demoing at LA Plaza.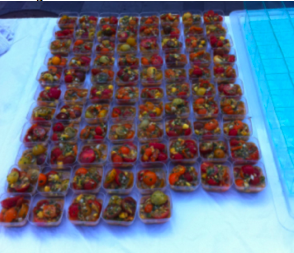 12:05pm: The grant ceremony begins.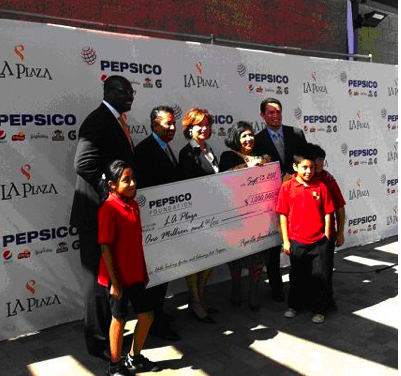 12:33pm: My culinary demo uses ingredients and flavors that have long been part of the Mexican pantry and culture, such as corn. For my Chile Glazed Chicken, I make a basting sauce that is pretty much a speed scratch version of a Mole Sauce. Recipes for baby heirloom tomato salsa, chili flavored pumpkin seeds and avocado hummus can be found here. I take the classic recipe for Hummus b' Tahini (chickpeas with sesame paste) and I substitute avocados for chickpeas. We're serving tasting portions with Tostitos Artisan Recipe tortilla chips.
1:17pm: Watch the students plant radishes in the edible teaching garden.
1:34pm: Group photo.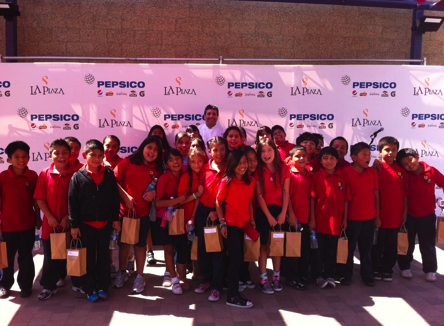 2:49pm: Cooking has worked up an appetite. Lunch in LA's Koreatown. Kimchi and nibbles arrive. Never understood the potato salad. Then bibimbap, al chigae and other delicacies.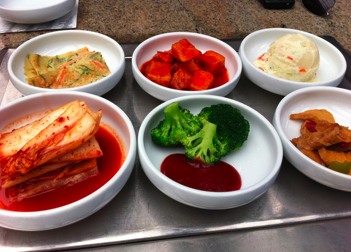 6:33pm: Flight canceled. Now on the later flight.
9:51pm: Just as I suspected, my luggage didn't make it on my rescheduled flight.
10:26pm: Home! Tabitha comes to greet me.
Wednesday, September 14
8:40am: Arrive to work... voicemails... emails... scan receipts from trip... check in with the team.
9:31am: Consumed a sample of a Frito-Lay's newly-launched Matador Beef Jerky, which has a new brand look and bolder flavor. It's very gratifying seeing your hard work come to fruition and fun getting to try the latest products before they hit the shelves. Consumer insights play a big role in product development. For instance, Peppered Beef Jerky was found to be a favorite (number three flavor in the meat snacks category), so now it's joining our Matador lineup. Projects have led me to work on everything from reformulating our Lay's, Tostitos and SunChips portfolio to make snacks from all-natural ingredients (no artificial flavors or preservatives) and replicating flavors like sun dried tomato and basil in a Lay's chip to reducing sodium in our "salty" snacks (which PepsiCo has committed to cut by 25% by 2015). I bet you didn't know that a serving of most Frito-Lay chips has about the same amount of sodium as the average slice of white bread.
9:58am: Sit down with co-worker Chef Ngoc to discuss some of the details of our trip to Dubai next month. We are providing culinary design support for a major food project PepsiCo's Middle East & Africa unit is working on. A few minutes later, I'll meet with Liam and Bridget from our PepsiCo division in Hamburg. We are also providing culinary design support for their innovation. Our Culinary Innovation Center acts as a hub within Frito-Lay, so I often support and collaborate with colleagues in research and development, operations or marketing around the world to explore new product possibilities. While my team gets to show great creativity, it's also a problem-solving mission to deliver a product that meets specific brief objectives, whether it is a flavor, use of ingredient or nutrition profile. 
In the photo, Chef Ngoc to my right, and Liam and Bridget to my left.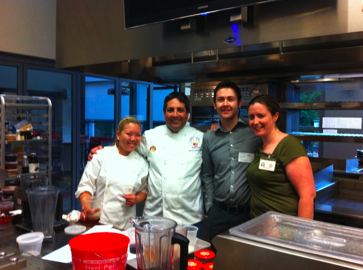 1:09pm: Working with Chef Tara in the kitchen. She's preparing Fritos-crusted wiener schnitzel with gewurztraminer syrup, wilted mustard greens and salt and vinegar whipped potatoes. The recipe is for the Worlds of Flavor international conference at the Culinary Institute of America this November. PepsiCo is a platinum sponsor, and this year's theme is Global Comfort and American Menus. What's interesting is taking a totally accessible product like our Fritos corn chips and elevating it to be part of a culinary experience. We'll also be showing the Pepsi-braised brisket and a lobster curry recipe.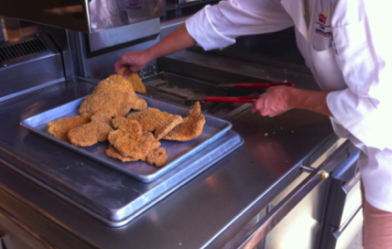 1:29pm: Quick check-in with coworkers working on innovation for our STACY'S brand. Knowing what's in the pipeline is exciting, but staying close-lipped on what's to come can be difficult.
4:05pm: Evaluating new flavor innovation for Lay's potato chips.
Thursday, September 15
9:00am: Team meeting. We review and discuss our calendar and workload for the next eight weeks. It's busy, to say the least.

11:05am: One on one with Sheila, a Senior Principal Scientist for Frito-Lay. We discuss culinary techniques for potatoes and how that can translate into process innovation during manufacturing.
12:01pm: Chat and consult with co-workers working on new innovation for SunChips.
12:30pm: Tasting global Frito Pie Remix recipes with Chef Tara. The Frito Pie Remix is a fun campaign to work on. I'm tasked with creating new and unique recipes for short webisodes that feature extreme ingredients submitted by fans online. For the fall, I came up with Apple Cobbler Fritos pie.
1:35pm: Taking Elaine O. on a tour of the Culinary Center. She's the winner of our Taste from Home with Frito-Lay recipe contest and will be part of a live culinary webcast we're doing this afternoon. We asked fans to submit a favorite recipe that reminds them of home or is inspired by one of our Lay's regional flavor potato chips, which celebrate flavors and cuisines from across the country -- like Lay's Honey Mustard for the Northeast and Lay's Chipotle Ranch for the Southwest. American regional cuisine is rooted in the emotions and the culture of the population in those areas, so tapping into that makes our products part of an experience. To create them, we identified top food trends and historical food rituals and cultures in those regions, as well as ingredients most readily available to the areas, and interviewed chefs from all over the country to replicate recipes and use them as inspiration for the Lay's flavors. Traveling around the world, you're sure to find PepsiCo products that resonate specifically with the local market, like our Red Caviar potato chips in Russia or Roasted Chicken flavored chips in the U.K.
4:40pm: Pre-broadcast makeup... I need a haircut.
5:27pm: Show time! On camera, we're preparing the top three recipes of over 140 submissions: Cincinnati-Style chili, Greek Lamb Burgers and Taco Soup. Elaine showed me and our online audience how to make lamb burgers that were inspired by the Greek restaurants near her hometown of Aurora, N.Y. You can view all of the recipes here.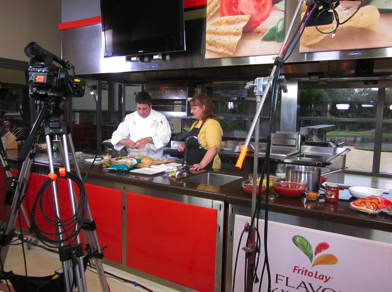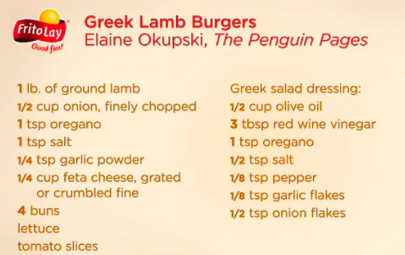 Friday, September 16
9:00am: Strategy meeting for 2013 innovation.
1:39pm: Gather some PepsiCo products for a welcome basket for our newest Chef joining our team, a tradition for all new PepsiCo employees.
3:15pm: Document and submit Fritos Pie Remix recipes.
7:05pm: Feed and then bathe Tabitha. Afterwards, she gets the zoomies. I think she believes if she runs around the house like crazy that she will dry off faster.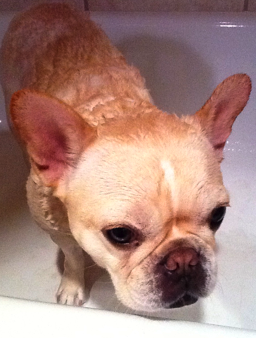 7:32pm: Get the mail, make a cocktail, read the paper.
8:17pm: Prepare a to-do list for the weekend while watching a CSI: NY rerun.
See previous Food Informants below:
SUBSCRIBE TO & FOLLOW THE MORNING EMAIL
The Morning Email helps you start your workday with everything you need to know: breaking news, entertainment and a dash of fun. Learn more