Food Informants is a week-in-the-life series profiling fascinating people in the food world. We hope it will give you a first-hand look at the many different corners of the food industry. Know someone who would make a great Food Informant? Tell us why.
Chef Stephen Kalil joined PepsiCo and Frito-Lay in 2007 as their first ever corporate chef. In his role, he leads and inspires product development through the application of "Culinology", the blending of culinary arts and food science and technology. He is based at Frito-Lay headquarters in Plano, Texas.
Read Chef Stephen's diary below to learn about some of the new products PepsiCo is working on.
Monday, September 12
6:08am: Feed Tabitha, our adorable French bulldog. She is now six years old.
6:52am: Car service to the airport. The driver is Hanny. He's Lebanese like me. We compare notes on local Dallas restaurants and stores specializing in Middle-Eastern cuisine. I'm headed to Los Angeles take part in a PepsiCo intercultural culinary event (more on that to come).
7:23am: Checking in for flight. With the culinary equipment we travel with (knives in tow), checking bags is a must. I joined PepsiCo in 2007 as the company's first-ever corporate executive chef and split my time between traveling and doing events such as cooking demonstrations that showcase PepsiCo's product portfolio and actually leading product development at Frito-Lay's Culinary Innovation Center in Plano, Texas. Food is a science, but in the end it all comes down to taste, flavor, texture and finding what appeals to consumers. When I came on board, our R&D efforts were shifting from beyond being just the largest U.S. snack food maker to having a broader food base. Now, I'm helping brands incorporate Culinology -- the blending of culinary arts, food science and technology -- to develop more complex flavor profiles that differentiate and elevate our products. Consumers have become quite savvy with regards to food, global cultures and cuisines, so part of my job is finding ways to continually deliver on expectations.
8:19am: Through security... now some nourishment. I head to Starbucks, which sells our Naked Juice brand. What's great about working for the world's second largest food and beverage company is that you're reminded of what you do wherever you go -- whether looking down the supermarket aisles, watching a TV ad or seeing one of our delivery trucks on a route. Fact of the day: PepsiCo partners with Starbucks to make the bottled Frappuccino drinks.
2:00pm: First stop in California is a site visit to LA Plaza de Cultura y Artes, the nation's premier center of Mexican American culture. We'll be doing a culinary demo here tomorrow, when PepsiCo announces that it will donate $1 million to establish a teaching garden and Culinary Arts Program for Hispanic youth that teaches the importance of healthy eating and exercise, while raising awareness of agriculture and cultural heritage. Product inspiration comes from a variety of sources, including emerging demographics and cultural behaviors, and we're definitely seeing Hispanic foods and flavors expanding across the country. Earlier this year, we developed a guacamole seasoning packet for our Dip Creations line, where a consumer just needs to add two avocados, mix and mash. We also launched Tapatio-hot-sauce-flavored Doritos, Fritos and Ruffles after our folks from the field found that many in the Southwest and on the West Coast would carry it around to add to their meals. The flavors include a combination of red chili peppers, spices and garlic.
3:19pm: Next stop: Wolfgang Puck Catering to meet the staff and start prepping for tomorrow's demo. First, working the Esquitas (Mexican Cream Corn), then the avocado hummus.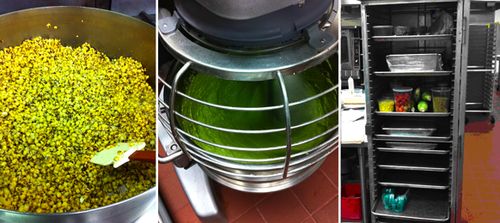 6:01pm: Finally arrive at the hotel.
7:11pm: Ironing my chef coat for tomorrow's demo.
7:18pm: Check in on the building of the set. We hired production staff from the local California cooking show "Bringing It Home" so they are letting us use their set for our demo.
8:10pm: Meet the rest of the team in the lobby for a rundown of tomorrow before heading to the BoHo Gastro Pub for dinner. Table for six, please!
9:25pm: First out of the gate is creamed wild mushrooms. Thumbs up. Then Mac and Cheese with bacon (done right). Mussels, pepperoni pizza (my favorite food of all time), burrata with heirloom tomatoes and a balsamic reduction. Simple and delicious.
Tuesday, September 13
8:59am: Checking out.
9:28am: After finalizing prep and gathering ingredients, we're finally loading the van to go to LA Plaza.
11:18am: Presenting tasting portions of the recipes we are demoing at LA Plaza.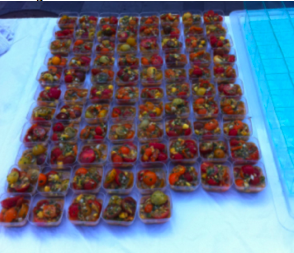 12:05pm: The grant ceremony begins.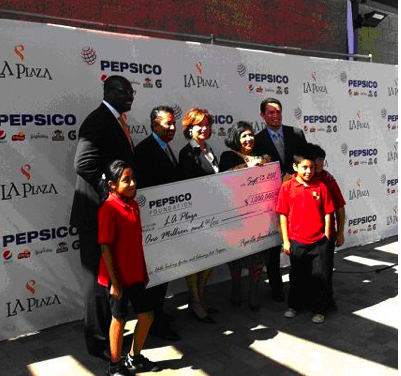 12:33pm: My culinary demo uses ingredients and flavors that have long been part of the Mexican pantry and culture, such as corn. For my Chile Glazed Chicken, I make a basting sauce that is pretty much a speed scratch version of a Mole Sauce. Recipes for baby heirloom tomato salsa, chili flavored pumpkin seeds and avocado hummus can be found here. I take the classic recipe for Hummus b' Tahini (chickpeas with sesame paste) and I substitute avocados for chickpeas. We're serving tasting portions with Tostitos Artisan Recipe tortilla chips.
1:17pm: Watch the students plant radishes in the edible teaching garden.
1:34pm: Group photo.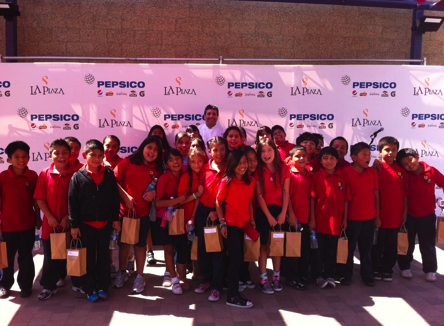 2:49pm: Cooking has worked up an appetite. Lunch in LA's Koreatown. Kimchi and nibbles arrive. Never understood the potato salad. Then bibimbap, al chigae and other delicacies.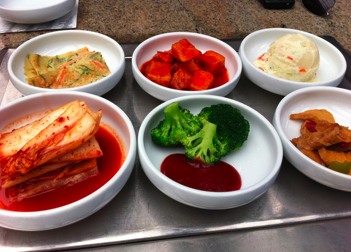 6:33pm: Flight canceled. Now on the later flight.
9:51pm: Just as I suspected, my luggage didn't make it on my rescheduled flight.
10:26pm: Home! Tabitha comes to greet me.
Wednesday, September 14
8:40am: Arrive to work... voicemails... emails... scan receipts from trip... check in with the team.
9:31am: Consumed a sample of a Frito-Lay's newly-launched Matador Beef Jerky, which has a new brand look and bolder flavor. It's very gratifying seeing your hard work come to fruition and fun getting to try the latest products before they hit the shelves. Consumer insights play a big role in product development. For instance, Peppered Beef Jerky was found to be a favorite (number three flavor in the meat snacks category), so now it's joining our Matador lineup. Projects have led me to work on everything from reformulating our Lay's, Tostitos and SunChips portfolio to make snacks from all-natural ingredients (no artificial flavors or preservatives) and replicating flavors like sun dried tomato and basil in a Lay's chip to reducing sodium in our "salty" snacks (which PepsiCo has committed to cut by 25% by 2015). I bet you didn't know that a serving of most Frito-Lay chips has about the same amount of sodium as the average slice of white bread.
9:58am: Sit down with co-worker Chef Ngoc to discuss some of the details of our trip to Dubai next month. We are providing culinary design support for a major food project PepsiCo's Middle East & Africa unit is working on. A few minutes later, I'll meet with Liam and Bridget from our PepsiCo division in Hamburg. We are also providing culinary design support for their innovation. Our Culinary Innovation Center acts as a hub within Frito-Lay, so I often support and collaborate with colleagues in research and development, operations or marketing around the world to explore new product possibilities. While my team gets to show great creativity, it's also a problem-solving mission to deliver a product that meets specific brief objectives, whether it is a flavor, use of ingredient or nutrition profile. 
In the photo, Chef Ngoc to my right, and Liam and Bridget to my left.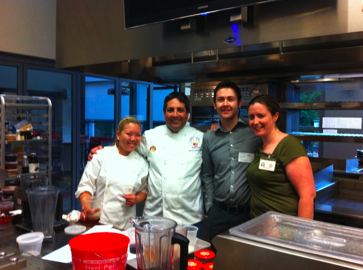 1:09pm: Working with Chef Tara in the kitchen. She's preparing Fritos-crusted wiener schnitzel with gewurztraminer syrup, wilted mustard greens and salt and vinegar whipped potatoes. The recipe is for the Worlds of Flavor international conference at the Culinary Institute of America this November. PepsiCo is a platinum sponsor, and this year's theme is Global Comfort and American Menus. What's interesting is taking a totally accessible product like our Fritos corn chips and elevating it to be part of a culinary experience. We'll also be showing the Pepsi-braised brisket and a lobster curry recipe.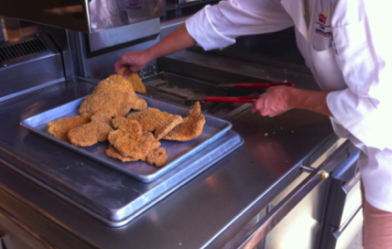 1:29pm: Quick check-in with coworkers working on innovation for our STACY'S brand. Knowing what's in the pipeline is exciting, but staying close-lipped on what's to come can be difficult.
4:05pm: Evaluating new flavor innovation for Lay's potato chips.
Thursday, September 15
9:00am: Team meeting. We review and discuss our calendar and workload for the next eight weeks. It's busy, to say the least.

11:05am: One on one with Sheila, a Senior Principal Scientist for Frito-Lay. We discuss culinary techniques for potatoes and how that can translate into process innovation during manufacturing.
12:01pm: Chat and consult with co-workers working on new innovation for SunChips.
12:30pm: Tasting global Frito Pie Remix recipes with Chef Tara. The Frito Pie Remix is a fun campaign to work on. I'm tasked with creating new and unique recipes for short webisodes that feature extreme ingredients submitted by fans online. For the fall, I came up with Apple Cobbler Fritos pie.
1:35pm: Taking Elaine O. on a tour of the Culinary Center. She's the winner of our Taste from Home with Frito-Lay recipe contest and will be part of a live culinary webcast we're doing this afternoon. We asked fans to submit a favorite recipe that reminds them of home or is inspired by one of our Lay's regional flavor potato chips, which celebrate flavors and cuisines from across the country -- like Lay's Honey Mustard for the Northeast and Lay's Chipotle Ranch for the Southwest. American regional cuisine is rooted in the emotions and the culture of the population in those areas, so tapping into that makes our products part of an experience. To create them, we identified top food trends and historical food rituals and cultures in those regions, as well as ingredients most readily available to the areas, and interviewed chefs from all over the country to replicate recipes and use them as inspiration for the Lay's flavors. Traveling around the world, you're sure to find PepsiCo products that resonate specifically with the local market, like our Red Caviar potato chips in Russia or Roasted Chicken flavored chips in the U.K.
4:40pm: Pre-broadcast makeup... I need a haircut.
5:27pm: Show time! On camera, we're preparing the top three recipes of over 140 submissions: Cincinnati-Style chili, Greek Lamb Burgers and Taco Soup. Elaine showed me and our online audience how to make lamb burgers that were inspired by the Greek restaurants near her hometown of Aurora, N.Y. You can view all of the recipes here.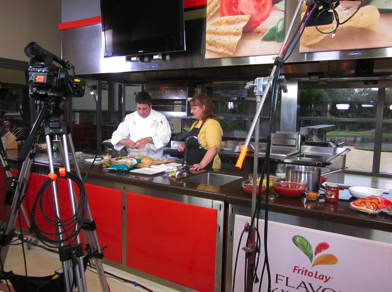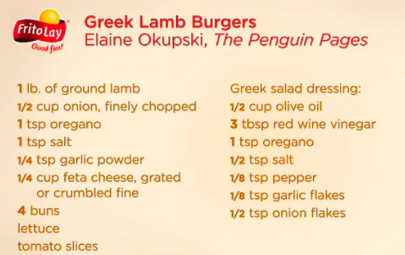 Friday, September 16
9:00am: Strategy meeting for 2013 innovation.
1:39pm: Gather some PepsiCo products for a welcome basket for our newest Chef joining our team, a tradition for all new PepsiCo employees.
3:15pm: Document and submit Fritos Pie Remix recipes.
7:05pm: Feed and then bathe Tabitha. Afterwards, she gets the zoomies. I think she believes if she runs around the house like crazy that she will dry off faster.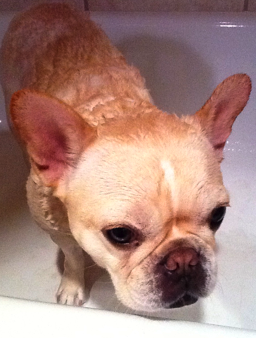 7:32pm: Get the mail, make a cocktail, read the paper.
8:17pm: Prepare a to-do list for the weekend while watching a CSI: NY rerun.
See previous Food Informants below:
John T. Edge writes a monthly column, "United Tastes," for the New York Times. He is a contributing editor at Garden & Gun and a longtime columnist for the Oxford American. His magazine and newspaper work has been featured in eight editions of the Best Food Writing compilation. He has been nominated for five James Beard Foundation Awards, including two M.F.K. Fisher Distinguished Writing Awards. Edge holds a master's degree in Southern Studies from the University of Mississippi. He is director of the Southern Foodways Alliance, an institute of the Center for the Study of Southern Culture at the University of Mississippi, where he documents, studies and celebrates the diverse food cultures of the American South. Read John T. Edge's diary here.

Chris Jones and Richie Farina are chefs at Moto, a fine dining restaurant in Chicago that focuses on innovative and futuristic cuisine. They are both contestants on this season of "Top Chef: Texas." After attending Johnson and Wales University, Farina, the executive sous chef, started cooking in several Boston restaurants, and then joined Moto in 2008. In his spare time, he trains in mixed martial arts, a mixture of Ju Jistu wrestling and boxing. Jones, got his start cooking in his grandmother's kitchen. After working his way up the ladder in several restaurants, Jones is now the chef de cuisine of Moto. He lives with his wife and young daughter, Savannah. Read Chris and Richie's diary here.

Sean Henry is the owner of Houndstooth Coffee in Austin, Texas. Not until graduating from the University of Texas at Austin with a degree in Radio, Television and Film, did Sean even begin drinking coffee. While working at a local grocery store, Sean began to explore the coffee world region by region. After the initial broad strokes of regional coffees, he began working at local cafes, learning the art of being a barista. At Houndstooth, Sean aims to provide customers with the sophisticated taste and presentation of a perfect cup of Joe. He not only finds value in a well-crafted cup, but in the coffee drinking experience as well. Read Sean Henry's diary here.

Jean K. Reilly MW is the Wine Director for the Morrell Wine Bar and the Wine Buyer at Morrell Wine Co. She is a 10-year veteran of the wine business and has worked in numerous parts of the trade. In 2010, Jean became this country's 26th Master of Wine, only the sixth American woman to hold this prestigious title. Jean's interest in wine began as a hobby while pursuing a career in corporate finance at Bank of Tokyo-Mitsubishi and Deloitte & Touche. Abandoning the corporate track in 2001, Jean plunged into wine full-time, traveling the vineyards of Europe and the U.S. After a stint as sommelier at a small French restaurant in Manhattan, she worked as a wine instructor for several culinary schools, including Schiller International University in Switzerland. From 2007 to 2008, she also served as the Wine Consultant for Hilton Hotels. Read Jean Reilly's diary here.

Todd Coleman is the executive food editor of Saveur magazine, where for six years he's run the food side of things, including recipe selection, and overseeing the test kitchen. He's also an accomplished photographer who props, styles and photographs the majority of Saveur's covers, as well as frequently shooting and producing stories both in studio and on location. A graduate of the CIA, he's worked in restaurants, has been a private chef, edited at Everyday Food, produced shows for the Food Network, and has photographed cookbooks like The Japanese Grill by Tadashi Ono and Harris Salat, and the forthcoming Katie Workman book The Mom 100. He lives in Brooklyn, loves the Strand bookstore, hoards photo lenses and is a fiend for Indian food. Read Todd Coleman's diary here.

Chef Stephen Kalil joined PepsiCo and Frito-Lay in 2007 as their first ever corporate chef. In his role, he leads and inspires product development through the application of "Culinology", the blending of culinary arts and food science and technology. He is based at Frito-Lay headquarters in Plano, Texas. Read Stephen Kalil's diary here.

Food maintains a nearly constant presence in the life of 34-year-old competitive eating champion Timothy Janus, known to his fans as Eater X. Ranked #3 in the world by Major League Eating, Janus spends many of his weekends on the road, competing in contests across the country and around the world. A seven-year veteran of the sport, Janus has competed in over 100 events, owns seven world records, and yet still looks pretty good in a pair of pants. At night, Janus is a waiter at a pizza shop in Manhattan's East Village. His life, he says, has been a very good adventure. Read Eater X's diary here.

Geoff Bartakovics, 34, is the co-founder and CEO of Tasting Table, the free daily email publication all about food & drink culture. Before starting Tasting Table, Geoff was a business manager in asset-backed finance at UBS Investment Bank, where he coordinated business activities among the fixed income trading desk and the bank's middle- and back-office functions. Geoff was formerly a business analyst at Deloitte Consulting. He attended The University of Chicago, from which he graduated with honors in English. He was a Fulbright Scholar in comparative literature and philosophy in Berlin and Hamburg. He's an obsessive dinner party entertainer and a serious home cook. Read Geoff's diary here.

Elizabeth Laseter, an aspiring food journalist, is a recent graduate of Johns Hopkins University and lives in Washington, D.C. She received her diploma in Writing and Art History and is now pursuing a Culinary Arts Degree at L'Academie de Cuisine in Gaithersburg, Md. The one-year program includes six months of learning techniques in the classroom and six months at an externship in a D.C. fine dining restaurant. Elizabeth documents her food adventures through two blogs, The Baltimore Food Rag and The D.C. Food Rag. She decided to attend culinary school after interning at Baltimore magazine and working with the food editor. Read Elizabeth's full diary here.

Jane and Terry Levan operate a 20-acre pastured poultry farm outside of Lexington, Texas called Dewberry Hills Farm, after the dewberry vines that grow wild on their land. They raise antibiotic- and hormone-free meat chickens for sale. Their chickens mostly live outdoors. The Devans call themselves "omnivores with a conscience;" Jane won't eat any meat unless she personally knowns who raised it and how it was processed. Jane and Terry began farming in 2003, after reading Fast Food Nation and The Omnivore's Dilemma. The pair had always wanted to farm, but they didn't want to follow the industrial agricultural model. Jane and Terry built a processing building on-site and became state certified so they could sell their birds commercially in May 2008. Read Jane's diary here.

"James" is an Apple employee. He works at Caffe Macs, the on-site cafeteria of Apple's campus in Cupertino, Ca. Reminiscent of Google's epic food offerings, Caffe Macs is pretty much a corporate food court dream-come-true. Read James' diary here.

Brooklyn-based Aaron Lefkove used to work in book publishing and as a freelance writer. After his office re-located to New Jersey, Lefkove decided he didn't want to do the commute. Lefkove and his business partner, Andy Curtin, had the idea for a Cape Cod-style seafood joint for awhile. One day at a barbecue, they decided to commit to opening a restaurant, Littleneck, Brooklyn's first and only classic New England-style beach side seafood shack. Besides working in restaurants growing up, Lefkove had no experience as a restaurateur. He acknowledges that the process has been a major learning curve, but so far, there haven't been any obstacles they couldn't get around. At first, he thought opening up a clam shack would be easier than finding a new job but it turns it that it is actually "WAY WAY WAY harder." Despite this being the "hardest, most stressful, most frustrating, most time consuming, most ambitious thing" he has ever done, it isn't nearly as hard as he thought it would be. Plus, he says he loves working for himself, working toward something he has "always dreamed about," and building something really exciting. Read Aaron Lefkove's diary here.

Jonathan Stich, 29, is a third generation farmer from Burlington, Wisconsin. He grew weary of the corporate world, went traveling and decided to become a farmer. After reading about how heirloom tomato grower Tim Stark in Pennsylvania sells his products to New York restaurants, Stich made the decision to spend a night in restaurants in Milwaukee and Chicago asking if they'd be interesting in buying local produce. Read more about Jonathan Stich's week here.

Erika Nakamura and Amelia Posada are the owners, managers and butchers in chief of LA's artisanal butcher shop Lindy and Grundy. (Erika is Grundy and Amelia is Lindy.) The two, who also live together and are a couple, opened their store on Fairfax last spring (profiled on HuffPost Food). Lindy and Grundy has already been feted as one of the most best butchers in Southern California -- and quite possibly its most sustainable. Read about a week in the life of Erika Nakamura and Amelia Posada's here.

Recently, inspired by a meeting at the San Francisco Food Bank, chef Karl Wilder started the food stamp challenge: living and eating on a food stamp budget. What began as a one week project has turned into a two-month long commitment. Wilder calculated that a family has $1.33 to spend per meal, and decided that when using oil and seasonings, the cost would be $1.22. In total, he has less than $4 to spend on food per day. He monitors his nutrition and caloric intake on FitDay. You can read more about his daily experiences at on his blog, Fusion On The Fly. Read about a week in the life of Karl Wilder here.

Chris Cosentino is the executive chef of San Francisco's Incanto, an offal-heavy (not sure what offal is? Check out our Whole Animal Guide here) rustic Italian restaurant located in San Francisco. While encouraging patrons to try different cuts of meat, Cosentino also champions eating locally. He's previously cooked at such renowned restaurants as Kinkead's and Chez Panisse, and cites Jean-Louis Palladin as a big influence on his cooking style. He also co-owns Boccalone, which sells various cured meats and house-made salami. To learn more about Cosentino, check out his website, Offal Good. Read about a week in the life of Chris Cosentino here.

"Jane," 24, has been working for Trader Joe's since 2007, though in 2009 she left for over a year to go work for Whole Foods. She did not like it there and returned to TJ's. At Trader Joe's, every employee does a range of tasks, but Jane's speciality is dairy. Below is her explanation of the pros and cons of the job: I like working for Trader Joe's because they pay me well and offer great benefits. They also respect me as an employee and make me feel like I'm useful and needed and not just another part-time employee that can be replaced (which has been the case at other retail jobs I've had). Trader Joe's is really good at hiring great people and I'm lucky to have so many wonderful co-workers. I don't like working at Trader Joe's because the work can be strenuous on my back and wrists. Being on a register for several hours at a time is tiring and somewhat soul crushing due to ignorant people who feel the need to be condescending to me because I work at a grocery store. I also feel that the company is becoming more and more corporate as it grows and it is beginning to have an impact on the enjoyability of being a part-time "crew member." I also work in a very busy store which causes the managers to stress out a lot and I don't enjoy being surrounded by it. Read about a week in the life of a Trader Joe's employee here.

Chef Nate Appleman is the Culinary Manager at Chipotle. This involves a range of tasks including developing new menu items, opening ShopHouse (Chipotle's upcoming Asian fast-casual chain) and furthering Chipotle's commitment to sustainable sourcing. A graduate of the Culinary Institute of America, Appleman was previously executive chef and co-owner of San Francisco's super popular Italian restaurants A16 and SPQR. Appleman moved to New York in 2010 to open Pulino's. After leaving, Appleman took his current position at Chipotle. He has received a James Beard award for Rising Star Chef, been anointed Best New Chef by Food & Wine and is the champion of Food Network's Chopped All-Stars. Read about a week in the life of Nate Appleman here.

Freeganism is a lifestyle in which one employs "alternative strategies for living based on limited participation in the conventional economy and minimal consumption of resources." Gio Andollo is a writer, artist, musician and freegan. Andollo became a freegan when he realized that artists don't get paid much, but he didn't like the idea of working a "crappy, part-time job" to pay the bills. So he found another way. Andollo performs on the subway for about 20 hours a week, typically in two-hour intervals. He makes $10 to $50 per shift and has a love/hate relationship with busking. Andollo will buy food, but very rarely. The majority of his food comes from trash touring, or dumpster diving. He's become increasingly concerned with the abuses inherent in current economic systems: waste of resources, exploitation of people, degradation of the environment, calloused treatment of animals, commodification of time, labor, even war (thus human life in wholesale). In addition to busking part-time, he writes songs, blogs and books about these issues. Read about a week in the life of Gio Andollo here.

Captain Jason Joyce is an eighth-generation resident of Swan's Island, Maine. He is a Coast Guard Licensed Captain and a registered Maine Tidewater Guide. He has done lobster and fish research with the University of Maine, the University of Massachusetts, the Gulf of Maine Research Institute and the Lobster Institute. Joyce is currently doing a lot of work with the Penobscot East Resource Center, which works to secure a viable future for the fishing communities of eastern Maine. Each week, he records HD video of lobstering that he gives to restaurants to educate customers about sustainable lobster fisheries in Maine. Captain Joyce is married to his high school sweetheart and they have four children. Learn more about Captain Jason Joyce here. Read about a week in the life of Jason Joyce here.

Martin Kastner is a serviceware designer extraordinaire/jack-of-all-design-trades for Grant Achatz's Alinea, Next and The Aviary. Kastner creates custom pieces that work with Achatz's elaborate and intricate food. Born in the Czech Republic, Kastner trained as a blacksmith and received an MFA in sculpture. (His thesis was about air). He met his American wife in Prague and moved to the US in 1998. In 2003, Kastner received an unexpected email from Grant Achatz, who had emailed a host of designers. Kastner was the only one to respond. They've partnered not only on serviceware, but also on web design, video and the Alinea cookbook. Kastner's other clients include L20 (an upscale, seafood-focused Chicago restaurant), Le Bernardin (Eric Ripert's homage to seafood) and Empellon (Alex Stupak's new Mexican restaurant in New York). Read about a week in the life of Martin Kastner here.