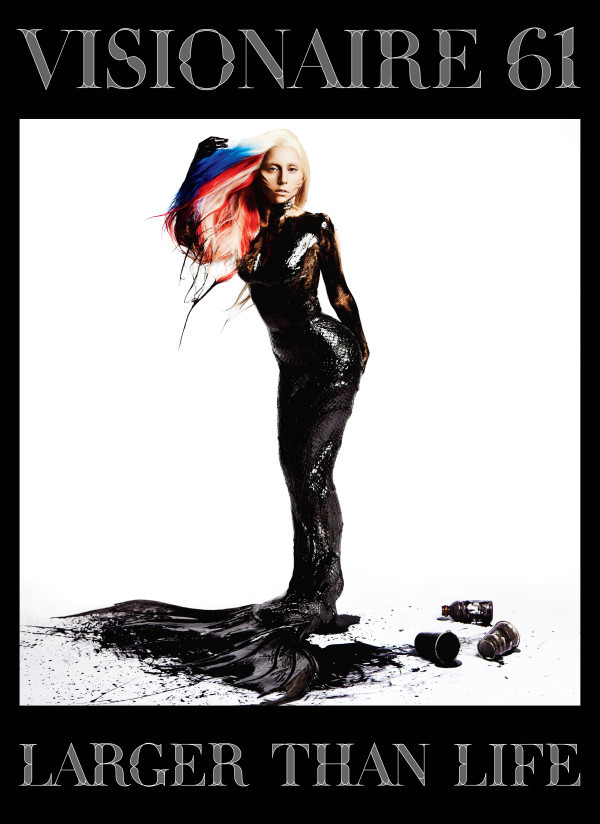 When a new issue of Visionaire lands on our desk, it's always a big deal. Replete with fashion forward editorials and artistic think pieces, it's basically the highlight of our year. The 61st issue, however, which was released today, is the biggest issue yet. Titled "LARGER THAN LIFE," this magazine is true to its name - the Guinness World Record certified that it is the largest magazine ever produced. How big is it exactly? Oh, only 5 x 7... feet.
Who else could land a cover of such great proportions? None other than Lady Gaga. Dressed as a gothic, yet patriotic mermaid and shot by Inez and Vinoodh, the pop singer evokes a high fashion oil spill. Additionally, Visionaire recruited the likes of Steven Klein, Mario Sorrenti and Bruce Weber, Ryan McGinley, Ed Ruscha, Richard Phillips, Marina Abramovic and Ridley Scott to contribute to the massive project.
Visionaire 61 will be available in two editions: the standard is 36 inches x 49.48 and retails for $375.00 while the deluxe edition measures 57.48 inches x 79 inches and costs $1,500.00. The perfect gift for the person with a large, empty bookshelf.
Take a peek in our gallery below for a preview of the issue: