Syria: Government Crackdown In Homs Kills At Least 11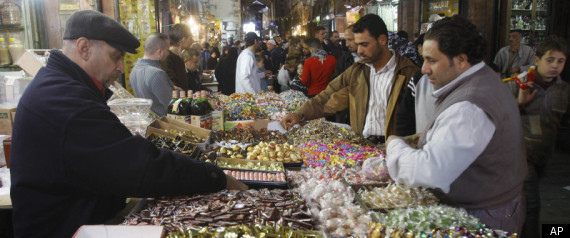 BEIRUT — Syrians in the restive region of Homs performed special prayers for a major Muslim holiday to the sound of explosions and gunfire as government troops pushed forward their assault on the area, killing at least 11 people Sunday, residents and activists said.
The violence on the first day of Eid al-Adha, or Feast of the Sacrifice, added to fears that a peace plan brokered by the Arab League last week was unraveling and prompted Qatar's prime minister to call for an emergency meeting Saturday to discuss the Syrian government's failure to abide by its commitments.
Egypt's official news agency MENA reported that Sheik Hamad Bin Jassem Bin Jabr Al Thani called for the meeting "in light of the continuing acts of violence and the Syrian government's noncompliance" with the terms of the Arab plan.
Violence has continued unabated, though Damascus agreed to halt its crackdown on the 7-month-old uprising that the U.N. says has left some 3,000 people dead.
Under the Arab League plan, Syria's government agreed to pull tanks and armored vehicles out of cities, release political prisoners and allow journalists and rights groups into the country.
"It is a very painful situation here in Homs," said a city resident reached by telephone and speaking on condition of anonymity for fear of government reprisals. "The holiday will come for us only when we are free from this regime."
Activists said government forces on Sunday killed at least nine people in Homs, which has turned into one of the main centers of protest and reprisal during the revolt against President Bashar Assad.
Bloodshed linked to the military crackdown on dissent and what appear to be sectarian revenge killings have engulfed Homs in recent weeks, killing scores of people in the country's third-largest city.
The British-based Syrian Observatory for Human Rights said troops killed one person in the city of Hama during raids there and another in the northern Idlib province.
Majd Amer, a local Homs activist, said people performed morning prayers to the sound of explosions that sometimes shook the mosques. "Nobody can tell what the explosions are, it's been like this for days now," he said of the military assault on the city.
Elsewhere, troops fired live ammunition to disperse protesters near Damascus and in the country's north as worshippers emerged from prayers to stage protests calling for Assad's ouster. There were no immediate reports of deaths but activists said several people were wounded in the northern province of Idlib.
Assad, who is trying to fend off the greatest challenge his family's 40-year-old regime, attended Eid prayers at the al-Nour Mosque in the northern town of Raqqa, according to the official SANA news agency.
The location marked a divergence from the past few years when Assad held prayers in the capital Damascus. The choice of Raqqa, which has seen some anti-government protests, appeared to be an attempt by the regime to show it remains in control there.
The Observatory said security forces conducted raids in Raqqa after Eid prayers.
The country's top Sunni clergyman and Assad loyalist, Grand Mufti Ahmad Badreddine Hassoun, insisted Assad is "not a president for life," but would rather return to his profession as an eye doctor.
"I am convinced that he plans to introduce reforms, step by step, that will lead to fair and free elections with independent parties – and then after a peaceful transition, he could be ready to resign," Hassoun told Germany's Spiegel magazine in its Monday edition. He gave no time frame.
The comments by Hassoun, a state-appointed cleric whose son was killed by unknown gunmen last month, may be part of the Syrian regime's attempts to portray Assad as willing to eventually step aside.
The head of the opposition Syrian National Council, Burhan Ghalioun, addressed the Syrian people directly for the first time on Saturday evening, rejecting dialogue with Assad.
"We will not negotiate on the blood of the victims and martyrs ... we will not be deceived. The National Council will not allow the regime to bide for time," he said in a speech broadcast on the pan-Arab Al-Jazeera satellite TV channel.
___
AP writer Melissa Eddy contributed from Berlin, Germany.
Below, a timeline of events in Bashar al-Assad's regime:
Loading Slideshow
1971: Hafez Assad Elected President

Hafez Assad, Bashar's father, was elected president in a plebiscite in 1971 after decades of coups. Assad senior installed a repressive regime, characterized by a cult of personality. The Assads belong to the Islamic Allawites sect, a religious minority in mostly Sunni Syria.

1994: Assad Becomes Heir-Apparent

Hafez initially planned for his eldest son and security chief, Basil, to become Syria's future president. Yet in <a href="http://www.nytimes.com/1994/01/22/world/assad-s-son-killed-in-an-auto-crash.html" target="_hplink">January 1994,</a> flamboyant Basil died in a car crash outside Damascus. Bashar, studying in London, was summoned back to Syria and entered into a military academy.

2000: Assad Succeeds His Father

<a href="http://www.guardian.co.uk/theguardian/2000/jun/15/guardianweekly.guardianweekly1" target="_hplink">Hafez Assad died at the age of 69</a> after ruling Syria for over 20 years. <a href="http://news.bbc.co.uk/2/hi/middle_east/826400.stm" target="_hplink">Despite limited political experience, Bashar was elected president.</a>

2000: Reforms?

<a href="http://www.time.com/time/magazine/article/0,9171,1101030428-444974,00.html" target="_hplink">Assad started his presidency introducing modest progressive reforms</a>. He shut down Mazza prison, a notorious detention center, and released 600 detainees. However, human rights violations in the country quickly resumed as dissidents were arrested and persecuted. The new leader also maintained rocky relations with both Western and Middle Eastern countries.

2002: The Axis Of Evil

U.S. President George Bush names Syria as one of the <a href="http://news.bbc.co.uk/2/hi/1988810.stm" target="_hplink">Axis Of Evil,</a> arguing that the country supported terrorism and Palestinian militants.

2005: Rafik Hariri Assassinated

When Rafik Hariri, Lebanon's former PM, was assassinated by a suicide bomber in 2005, many believed Syria had a hand in the attack. Massive outcry forced Assad to withdraw the Syrian troops stationed in Lebanon.

2007: Reelected

In 2007, Assad secured a second seven-year term by winning 97 percent of the votes in a national referendum. He was the only candidate.

2008: Assad Meets Sarkozy

After the U.S. imposed sanctions on Syria in 2004, Assad's relations with Western countries remained cool. His trip to Paris to meet Sarkozy as well as Lebanese President Michel Suleiman (R) <a href="http://www.reuters.com/article/2010/05/03/us-obama-syria-idUSTRE6425UW20100503?type=politicsNews" target="_hplink">marked the beginning of a warmer diplomatic period with the Western world</a>.

2011: Stirrings Of An Arab Spring

In the wake of the revolutions in Tunisia and Egypt, Syrian protesters demanded sweeping democratic reforms. Assad initially answered with modest concessions, yet quickly turned to a massive crackdown to battle the protesters.

2012: Assad Fights Back

Thousands of Syrians lost their lives as the conflict in the country intensified. Backed by Russia, Assad refused to leave power and vowed to <a href="http://www.huffingtonpost.com/2012/01/10/bashar-assad-syira-unrest_n_1196039.html" target="_hplink">"hit the terrorists"</a> with an iron hand.
Copyright 2014 The Local Paper. All rights reserved. This material may not be published, broadcast, rewritten or redistributed.