Florida Teacher Evaluations Tied To Student Test Scores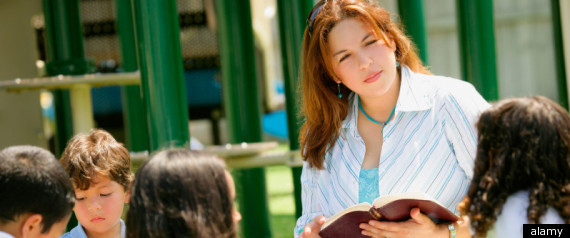 This article comes to us courtesy of The Hechinger Report.
At Coral Reef Senior High, calculus teacher Orlando Sarduy understands complicated formulas, and knows he will be graded on how his students perform on tests.
But despite his advanced knowledge of math, Sarduy cannot explain the statistics-packed formula behind the grade he'll get.
It is so confusing that even a member of the state committee tasked with developing it abstained from a vote because she didn't understand it.
The formula--in what is called a "value-added" model--tries to determine a teacher's effect on a student's FCAT performance by predicting what that student should score in a given year, and then rating the teacher on whether the student hits, misses or surpasses the mark.
But Sarduy, like thousands of other Florida teachers, doesn't even teach a subject assessed by the FCAT. So his value-added score will not come from his math teaching or his particular students. Instead, it will be tied to the FCAT reading score of his entire school in South Dade--a notion that infuriates him, even though he appreciates the level of objectivity the new system brings, and the ways it strives to isolate a teacher's impact on student learning.
Florida is among 25 states that have turned to student scores on standardized exams to help evaluate teachers and set their pay. By 2014, it will become mandatory to do so under a new state law. The model will initially use results on the FCAT, which has gotten tougher, and will expand to include other tests that are being developed in every subject at every grade level.
Florida's revamped teacher-evaluation system is all part of the education reform agenda pushed by the Obama Administration, which is giving states $4.3 billion in its Race to the Top grant program to come up with new ways to grade teachers and tie student performance to their paychecks.
In Florida, the stakes are high. Top-performing teachers can get permanent salary increases, while those with ratings near the bottom for two consecutive years can be let go.
"It's interesting, but at the same time you have to realize, 'That's me in the line. I'm now part of a statewide experiment, and if the experiment doesn't work out, am I excluded, am I excused, am I fired?' That's the concern," said Sarduy, the calculus teacher.
In the past, teachers were evaluated by their principals alone. The result was that most were rated the same: proficient). And state-issued school grades come mainly from school FCAT scores--which don't recognize individual teachers' impact, said state Rep. Erik Fresen, the Miami Republican who helped pass the controversial law, known as SB 736.
"All we were looking at as a state and as districts was what the school did, not what the individual teacher did. This changes that paradigm completely," he said.
In the new evaluations, half a teacher's "grade" will be based on the new value-added formula, and half on the principal's observations. Teachers who don't instruct FCAT subjects will get grades based on the school's FCAT reading performance.
The new system faces many challenges and much criticism.
No research has shown that the value-added approach to teacher evaluations improves student learning, but there is research to suggest that some models yield unreliable results. For many teachers, adequate data points to plug into the formula aren't available; about 60 percent of Florida teachers work in subjects not presently tested by the FCAT, which only covers reading, science and some math. And the test itself was designed to measure the performance of students, not teachers.
The state teachers union is challenging the law in court, arguing that it takes away teachers' right to bargain for their pay and working conditions.
Miami-Dade's new evaluation and merit pay system faces a separate challenge, that the district is exceeding the basic state requirements.
Florida, facing an ever-shrinking education budget, has not figured out how to pay higher salaries to high-performing teachers.
"We can create this elaborate modeling system so we can gather performance data, but the big question is, 'Where's the money?' " said Lisa Maxwell, executive director of the Broward Principals and Assistant Principals Association. She served on the state committee that helped develop the model.
"Are these going to be $10 bonuses or $1,000 bonuses?," she said.
Success will hinge on the data and the tests developed, said Enid Weisman, an assistant superintendent at Miami-Dade County Public Schools, the nation's fourth-largest district.
"The better the data is, the more successful this will be," she said. "It's a challenging concept. We're not selling widgets, and we're not selling cars, and we're not selling pharmaceuticals. We're dealing with uniquely individual students."
Even the biggest national supporters of value-added evaluations concede to caveats: Sufficient data exist for only about 20 percent of teachers nationwide to be given value-added scores. And questions abound about the accuracy and reliability of standardized tests like the FCAT.
"We don't have evidence that this approach is going to improve teaching and learning," said Douglas Harris, an expert on value-added modeling at the University of Wisconsin-Madison and author of the 2011 book Value-Added Measures in Education: What Every Educator Needs to Know.
Harris called Florida's decision to use school-wide reading scores for individual teachers "backwards."
CRAFTING THE FORMULA
Using nearly $4 million from its Race to the Top dollars, Florida contracted with the American Institutes for Research in Washington, D.C., to develop the complex formula.
"It's not simply a matter about what they scored last year and did they improve," said Juan Copa, director of research, evaluation and educator performance at the state's Department of Education. "What you're trying to do is isolate the impact of the teacher on the student's learning."