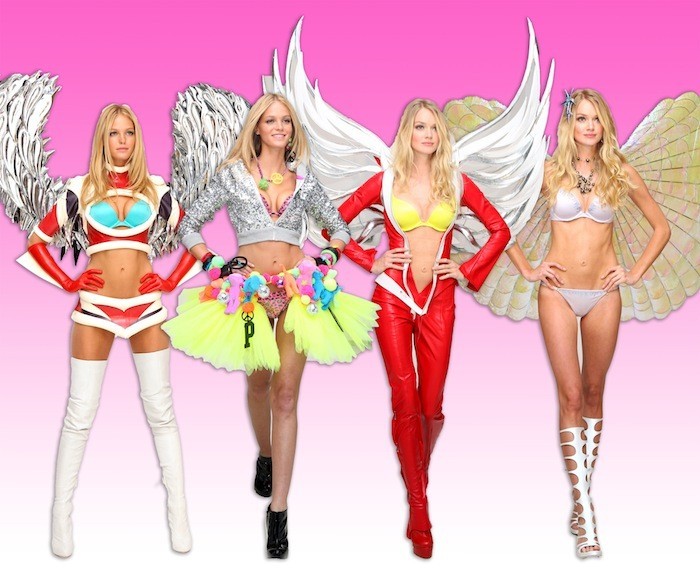 Photos by Bobby Doherty, AOL
It's that time of year again! The Victoria's Secret Fashion Show descends upon New York City this Wednesday (it's set to air on CBS on November 29th), and there are more fantastical wings and bodacious bods than ever before. Thirty-eight Angels including Miranda Kerr, Adriana Lima, Alessandra Ambrosio, Lindsay Ellingson and Erin Heatherton are set to prance down the 69th Regiment Armory runway in Sixty-nine sexy looks and of course, thirty-one phenomenal wings in six different vignettes: "Ballet," "Super Angels," "Passion," "Angels Aquatic," "I Put A Spell on You" and "Club Pink." Stylelist got a sneak peek of the pre-show festivities with models Ellingson and Heatherton late last week.
Both Angels will star in three segments of the show, and had plenty to say of the televised spectacle. "It's magical," said Heatherton. "It's like the most fun I have every year." Ellingson agreed, "I get to hang out with my best girlfriends and wear the sexiest outfits."
But aren't those sexy ensembles cause for anxiety? Somewhat, according to Ellingson. "My first outfit is full body leather, so I don't feel insecure at all, and my last outfit, I'm very covered as well. But my second outfit, I mean, I have a thong on! I just don't really think too much about it because you can really freak yourself out on a runway and think, 'Oh my gosh, there's millions of people that are gonna see this.'" So what's her coping mechanism? "I kind of just imagine that only the people in the room are watching and I'm wearing a full bathing suit."
Heatherton clearly isn't as nervous. "I just want to look good because I'm in my undies," she said. "I love my body. Every woman should, especially naked."
To keep their bodies in top form, Ellingson has packed in yoga classes and sessions with her trainer, while Heatherton has stuck with resistance training."I want to feel strong because of my heavy wings," she said. But more important than any kind of training is keeping her confidence up. "I'm always confident, even when I'm fat. (Editor's note: We find it hard to believe that the bombshell could ever be fat. Look at those abs!) You've got to be. I just think if I'm a little bit heavier, it just means I'm having more fun."
SUBSCRIBE TO & FOLLOW LIFESTYLE
Get top stories and blog posts emailed to me each day. Newsletters may offer personalized content or advertisements. Learn more