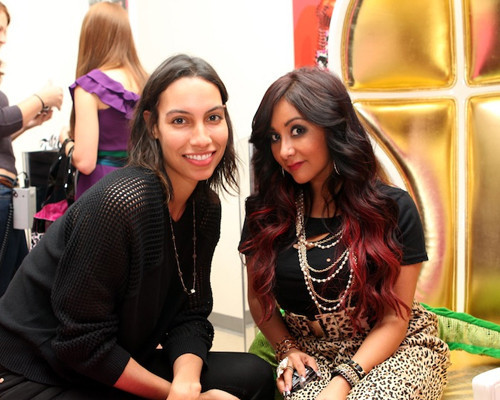 Photo: Bobby Doherty
Say what you will about Snooki, but the reality star is a modern-day renaissance woman. Between writing two books, filming two reality shows, designing a line of slippers and becoming a spokesperson for Pistachios, Snooki has been busy. Real busy. Last week in New York, the Marlboro, NY native sat down with a group of editors to discuss her latest endeavor: her new perfume, Snooki by Nicole Polizzi. "I've always wanted to have my own fragrance before I was famous, and I never really could find that perfect scent," she revealed. "Like, I would mix-match Britney Spears with Juicy to try and get the good scent. So the fact that I could make my own scent and make it amazing, I'm really proud of it."
So what does Snooki by Nicole Polizzi smell like? True to her roots, Snooki wanted her eponymous fragrance to smell like the Jersey Shore. "The scent has kiwi in it with beach flower. The beach flower kind of has a tanning lotion smell in it, and you know, we all know, that I love tanning, so I had to get that in there. And also, assorted woods to remind my fans about the boardwalk and the Jersey Shore," she says. The reality star admits she was very involved in the process: "I just wanted to make it different than any other celebrity's and I wanted to make it very gaudy and tacky. I definitely wanted to incorporate zebra as well because I love animal print. And that's my perfume."
Not only was I lucky enough to spend some one-on-one time with Snooki, but she even imparted a bit of her own beauty wisdom to me. Click through the gallery at the bottom to see Snooki give me a makeover. At one point, I candidly asked Snooki about her personal bronzer philosophy. "I don't like to look too orange," she replied. "But if I do look orange, it's okay."
We also got the reality star's thoughts on everything from makeup must-haves to meatball problems.
What was the first scent you ever wore?
I don't know. It was probably something Victoria's Secret.
Which famous person would you love to wear your fragrance?
Jennifer Aniston.
When did you first start wearing makeup?
Probably when I was in seventh grade, which was a little eyeliner. And then it started, like, real makeup, when I was in ninth grade.
What are the five products you can't live without?
Lipstick, bronzer, blush, eyelashes and eyeliner.
Who makes your favorite lipstick?
MAC.
What beauty tips have you picked up from the other girls on the show?
Nothing really! We all kind of have the same styles so I don't really.
How long does it take you to get ready?
It depends where I'm going. I mean, if I go out to a club, like an hour. If I do stuff like this, an hour. But if I'm going to the mall or something normal, 20 minutes.
How do you maintain your glow year-round?
Well, I do have tanning lotion coming out this month. And I don't really tan a lot. I mean, I just use my lotion and then I'll have this glow for four months. I don't like tanning anymore.
Do you think there's such thing as too much bronzer? Being too tan?
No, I don't think there's any such thing as too tan. Even if you're orange, I mean, I would still rock it.
Who are your beauty icons? Who inspires you?
Beauty-wise, I love how Beyoncé always looks flawless. Even when she doesn't wear any makeup, her skin still looks good. And I like Lady Gaga, wild makeup.
What are you reading these days?
I really don't have time to read. I mean, it's a little crazy, you know? [Looks around the room.] But I read love stories when I do have the time.
What do you think of Kim and Kris?
I don't know, I mean, it's a topic of everyone's conversations for the past couple days. I think that she shouldn't have gotten married if she wasn't ready. I think she's better off single.
What are your most recent meatball problems?
What?
Most recent meatball problems?
Meatball problems? I don't know. Probably last night, because I tried to get something out of the kitchen cabinet and I couldn't reach and I ended up breaking, like, four dishes. Jionni wanted to kill me.
We loved your workout moves in Florence, would you ever release a workout video, like Tracy Anderson?
Yeah, I would love to. Everybody always asks about the workouts that I do when I'm too busy to go to the gym, so that's kind of in the works right now.
So you've written a book, you're a spokesperson for pistachios, you have a line of slippers and you just launched a fragrance, what's next?
I'm working on my sequel to "A Shore Thing," "Gorilla Beach." I have eyelashes coming out, nail polish, nail stickers. I have a lot coming out.