Food Informants is a week-in-the-life series profiling fascinating people in the food world. We hope it will give you a first-hand look at the many different corners of the food industry. Know someone who would make a great Food Informant? Tell us why.
Todd Coleman is the executive food editor of Saveur magazine, where for six years he's run the food side of things, including recipe selection, and overseeing the test kitchen. He's also an accomplished photographer who props, styles and photographs the majority of Saveur's covers, as well as frequently shooting and producing stories both in studio and on location. A graduate of the CIA, he's worked in restaurants, has been a private chef, edited at Everyday Food, produced shows for the Food Network, and has photographed cookbooks like The Japanese Grill by Tadashi Ono and Harris Salat, and the forthcoming Katie Workman book The Mom 100. He lives in Brooklyn, loves the Strand bookstore, hoards photo lenses and is a fiend for Indian food.
Read on to learn what the Saveur test kitchen has been cooking up, and make sure to check out Todd's beautiful photos.
Sunday, October 23
Noon: Bleary-eyed on a Sunday, I look forward to my friend Josh's wedding tonight in Roslyn, Long Island, the hometown of my long-deceased favorite writer, Christopher Morley. (Shandygaff, Plum Pudding, The Ironing Board.) In the meantime, I inch my way through a pot of coffee.
2:00pm: With visions of punch bowls dancing in my head, I resolve to eat something in a last minute act of defense before departing for the wedding. I order in from the Olive Vine in Park Slope -- a 15-year staple of my diet. Hot, pliant pita and deeply creamy hummus come to my door. I eat them in silence with my tie flopped over my shoulder. Before leaving, I stash a container of baba ghanoush in the fridge -- just so I know it's there. (It later disappears without a trace.)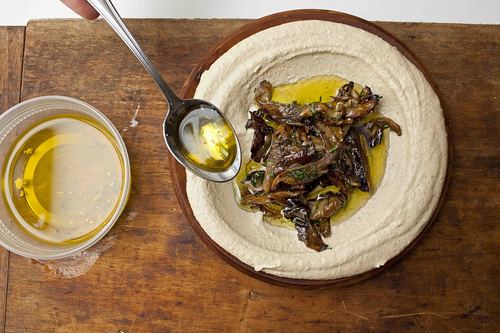 4:00pm: Post nuptials I wade through the crowd into the cocktail reception. I have a beer, then a Scotch, then a cola, a seltzer, and then a Manhattan, and abandon all of them after a sip, unable to make up my mind. I've never seen so much food at a reception. As I reconnoiter, I spy sterno-warmed beef stir-fry, fried rice, glistening hunks of pastrami and corned beef, bunkers of macaroni and cheese, and a veritable gondola centerpiece arrayed with cheese and meat and other snackables.
6:00pm: At table number 7, thank you very much. I nearly drop Josh during the Hora. I order the steak with mashed potatoes. And wine.
Monday, October 24
8:00am: Post Hava Nagila, I opt for a chorizo, egg, and cheese on a roll from La Bagel Delight on 7th Avenue in Park Slope. This place epitomizes the service-through-bags deli/bodega ethos of New York. To wit, a plastic shopping bag around a brown paper bag that contains another smaller bag, which holds the sandwich; and a separate bag for my drink. I feel snug.
10:30am: Our weekly edit meeting commences. We plough through all of the remaining possibilities for our Saveur 100 issue -- a celebration of all the people, places and things that we'll fallen in love with during the year. We are all very calm and professional as we each champion our favorites. SIKE!
12:00pm: I add another pile to the piles of stuff in my office. A professional hoarder, I'm responsible for acquiring all of the dishes, linen, surfaces, forks and glasses and such that are used in our photo shoots. Everywhere I go, whether it's Budapest or Milwaukee, I secret out little prop–able treasures: beat-up cutting boards, wire–ware, and plates replete with crazing. We squirrel away the pickings in every available space. I'm nearly barricaded in by the overflow.
1:00pm: The tarnish and salty mist of a well-worn seafood haven haunts me. There's something about chowder that white washes my soul, leaving me to begin anew. The newish John Dory in the Ace Hotel, just down the street from my office, has become a favorite of mine. I sup on a bowl of luscious lobster chowder and several of those damn buttery Parker House rolls with a crunchy topping of salt.
3:30pm: A desperate handful of nuts.
6:00pm: I can't have anything more to eat. What are you? The devil?
Tuesday, October 25
1:00pm: Punjabi food sticks to my ribs. On any misty moisty morning, or day, or night, I head over to Minar on 31st street to get high on the heat of chiles and pound my chest. Today is sarson ka saag day. (I love to plan my meals around daily specials, like an elementary school cafeteria.) Somewhat akin to mustard greens and cornbread, this sub-continental version features mustard and fenugreek greens stewed with spices and thickened with cornmeal and served with a toasted corn flatbread called makki ki roti. Pats of butter melt over both.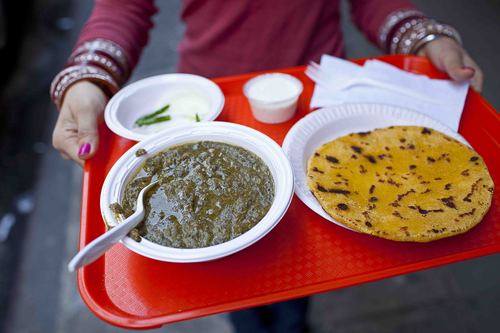 2:30pm: Running late for everything.
4:00pm: The test kitchen meatloaves have begun!
5:15pm: One sip of coffee in the kitchen, then I go out for coffee.
7:30pm: I go to a bookstore to wander and get lost in thought.
Wednesday, October 26
8:30am: I sneak in a breakfast and a flip through the paper at El Gran Castillo De Jagua on Flatbush. Perched. The sun is on my back. The worn Formica lunch counter is perfect for resting my elbows. I listen to the pitter-patter of Spanish and drowsily plan my day. Eggs and toast.
12:30pm: More props break.
2:00pm: Grab a cold bibimbap to-go from Don's Bogam on 32nd street and spread out its glorious array of pickled vegetables on my desk. It's better than pizza in a cup.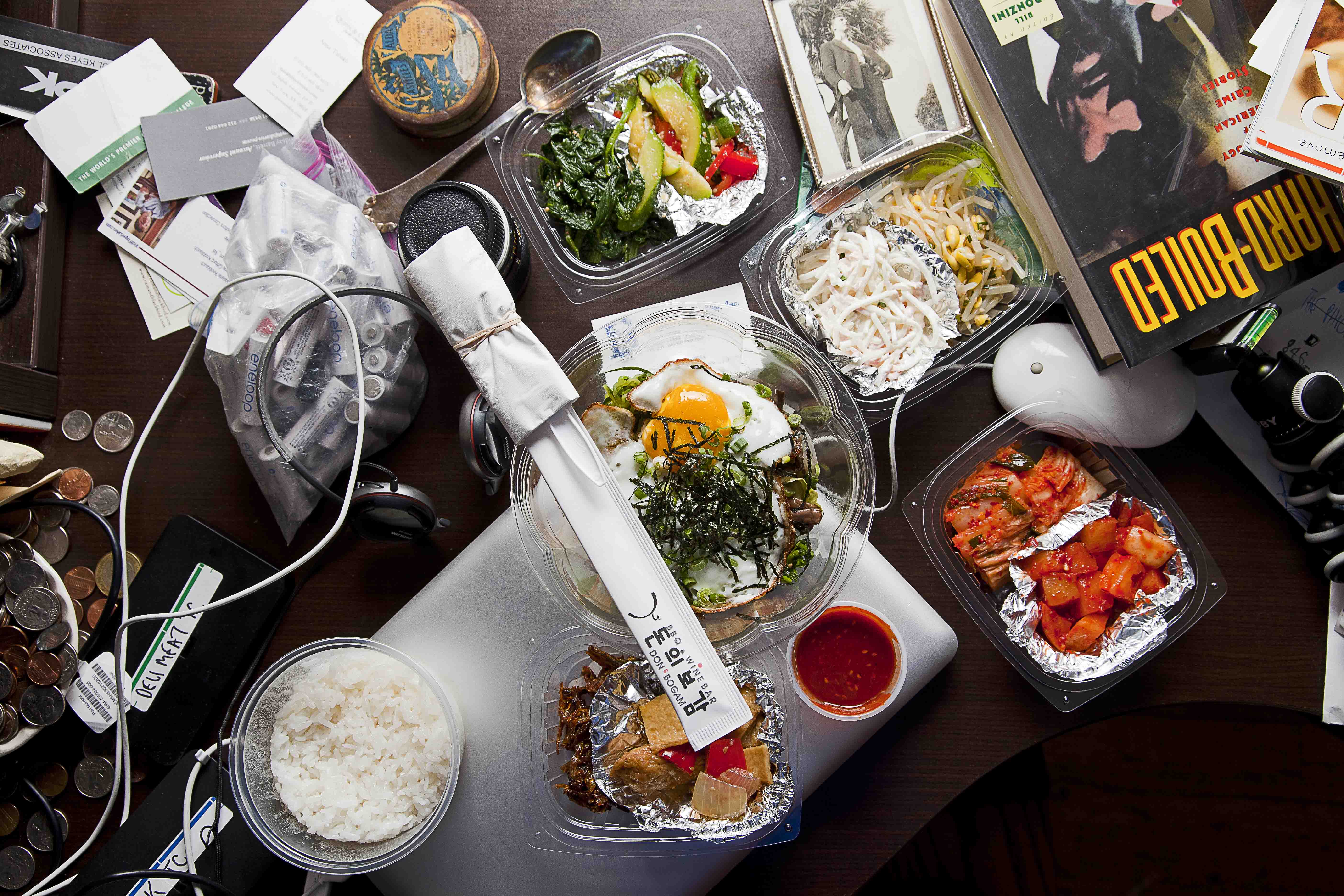 3:00pm: Ben and I push the cart of surfaces out into the studio. It's sagging under the weight of found wood and metal. My favorite: a dark, burnished old pasta board that once belonged to a Sicilian grandmother in Brooklyn. I've taken over a hundred food photos on it.
6:00pm: Thomas Keller, Daniel Boulud, and Jerome Bocuse are here. We get a peek at a new, secret line of cookware that they designed together.
8:00pm: I dine on a rich, unbelievable tamal en cazuela at Fonda, a Mexican restaurant on 7th Avenue in Park Slope. A margarita happens.
Thursday, October 27
10:00am: I walk to the other Starbucks for a change of pace.
Noon: The test kitchen at Saveur is humming. Kellie comes to get me to try Hilary's Swedish-style pickled vegetables. Sweet, tart, and crunchy, we nearly devour the whole batch, dipping the pieces into a creamy, dill–braced sauce. I take their picture. Every week, I taste from 40 to 60 iterations of various recipes that come out of the test kitchen.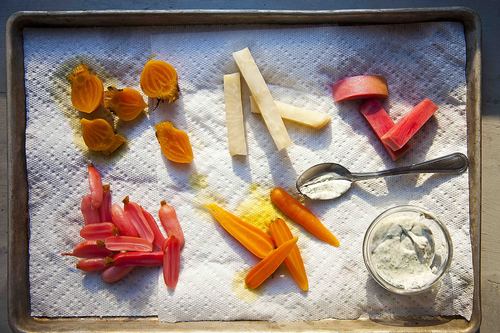 7:00pm: Late at the office, I make a tomato sandwich. Toast. Hunky slices of tomato. Mayo. Salt. Technique.
Midnight: Even later. The halal "white sauce, hot sauce" cart on 5th avenue is like a pressure washer for my brain.
Friday, October 28
9:00am: Iced coffee at Joyce on Vanderbilt Avenue. Think hard about a ham and cheese croissant. I resist, then regret it.
Noon: Are there any Christmas cookies left in the test kitchen?
2:00pm: I buy a new macro lens at Calumet.
3:00pm: Am graced by a visit from Chef Michael Solomonov of Zahav. A magician of hummus, he smoothes a batch of it on a plate, rotating and paving it into perfection. I barely get to have any; the office throng pushes me out of the way. It's from visits like these -- with food luminaries from around the world -- that we refine and deepen our approach with food. He urges me to come to Philly. "It's like an $11 Bolt bus, man."
7:00pm: Late to dinner with my brother and whole family. Again.
See previous Food Informants below:
SUBSCRIBE TO & FOLLOW THE MORNING EMAIL
The Morning Email helps you start your workday with everything you need to know: breaking news, entertainment and a dash of fun. Learn more