Food Informants is a week-in-the-life series profiling fascinating people in the food world. We hope it will give you a first-hand look at the many different corners of the food industry. Know someone who would make a great Food Informant? Tell us why.
Todd Coleman is the executive food editor of Saveur magazine, where for six years he's run the food side of things, including recipe selection, and overseeing the test kitchen. He's also an accomplished photographer who props, styles and photographs the majority of Saveur's covers, as well as frequently shooting and producing stories both in studio and on location. A graduate of the CIA, he's worked in restaurants, has been a private chef, edited at Everyday Food, produced shows for the Food Network, and has photographed cookbooks like The Japanese Grill by Tadashi Ono and Harris Salat, and the forthcoming Katie Workman book The Mom 100. He lives in Brooklyn, loves the Strand bookstore, hoards photo lenses and is a fiend for Indian food.
Read on to learn what the Saveur test kitchen has been cooking up, and make sure to check out Todd's beautiful photos.
Sunday, October 23
Noon: Bleary-eyed on a Sunday, I look forward to my friend Josh's wedding tonight in Roslyn, Long Island, the hometown of my long-deceased favorite writer, Christopher Morley. (Shandygaff, Plum Pudding, The Ironing Board.) In the meantime, I inch my way through a pot of coffee.
2:00pm: With visions of punch bowls dancing in my head, I resolve to eat something in a last minute act of defense before departing for the wedding. I order in from the Olive Vine in Park Slope -- a 15-year staple of my diet. Hot, pliant pita and deeply creamy hummus come to my door. I eat them in silence with my tie flopped over my shoulder. Before leaving, I stash a container of baba ghanoush in the fridge -- just so I know it's there. (It later disappears without a trace.)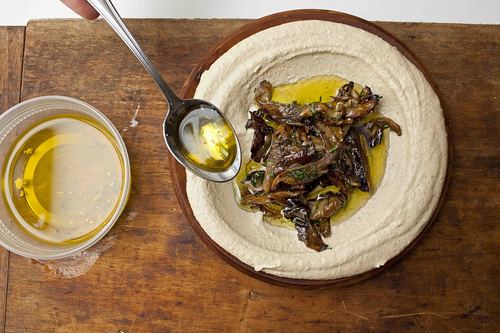 4:00pm: Post nuptials I wade through the crowd into the cocktail reception. I have a beer, then a Scotch, then a cola, a seltzer, and then a Manhattan, and abandon all of them after a sip, unable to make up my mind. I've never seen so much food at a reception. As I reconnoiter, I spy sterno-warmed beef stir-fry, fried rice, glistening hunks of pastrami and corned beef, bunkers of macaroni and cheese, and a veritable gondola centerpiece arrayed with cheese and meat and other snackables.
6:00pm: At table number 7, thank you very much. I nearly drop Josh during the Hora. I order the steak with mashed potatoes. And wine.
Monday, October 24
8:00am: Post Hava Nagila, I opt for a chorizo, egg, and cheese on a roll from La Bagel Delight on 7th Avenue in Park Slope. This place epitomizes the service-through-bags deli/bodega ethos of New York. To wit, a plastic shopping bag around a brown paper bag that contains another smaller bag, which holds the sandwich; and a separate bag for my drink. I feel snug.
10:30am: Our weekly edit meeting commences. We plough through all of the remaining possibilities for our Saveur 100 issue -- a celebration of all the people, places and things that we'll fallen in love with during the year. We are all very calm and professional as we each champion our favorites. SIKE!
12:00pm: I add another pile to the piles of stuff in my office. A professional hoarder, I'm responsible for acquiring all of the dishes, linen, surfaces, forks and glasses and such that are used in our photo shoots. Everywhere I go, whether it's Budapest or Milwaukee, I secret out little prop–able treasures: beat-up cutting boards, wire–ware, and plates replete with crazing. We squirrel away the pickings in every available space. I'm nearly barricaded in by the overflow.
1:00pm: The tarnish and salty mist of a well-worn seafood haven haunts me. There's something about chowder that white washes my soul, leaving me to begin anew. The newish John Dory in the Ace Hotel, just down the street from my office, has become a favorite of mine. I sup on a bowl of luscious lobster chowder and several of those damn buttery Parker House rolls with a crunchy topping of salt.
3:30pm: A desperate handful of nuts.
6:00pm: I can't have anything more to eat. What are you? The devil?
Tuesday, October 25
1:00pm: Punjabi food sticks to my ribs. On any misty moisty morning, or day, or night, I head over to Minar on 31st street to get high on the heat of chiles and pound my chest. Today is sarson ka saag day. (I love to plan my meals around daily specials, like an elementary school cafeteria.) Somewhat akin to mustard greens and cornbread, this sub-continental version features mustard and fenugreek greens stewed with spices and thickened with cornmeal and served with a toasted corn flatbread called makki ki roti. Pats of butter melt over both.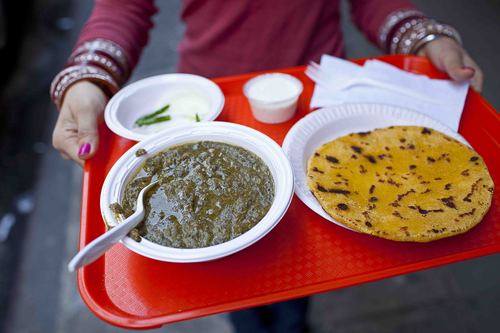 2:30pm: Running late for everything.
4:00pm: The test kitchen meatloaves have begun!
5:15pm: One sip of coffee in the kitchen, then I go out for coffee.
7:30pm: I go to a bookstore to wander and get lost in thought.
Wednesday, October 26
8:30am: I sneak in a breakfast and a flip through the paper at El Gran Castillo De Jagua on Flatbush. Perched. The sun is on my back. The worn Formica lunch counter is perfect for resting my elbows. I listen to the pitter-patter of Spanish and drowsily plan my day. Eggs and toast.
12:30pm: More props break.
2:00pm: Grab a cold bibimbap to-go from Don's Bogam on 32nd street and spread out its glorious array of pickled vegetables on my desk. It's better than pizza in a cup.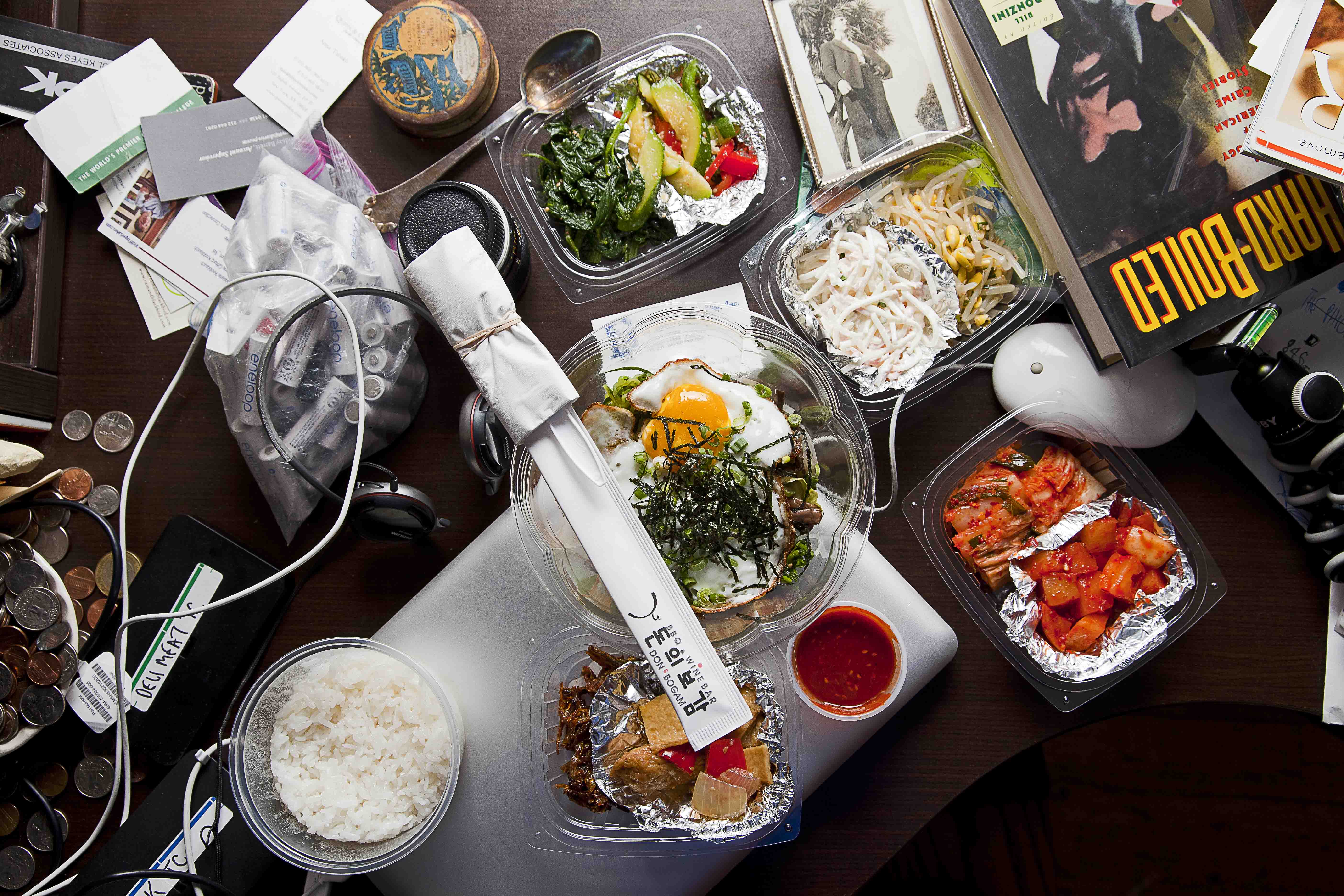 3:00pm: Ben and I push the cart of surfaces out into the studio. It's sagging under the weight of found wood and metal. My favorite: a dark, burnished old pasta board that once belonged to a Sicilian grandmother in Brooklyn. I've taken over a hundred food photos on it.
6:00pm: Thomas Keller, Daniel Boulud, and Jerome Bocuse are here. We get a peek at a new, secret line of cookware that they designed together.
8:00pm: I dine on a rich, unbelievable tamal en cazuela at Fonda, a Mexican restaurant on 7th Avenue in Park Slope. A margarita happens.
Thursday, October 27
10:00am: I walk to the other Starbucks for a change of pace.
Noon: The test kitchen at Saveur is humming. Kellie comes to get me to try Hilary's Swedish-style pickled vegetables. Sweet, tart, and crunchy, we nearly devour the whole batch, dipping the pieces into a creamy, dill–braced sauce. I take their picture. Every week, I taste from 40 to 60 iterations of various recipes that come out of the test kitchen.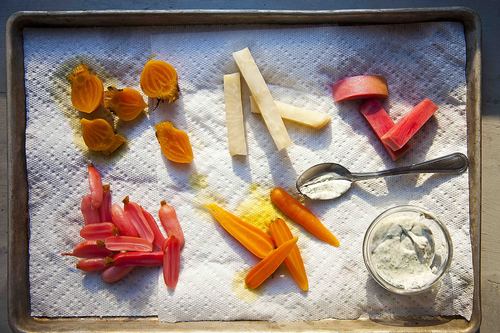 7:00pm: Late at the office, I make a tomato sandwich. Toast. Hunky slices of tomato. Mayo. Salt. Technique.
Midnight: Even later. The halal "white sauce, hot sauce" cart on 5th avenue is like a pressure washer for my brain.
Friday, October 28
9:00am: Iced coffee at Joyce on Vanderbilt Avenue. Think hard about a ham and cheese croissant. I resist, then regret it.
Noon: Are there any Christmas cookies left in the test kitchen?
2:00pm: I buy a new macro lens at Calumet.
3:00pm: Am graced by a visit from Chef Michael Solomonov of Zahav. A magician of hummus, he smoothes a batch of it on a plate, rotating and paving it into perfection. I barely get to have any; the office throng pushes me out of the way. It's from visits like these -- with food luminaries from around the world -- that we refine and deepen our approach with food. He urges me to come to Philly. "It's like an $11 Bolt bus, man."
7:00pm: Late to dinner with my brother and whole family. Again.
See previous Food Informants below:
John T. Edge writes a monthly column, "United Tastes," for the New York Times. He is a contributing editor at Garden & Gun and a longtime columnist for the Oxford American. His magazine and newspaper work has been featured in eight editions of the Best Food Writing compilation. He has been nominated for five James Beard Foundation Awards, including two M.F.K. Fisher Distinguished Writing Awards. Edge holds a master's degree in Southern Studies from the University of Mississippi. He is director of the Southern Foodways Alliance, an institute of the Center for the Study of Southern Culture at the University of Mississippi, where he documents, studies and celebrates the diverse food cultures of the American South. Read John T. Edge's diary here.

Chris Jones and Richie Farina are chefs at Moto, a fine dining restaurant in Chicago that focuses on innovative and futuristic cuisine. They are both contestants on this season of "Top Chef: Texas." After attending Johnson and Wales University, Farina, the executive sous chef, started cooking in several Boston restaurants, and then joined Moto in 2008. In his spare time, he trains in mixed martial arts, a mixture of Ju Jistu wrestling and boxing. Jones, got his start cooking in his grandmother's kitchen. After working his way up the ladder in several restaurants, Jones is now the chef de cuisine of Moto. He lives with his wife and young daughter, Savannah. Read Chris and Richie's diary here.

Sean Henry is the owner of Houndstooth Coffee in Austin, Texas. Not until graduating from the University of Texas at Austin with a degree in Radio, Television and Film, did Sean even begin drinking coffee. While working at a local grocery store, Sean began to explore the coffee world region by region. After the initial broad strokes of regional coffees, he began working at local cafes, learning the art of being a barista. At Houndstooth, Sean aims to provide customers with the sophisticated taste and presentation of a perfect cup of Joe. He not only finds value in a well-crafted cup, but in the coffee drinking experience as well. Read Sean Henry's diary here.

Jean K. Reilly MW is the Wine Director for the Morrell Wine Bar and the Wine Buyer at Morrell Wine Co. She is a 10-year veteran of the wine business and has worked in numerous parts of the trade. In 2010, Jean became this country's 26th Master of Wine, only the sixth American woman to hold this prestigious title. Jean's interest in wine began as a hobby while pursuing a career in corporate finance at Bank of Tokyo-Mitsubishi and Deloitte & Touche. Abandoning the corporate track in 2001, Jean plunged into wine full-time, traveling the vineyards of Europe and the U.S. After a stint as sommelier at a small French restaurant in Manhattan, she worked as a wine instructor for several culinary schools, including Schiller International University in Switzerland. From 2007 to 2008, she also served as the Wine Consultant for Hilton Hotels. Read Jean Reilly's diary here.

Todd Coleman is the executive food editor of Saveur magazine, where for six years he's run the food side of things, including recipe selection, and overseeing the test kitchen. He's also an accomplished photographer who props, styles and photographs the majority of Saveur's covers, as well as frequently shooting and producing stories both in studio and on location. A graduate of the CIA, he's worked in restaurants, has been a private chef, edited at Everyday Food, produced shows for the Food Network, and has photographed cookbooks like The Japanese Grill by Tadashi Ono and Harris Salat, and the forthcoming Katie Workman book The Mom 100. He lives in Brooklyn, loves the Strand bookstore, hoards photo lenses and is a fiend for Indian food. Read Todd Coleman's diary here.

Chef Stephen Kalil joined PepsiCo and Frito-Lay in 2007 as their first ever corporate chef. In his role, he leads and inspires product development through the application of "Culinology", the blending of culinary arts and food science and technology. He is based at Frito-Lay headquarters in Plano, Texas. Read Stephen Kalil's diary here.

Food maintains a nearly constant presence in the life of 34-year-old competitive eating champion Timothy Janus, known to his fans as Eater X. Ranked #3 in the world by Major League Eating, Janus spends many of his weekends on the road, competing in contests across the country and around the world. A seven-year veteran of the sport, Janus has competed in over 100 events, owns seven world records, and yet still looks pretty good in a pair of pants. At night, Janus is a waiter at a pizza shop in Manhattan's East Village. His life, he says, has been a very good adventure. Read Eater X's diary here.

Geoff Bartakovics, 34, is the co-founder and CEO of Tasting Table, the free daily email publication all about food & drink culture. Before starting Tasting Table, Geoff was a business manager in asset-backed finance at UBS Investment Bank, where he coordinated business activities among the fixed income trading desk and the bank's middle- and back-office functions. Geoff was formerly a business analyst at Deloitte Consulting. He attended The University of Chicago, from which he graduated with honors in English. He was a Fulbright Scholar in comparative literature and philosophy in Berlin and Hamburg. He's an obsessive dinner party entertainer and a serious home cook. Read Geoff's diary here.

Elizabeth Laseter, an aspiring food journalist, is a recent graduate of Johns Hopkins University and lives in Washington, D.C. She received her diploma in Writing and Art History and is now pursuing a Culinary Arts Degree at L'Academie de Cuisine in Gaithersburg, Md. The one-year program includes six months of learning techniques in the classroom and six months at an externship in a D.C. fine dining restaurant. Elizabeth documents her food adventures through two blogs, The Baltimore Food Rag and The D.C. Food Rag. She decided to attend culinary school after interning at Baltimore magazine and working with the food editor. Read Elizabeth's full diary here.

Jane and Terry Levan operate a 20-acre pastured poultry farm outside of Lexington, Texas called Dewberry Hills Farm, after the dewberry vines that grow wild on their land. They raise antibiotic- and hormone-free meat chickens for sale. Their chickens mostly live outdoors. The Devans call themselves "omnivores with a conscience;" Jane won't eat any meat unless she personally knowns who raised it and how it was processed. Jane and Terry began farming in 2003, after reading Fast Food Nation and The Omnivore's Dilemma. The pair had always wanted to farm, but they didn't want to follow the industrial agricultural model. Jane and Terry built a processing building on-site and became state certified so they could sell their birds commercially in May 2008. Read Jane's diary here.

"James" is an Apple employee. He works at Caffe Macs, the on-site cafeteria of Apple's campus in Cupertino, Ca. Reminiscent of Google's epic food offerings, Caffe Macs is pretty much a corporate food court dream-come-true. Read James' diary here.

Brooklyn-based Aaron Lefkove used to work in book publishing and as a freelance writer. After his office re-located to New Jersey, Lefkove decided he didn't want to do the commute. Lefkove and his business partner, Andy Curtin, had the idea for a Cape Cod-style seafood joint for awhile. One day at a barbecue, they decided to commit to opening a restaurant, Littleneck, Brooklyn's first and only classic New England-style beach side seafood shack. Besides working in restaurants growing up, Lefkove had no experience as a restaurateur. He acknowledges that the process has been a major learning curve, but so far, there haven't been any obstacles they couldn't get around. At first, he thought opening up a clam shack would be easier than finding a new job but it turns it that it is actually "WAY WAY WAY harder." Despite this being the "hardest, most stressful, most frustrating, most time consuming, most ambitious thing" he has ever done, it isn't nearly as hard as he thought it would be. Plus, he says he loves working for himself, working toward something he has "always dreamed about," and building something really exciting. Read Aaron Lefkove's diary here.

Jonathan Stich, 29, is a third generation farmer from Burlington, Wisconsin. He grew weary of the corporate world, went traveling and decided to become a farmer. After reading about how heirloom tomato grower Tim Stark in Pennsylvania sells his products to New York restaurants, Stich made the decision to spend a night in restaurants in Milwaukee and Chicago asking if they'd be interesting in buying local produce. Read more about Jonathan Stich's week here.

Erika Nakamura and Amelia Posada are the owners, managers and butchers in chief of LA's artisanal butcher shop Lindy and Grundy. (Erika is Grundy and Amelia is Lindy.) The two, who also live together and are a couple, opened their store on Fairfax last spring (profiled on HuffPost Food). Lindy and Grundy has already been feted as one of the most best butchers in Southern California -- and quite possibly its most sustainable. Read about a week in the life of Erika Nakamura and Amelia Posada's here.

Recently, inspired by a meeting at the San Francisco Food Bank, chef Karl Wilder started the food stamp challenge: living and eating on a food stamp budget. What began as a one week project has turned into a two-month long commitment. Wilder calculated that a family has $1.33 to spend per meal, and decided that when using oil and seasonings, the cost would be $1.22. In total, he has less than $4 to spend on food per day. He monitors his nutrition and caloric intake on FitDay. You can read more about his daily experiences at on his blog, Fusion On The Fly. Read about a week in the life of Karl Wilder here.

Chris Cosentino is the executive chef of San Francisco's Incanto, an offal-heavy (not sure what offal is? Check out our Whole Animal Guide here) rustic Italian restaurant located in San Francisco. While encouraging patrons to try different cuts of meat, Cosentino also champions eating locally. He's previously cooked at such renowned restaurants as Kinkead's and Chez Panisse, and cites Jean-Louis Palladin as a big influence on his cooking style. He also co-owns Boccalone, which sells various cured meats and house-made salami. To learn more about Cosentino, check out his website, Offal Good. Read about a week in the life of Chris Cosentino here.

"Jane," 24, has been working for Trader Joe's since 2007, though in 2009 she left for over a year to go work for Whole Foods. She did not like it there and returned to TJ's. At Trader Joe's, every employee does a range of tasks, but Jane's speciality is dairy. Below is her explanation of the pros and cons of the job: I like working for Trader Joe's because they pay me well and offer great benefits. They also respect me as an employee and make me feel like I'm useful and needed and not just another part-time employee that can be replaced (which has been the case at other retail jobs I've had). Trader Joe's is really good at hiring great people and I'm lucky to have so many wonderful co-workers. I don't like working at Trader Joe's because the work can be strenuous on my back and wrists. Being on a register for several hours at a time is tiring and somewhat soul crushing due to ignorant people who feel the need to be condescending to me because I work at a grocery store. I also feel that the company is becoming more and more corporate as it grows and it is beginning to have an impact on the enjoyability of being a part-time "crew member." I also work in a very busy store which causes the managers to stress out a lot and I don't enjoy being surrounded by it. Read about a week in the life of a Trader Joe's employee here.

Chef Nate Appleman is the Culinary Manager at Chipotle. This involves a range of tasks including developing new menu items, opening ShopHouse (Chipotle's upcoming Asian fast-casual chain) and furthering Chipotle's commitment to sustainable sourcing. A graduate of the Culinary Institute of America, Appleman was previously executive chef and co-owner of San Francisco's super popular Italian restaurants A16 and SPQR. Appleman moved to New York in 2010 to open Pulino's. After leaving, Appleman took his current position at Chipotle. He has received a James Beard award for Rising Star Chef, been anointed Best New Chef by Food & Wine and is the champion of Food Network's Chopped All-Stars. Read about a week in the life of Nate Appleman here.

Freeganism is a lifestyle in which one employs "alternative strategies for living based on limited participation in the conventional economy and minimal consumption of resources." Gio Andollo is a writer, artist, musician and freegan. Andollo became a freegan when he realized that artists don't get paid much, but he didn't like the idea of working a "crappy, part-time job" to pay the bills. So he found another way. Andollo performs on the subway for about 20 hours a week, typically in two-hour intervals. He makes $10 to $50 per shift and has a love/hate relationship with busking. Andollo will buy food, but very rarely. The majority of his food comes from trash touring, or dumpster diving. He's become increasingly concerned with the abuses inherent in current economic systems: waste of resources, exploitation of people, degradation of the environment, calloused treatment of animals, commodification of time, labor, even war (thus human life in wholesale). In addition to busking part-time, he writes songs, blogs and books about these issues. Read about a week in the life of Gio Andollo here.

Captain Jason Joyce is an eighth-generation resident of Swan's Island, Maine. He is a Coast Guard Licensed Captain and a registered Maine Tidewater Guide. He has done lobster and fish research with the University of Maine, the University of Massachusetts, the Gulf of Maine Research Institute and the Lobster Institute. Joyce is currently doing a lot of work with the Penobscot East Resource Center, which works to secure a viable future for the fishing communities of eastern Maine. Each week, he records HD video of lobstering that he gives to restaurants to educate customers about sustainable lobster fisheries in Maine. Captain Joyce is married to his high school sweetheart and they have four children. Learn more about Captain Jason Joyce here. Read about a week in the life of Jason Joyce here.

Martin Kastner is a serviceware designer extraordinaire/jack-of-all-design-trades for Grant Achatz's Alinea, Next and The Aviary. Kastner creates custom pieces that work with Achatz's elaborate and intricate food. Born in the Czech Republic, Kastner trained as a blacksmith and received an MFA in sculpture. (His thesis was about air). He met his American wife in Prague and moved to the US in 1998. In 2003, Kastner received an unexpected email from Grant Achatz, who had emailed a host of designers. Kastner was the only one to respond. They've partnered not only on serviceware, but also on web design, video and the Alinea cookbook. Kastner's other clients include L20 (an upscale, seafood-focused Chicago restaurant), Le Bernardin (Eric Ripert's homage to seafood) and Empellon (Alex Stupak's new Mexican restaurant in New York). Read about a week in the life of Martin Kastner here.