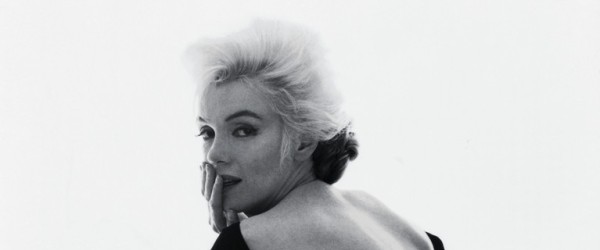 Copyright Bert Stern / Courtesy Staley-Wise Gallery, New York
Is it possible to have a favorite Marilyn Monroe film? Apparently so. "The Misfits' is my favorite," Dree Hemingway said last night at the Dior and Weinstein Company-hosted opening of the "Picturing Marilyn" exhibit at Milk Studios. "Some Like It Hot. Gentleman Prefer Blondes. All of them!" the model continued, "I can't really pick, can you?"
Even more difficult than selecting a favorite Marilyn flick is choosing a single photo of the iconic actress. But for Hemingway that was an easier task. For the evening, Dior remade the black gown featured in Bert Stern's Vogue photograph specifically for Hemingway to wear. As she spun around showing off the full skirt, she said, "It is a remake of the same dress that Marilyn Monroe wore in that photo there. It's amazing, awesome and I'm really honored and slightly shocked that they asked me. I mean, it's a big shoe to fill!"
Across the crowded gallery, Theory designer Olivier Theyskens confessed similar cinematic tastes. "My favorite could be The Misfits, but I don't really have favorite ones, it's weird." Looking around at the exhibit, Theyskens couldn't get over the star's photographs: "I mean, the Bert Stern one is so incredible." So who else warrants such a extensive visual tribute? "It depends so much on the destiny of a person and you know, I think it's so much about discovering how someone is loved. Like when there was the tragedy with Lady Diana, I was not aware that so many people were so in love with her. I was not even in a generation where there was so much adoration, but I remember [her death] as a very traumatic experience."
While Theyskens wouldn't comment on Kate Middleton's frequent comparison to the former Princess of Wales, he did admit that in a few decades a similar exhibit could take place for another Kate: "A lot of people sometimes think of Kate Moss being a person that sort of fascinates through pictures."
Moss might not have made an appearance Wednesday night, but supermodel Christie Brinkley was on hand to see the show. "Does anyone ever tell you that you look like Zooey Deschanel?" she asked me. While the comparison has been made before, we weren't here to talk about me. We were there for Marilyn. The blonde stunner's hair was styled in Monroe-esque waves. "Somebody said I was channeling Marilyn Monroe tonight and I was extremely flattered," she confessed. How would she try to get the full look? "Well I think a key element is, first of all, the hair. The second anyone bleaches their hair really blond like that, it's that Marilyn platinum. And then of course, the eyebrows. The lips. And then there's just a certain openness and vulnerability that she exudes." Brinkley continued, "I think Marilyn Monroe had the type of personality that if she gained 20 pounds, she'd still be Marilyn Monroe. A few pounds here or there. So if somebody asked me if I thought she could make it in today's modeling world, I would say absolutely because she possesses that 'x'-factor." And Brinkley should know! The 57-year-old Hamptons resident has been modeling for decades. "I hope that I have that kind of connection with the camera, but Marilyn was just different. The thing about Marilyn is that she's lasted forever, and I think she is forever."
"Picturing Marilyn" will be on display from November 10-12 (10am – 6pm) and November 13 (10am – 4pm) at Milk Studios: Milk Gallery, 450 West 15th St, between 9th and 10th Avenue, New York. For a preview of the photographs of Monroe as well as the fabulous guests, take a peek in our gallery below:
And don't miss this guide on getting Marilyn's legendary 'do.