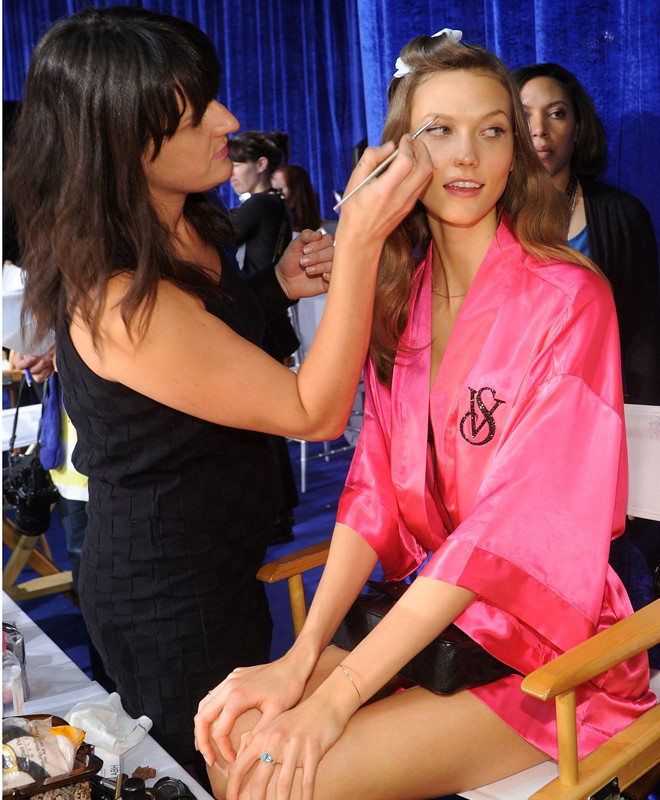 The scene backstage at Victoria's Secret Fashion Show differs wildly from the shows we saw earlier this fall during New York Fashion Week. In a vast room that smelled intensely of aerosol hairspray, were tables and tables of food, followed by more tables of hair extensions, a zillion cameras crews, bronzing stations and models traipsing around in pink satin robes. Everything about the Victoria's Secret Fashion Show is amped up. Even the drone of hairdryers.
VS models basically coined the term 'bombshell waves,' and last night lead hair stylist Orlando Pita didn't stray from the message. Pita began by taking sections of hair, spraying them with hairspray, then wrapping them around a curling iron. He then left the models' very stiff-looking hair to set. With a flat paddle brush, Pita brushed out the product, giving the models luxe voluminous waves. "I'm just trying to make the girls beautiful and sexy and have a little glamour," said Pita. When it comes to inspiration, the stylist referenced the legendary Hollywood actress, Rita Hayworth. "If I had to think of my ultimate glamour icon, it would be her."
Makeup artist (and backstage veteran) Tom Pecheux was equally fixated on the idea of "the most beautiful girls in the world." "They've got it all, and what we have to do is just even the skin to make it perfect, bring a little contour, a little blush, a little bit of highlight, mascara, touch up the brows."
To go along with one of the show's themes 'Super Angels,' Pecheux recalls asking himself, What makeup item could give that flavor of superhero? "And for me, I remember thinking, 'Who is the most iconic hero when it comes to women and who could fit perfectly with Victoria's Secret?' Who else but Marilyn Monroe. She's the most iconic, the most feminine and the most glamorous woman on Earth that has been created. And she was always wearing eyeliner, so I thought, why not add to that glowy, very natural face a touch of eyeliner? To give that glam."
Backstage, we also caught up with some of the younger girls who walked the show for the first time. Karlie Kloss, who had three outfit changes last night filled us in on some of her looks. "My first one is a superhero, and it's so gorgeous with these thigh-high boots and big cape, and then my second one is show stopping," said the 19 year-old model. "I have wings, I officially feel like an Angel with those wings on my back. It's kind of crazy, but they're ten feet wide and hopefully, I don't knock anybody out with them. I'm gonna knock Kanye off the stage with my wings, I'm kind of afraid. And then my last one, I have these Plexiglass wings and they're crazy. It's incredible, the workmanship and the time that goes into every one of those pieces is unreal. It's like couture, it really is."
As fas as the show being televised, Kloss admitted to being a little nervous. "If I face plant, they can edit it out and nobody will -- well I guess some people will see, but it's not gonna happen."
Puerto Rican model (and fellow newcomer) Joan Smalls is also trying to steel her nerves. "I try not to think about it. The more you think about it, the more nervous you get. So you just have to be yourself and do what you do best. Just walk. It's simple." Not a bad outlook for a model who only found out she was walking in the show a week ago.
Click through the gallery below to see backstage photos.
SUBSCRIBE AND FOLLOW
Get top stories and blog posts emailed to me each day. Newsletters may offer personalized content or advertisements.
Learn more