The 2012 Speculatron Weekly Roundup For Nov. 11, 2011
If you've been suffering through the coverage of this week on the campaign trail, you've probably already figured out that this was the week when we learned about more women who claimed to have run afoul of what Herman Cain would call his "charms," and that everyone was super excited about that until the CNBC debate, when Rick Perry ended up completely flummoxed by the opportunity to count to three. In fact, we can represent all of that graphically, by making just a few adjustments to last week's visual guide to the race.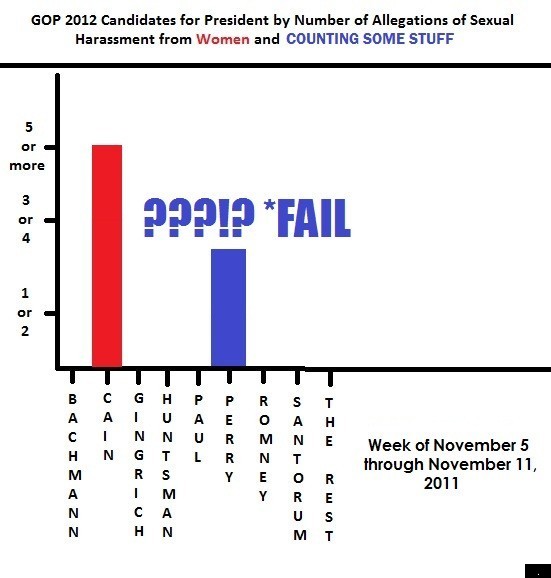 But the big difference between this week and last week was that this week, no one got handed a free pass because Herman Cain was putting out multiple fires. In fact, by week's end, the GOP landscape had almost completely inverted itself. The midweek CNBC debate put the rest of the field back in the spotlight and tasked with the mission of exploiting Cain's woes and pushing themselves forward in the race to be the alternative to Mitt Romney.
Most didn't make up much ground. Michele Bachmann hasn't found anything new to say about her candidacy in months. Jon Huntsman stowed away the lame quippiness that he's been using in previous debates to ingratiate himself and opted for a turn as the "adult in the room," but his calls for Wall Street reforms were pitched to the wrong audience. Rick Santorum, as usual, was the best debater in the room, but his presence at these festivities is now largely symbolic -- he's the throwback jersey for Team GOP.
Newt Gingrich ended up having the best of what was left, and this week moved into second place in the latest McClatchy-Marist poll. (Other recent polls have Cain as the leader, with Romney and Gingrich in a dead heat for second.) Congratulations go out to everyone who worked so hard. By which we mean, the media elites who sowed the seeds of the Gingrich-surge narrative. We aren't referring to the Gingrich campaign team -- they quit, remember?
And Rick Perry? Well, his 53-second brain fugue was just the sort of fortunate happenstance that Herman Cain needed. After 10 days of nonstop coverage of past accusations of sexual harassment, suddenly the media had something newer and shinier to play with, and Cain got a chance to breathe. And now, it's suddenly kind of okay to be Herman Cain again. Sure, one never knows how long that will last, but based on the way the debate audience supported Cain and derided the CNBC moderators for even bringing up his sexy allegations, it's reasonable to think that Cain's efforts to paint himself as the victim of a media drive-by-shooting have largely succeeded.
Nevertheless, Mitt Romney remains in the best possible position. He may have Cain and Gingrich nipping at his heels as far as polling numbers are concerned, but all that means is the two people he's fighting with are two people who, ultimately, are on high-concept book tours, not authentic runs for the White House. And the clearest sign that Romney is winning this thing is that President Obama and his political allies continue to train their fire at the former Massachusetts governor.
But this is just a bit of what happened this week on the campaign trail. Michele Bachmann proposed changing a piece of Americana. Gary Johnson said he'd ditch a presidential tradition to save taxpayer money. Barack Obama parted ways with a close confidant and a hunk of political deadweight. Ron Paul went off on the wealthy, Buddy Roemer took to Twitter, and Rick Santorum had pundits battling over "Why?" and "Why not?" And which candidate is disappointing Ezra Klein this week? To find out, please enter the Speculatron for the week of 11/11/11.
The 2012 Speculatron Weekly Roundup, November 11
Michele Bachmann and what remains of her campaign, which was seen as a vital contender for about three hot minutes back in the day, continues to try to find its way back out of the cellar. Over at the National Review, Katrina Trinko reports on Bachmann's Iowa operation and finds it to be a lot less exciting to be around since its heyday -- which pretty much lasted a few hours on the day of the Iowa Straw Poll. Now Iowa is buzzing about Rick Perry and Herman Cain. But while "the frontrunner trappings are gone," Bachmann remains confident: It's a whole different ball game these days for Bachmann, who has gone from 22 percent support in an August 8 Rasmussen poll, a week before she won Ames, to 8 percent in an October 30 Des Moines Register poll. Marching-band-style music plays after her speech, and reporters on the Bachmann beat inform me that the King left the building around mid-September. Her bus, they tell me, occasionally shows up for a celebrity appearance, but is mostly abandoned. At the press conference held after Bachmann's economic speech at the Iowa State University, any reporter can ask a question. (Even the university's student newspaper gets singled out for a question.) When I ask Bachmann how she intends to climb back up in the polls in Iowa, she says, "The real contest is January 3. That's what we're looking forward to. We have a very strong, solid base of support, probably more so than any other candidate in the state. We have a wonderful infrastructure. We have a great team here in Iowa, and so we're building on that." Does she intend to make changes in her campaign? "We had a very strong message that resonated with people across the summer, and we'll continue to build on that," she responds. Of course, these days, Bachmann being Bachmann means a lot of jabs at the White House, the other GOP contenders, and a mix of her typical zaniness. Did you hear the one about the Affordable Care Act being a detriment to national security? Yes, just about anything that's gone wrong in Bachmann's eyes goes back to that time President Obama thought he'd expand access to affordable health care to people who didn't have any. "Admiral Mike Mullen warned us, the greatest enemy of our national security was not a foreign one, but it was our own national debt," goes Bachmann's warning. "And Obamacare only threatens to exacerbate this problem." As Igor Volsky says, "Someone should tell her the law is fully paid for and actually reduces the national deficit." Ha! Don't you get it, Igor? The facts are a national security threat. Bachmann has also gone after Mitt Romney for signing "189 same-sex marriage licenses." What now? Volsky, again, covers this bit of derangement: Bachmann is regurgitating a popular misconception put forward by right-wing groups that conflates the state's One Day Marriage Designation with actual marriage licenses. As the Massachusetts state website explains, "[t]he One-Day Marriage Designation is not a marriage license," but rather a certificate the governor can issue to "designate non-clergy individuals to solemnize a marriage." Once same-sex marriage became legal in Massachusetts, the Romney administration granted designation applications to same and opposite sex couples. Don't you get it? THE FACTS ARE DREAD SODOMITES. But Bachmann, these days, is doing Romney one better than calling him a mass-approver of the love that dare not speak its name -- he's also now a "frugal socialist." Which would be a really great band name, actually. And her criticism of Herman Cain as someone who's "switched his positions when he found out that they weren't acceptable by the people who were voting" neatly doubles as a broadside against Romney. Bachmann is finding a way to save money where she can, we guess. Speaking of being short on money, it seems that the Bachmann doesn't hold the poor and unemployed in any higher esteem than her rivals do. Part of the problem may lie in the way they show up at her rallies and terrify her. Another problem with Obamacare is that it violates the Tenth Commandment, which, as Bachmann explains, "teaches that we should not covet what belongs to our neighbor." In this case, "what belongs to our neighbor" is "access to health care that won't put you in catastrophic debt." Tis nobler in Bachmann's eyes for such people to stoically crawl off into the woods to die. And by the way, if you are one of the millions of unemployed Americans who's found it difficult to find work in an environment where there are four other people competing for every rare job opening, Jesus and Bachmann hate you too: GOP presidential candidate Michele Bachmann promised to significantly lower funding to social safety net programs during a speech at the Family Research Council this morning, going so far as to suggest that people who can't work should not eat. "Our nation needs to stop doing for people what they can and should do for themselves," she said. "Self reliance means, if anyone will not work, neither should he eat." Don't even think of eating, poors! Food must go to nourish the precious bodily fluids of the affluent! Also, you shall all pay the taxes you are not paying in addition to the taxes you already pay that Bachmann enjoys forgetting about when it's politically convenient to do so. And so rather than have a taxation system that's fair in its reach, everyone shall have to pay up -- even if it's the cost of two Happy Meals. Which is what? Eight bucks? Does that even cover the overhead cost of collecting the tax in the first place? And Bachmann wants to see the visages of Presidents James Garfield, who served a 119 day term before getting shot by Charles Guiteau, and Calvin Coolidge, who's generally seen as one of the worst presidents in our nation's history, carved on Mount Rushmore? Sure, why not. I'm sure the private sector will get right on that.

This was, of course, the week where all of Herman Cain's sexxxy problems with ladies who accused him of sexual harassment continued to pile up, spurring more and more incompetent reactions from the people who are supposedly running a professional presidential campaign. We are now up to five women who have accused Cain of various things -- from leaving them with a big tab at a restaurant to actually reaching up a skirt and saying, "You want a job, don't you?" Well, lots of people want jobs these days, but those who'd opt to obtain one through Herman Cain providing clitoral stimulation should probably be allowed to make an enthusiastic choice in the affirmative before he begins to do so. Just as a general rule! Sharon Bialek, who accuses Cain of making the aforementioned incursion up her skirt, is being represented by Gloria Allred, so this scandal has now officially arrived at "carnival" status. Allred, who is nothing if not restrained in her approach to public relations, made a "stimulus package" joke, just to clue everyone in as to the level of sobriety we're all supposed to adopt from now on in discussing these matters. Will this end up actually "do[ing] Herman Cain a favor?" Could be! In addition to Bialek surfacing as a new Cain accuser, the Daily -- a newspaper that sits unread on iPads in tens of homes across the country -- released the name of one of Cain's previous accusers, Karen Kraushaar. This would lead to some comedic flailings from the Cain campaign, as they decided it would be a good idea to just invent a conspiracy between Karen Kraushaar and a reporter named Josh Kraushaar, premised on the notion that Karen disclosed this story to Josh because he was her son and worked for Politico. Cain's campaign smokesman Mark Block went on Sean Hannity's teevee show and "confirmed" all of this -- only as it turns out, the younger Kraushaar is not related to the elder, and he doesn't work at Politico anymore anyway. So basically, the Cain campaign, made something up out of whole cloth, and were foiled when all of the ridiculously easy-to-confirm facts came to light. Nice try, guys! We're really starting to see what Cain would be like as president. As for Bialek, Cain is getting cover from the conservative intelligentsia, who are eagerly pointing out that she's had financial difficulties and hasn't stayed in a job, and that this is somehow related to whether or not sexual harassment is real. Cain would go on to have a strange press conference, in which he maintained his innocence and said his accusers were not telling the truth. He also referred to himself several times in the third person, blamed the media, blamed his political rivals, blamed a "Democratic machine" (why Democrats would want to sabotage the candidacy of someone they all believe they can beat handily in favor of helping the stronger Romney campaign is anybody's guess), blamed women in general, demonstrated some serious memory problems, professed a (limited) willingness to take a lie detector test (please please do this on national television please please!), and warned that more accusations were probably coming. Cain continues to get pressure from conservatives -- like Haley Barbour, Bill Bennett, and Karl Rove, to get all the facts out and start behaving in a more forthcoming manner about all of this. Tom Tancredo wants, at the very least, for Mark Block to step down, on account of his being terrible about everything. But Cain isn't about to quit the race. In the wake of the scandal, he's run up his best fundraising numbers yet. (It probably helps that he's gaming Google to win search results for sexual harassment). As to whether his standing in the polls is being adversely impacted, there's evidence to be found to support the idea that it is, but thus far, Cain's had no big reason to fear his own decline. He is very confident in what he sees on the ground in Iowa, and he is still being greeted warmly by supporters. (It helps that he is not, to the best of our knowledge, sexually harassing them.) Speaking of, the Cain campaign has a message to all of the women of the United States: you'd better "think twice" before you accuse a powerful man of sexual harassment. Hey, that's sort of why so many cases of sexual harassment go unreported! Of course that wasn't the only broadside that Cain launched against women. During the CNBC debate, he referred to former Speaker of the House Nancy Pelosi as "Princess Pelosi." Lots of people didn't exactly take this well, and Cain had to offer a next-day apology. But the extent to which this will damage his campaign has been way overblown. Average GOP primary voters have no problem at all with misogyny being directed at Nancy Pelosi. If anything, they want more of it, and harsher, too. Cain's tax plan really sticks it to the ladies, as well -- though it should be said that it does not directly reach up any woman's skirt to do so. Cain also had his "Lincoln-Douglas" debate with Newt Gingrich, and we gather that Gingrich was the winner. Cain was unable to match Gingrich in the field of long-winded bloviation, and he frequently forgot what he was even talking about.

Because it would be the height of rationality for the media to simply admit that Mitt Romney essentially has this contest wrapped up, now that Herman Cain has revealed himself to be hamstrung by all of these sexual harassment allegations and his inept handling of their aftermath, this was the week that everyone decided that support for Newt Gingrich's candidacy would really take off. And fine, okay, it did. But there's no real reason to believe he'll have any more luck than any of the other people who have auditioned for the Not Romney role. But okay, we'll give this matter some attention. Here's Public Policy Polling: And if Cain does eventually implode, Newt Gingrich is well positioned to become the new Republican front runner. He's running ahead of Romney in both Ohio and Mississippi, and tied with him in the Iowa district. Beyond that he is the second choice of Cain's supporters in all three of the places we polled over the weekend. In Ohio he's the second choice of 38% of Cain voters to 19% for Romney and 12% for Perry. In Mississippi he's the second choice of 28% of Cain voters to 19% for Perry and 17% for Romney. And in Iowa SD-18 he's the second choice of 24% of Cain voters to 22% for Bachmann and 16% for Perry. Gingrich has had a massive improvement in his image over the last six months. When we polled Ohio in May his favorability was +8 at 42/34. Now it's improved by 30 points to +38 at 62/24. And he's seen an improvement in Mississippi as well where he was at +34 (58/24) when we polled in April and is now up to +41 (63/22). Newt is definitely rising and could really find himself in good shape if Cain's troubles continue. This surge may be happening strongest in Iowa, where Gingrich has been well-received of late. And we might take this seriously -- were it not for the fact that we do not believe Gingrich is running an authentic campaign for president. The overwhelming evidence suggests that Gingrich is just participating in a very complicated brand marketing gimmick. Alex Pareene summarizes what Gingrich did after the debate, where he took his time to plug an old book: I haven't checked to see how sales of "Saving Lives and Saving Money" are looking this morning, but I am sure Gingrich was grateful for the opportunity to advertise it for free via a supposed presidential debate. According to Politico, here's where the campaign trail has taken candidate Gingrich today: "Hosting a town hall meeting and book signing at the Detroit Metropolitan Airport Westin Hotel." You gotta shake a lot of hands if you want to win the Detroit Metropolitan Airport Westin Hotel caucuses. After 20 years of pretending to mull presidential bids in order to keep his name in the papers, Newt actually went through with the fake presidential bid this year in order to put his name in even more papers -- and drum up business for the various schemes that keep him in diamond cuff links. (Most of his campaign staff quit because all Gingrich wanted to do was organize screenings of his documentaries.) It's a transparent fraud from a transparent bullshit artist. You can think of his presidential campaign as a "loss-leader." Which is why we -- along the rest of the world -- were pretty ho-hum about his "Lincoln Douglas debate." Sounds fancy! But let us know when some actual candidates are going to be involved. (Gingrich says that he will demand seven of these Lincoln-Douglas debates, and that Obama will be forced to accept because he will have to or risk Harvard's reputation. Or something! Gingrich literally sees the world as a series of conflicts between his own ego and the interests of everybody else.) At least at his Lincoln-Douglas debates, he won't have any pesky moderators asking him to explain his past career as a lobbyist for Freddie Mac. That's what happened at the CNBC debate, and Gingrich basically gave a bonkers answer that amounted to an insistence that his words, being the raw product from the gilded idea machine in his skull, are so powerful and important that they transcend the definition of lobbying. See, he offered advice as an important historian, like a Doris Kearns Goodwin who peddles influence for powerful interests. But as Tim Murphy ably pointed out: It's pretty self-evident, though, that Gingrich wasn't hired as a consultant because he was an untenured history professor at North Georgia College in the late 1970s. He was hired because, as a former Speaker of the House, he had a lot of influence with a lot of imporant people. An AP investigative report from 2008 framed Gingrich's role as that of a political operator, greasing the wheels on Capitol Hill. He goes on to cite the relevant AP news story: Efforts to tighten government regulation were gaining support on Capitol Hill, and Freddie Mac was fighting back. According to internal Freddie Mac documents obtained by the AP, Reps. Bob Ney (R-Ohio), and Paul Kanjorski (D-Pa.) spent the evening in hard-to-obtain seats near the Nationals dugout with Freddie Mac executive Hollis McLoughlin and four of Freddie Mac's in-house lobbyists. Both were members of the House Financial Services Committee. The Nationals tickets were bargains for Freddie Mac, part of a well-orchestrated, multimillion-dollar campaign to preserve its largely regulatory-free environment, with particular pressure exerted on Republicans who controlled Congress at the time. Internal Freddie Mac budget records show $11.7 million was paid to 52 outside lobbyists and consultants in 2006. Power brokers such as former House Speaker Newt Gingrich were recruited with six-figure contracts. Freddie Mac paid the following amounts to the firms of former Republican lawmakers or ex-GOP staffers in 2006: [...] Pushing back, Freddie Mac enlisted prominent conservatives, including Gingrich and former Justice Department official Viet Dinh, paying each $300,000 in 2006, according to internal records. Gingrich talked and wrote about what he saw as the benefits of the Freddie Mac business model. Everyone who watches over the lobbyist kennel had themselves a few laughs about this, as did, we suspect, many lobbyists. Elsewhere, Newt continued to manufacture the sort of incoherence that convinces people it can't possibly be as daft as they think it is, so he must actually be secretly brilliant. Gingrich simultaneously believes that having soldiers remain in Iraq is of "no value" but that Obama is wrong to withdraw them. He went back on his previous support for cimate change. He simultaneously believes that any effort to deregulate the banking/financial industry is wrong, but that repealing Glass-Steagall was a "mistake." And now he wants to destroy the CBO, because of the way they score policy based on budget outcomes, making it possible to see what damage various GOP proposals are doing to the long-term budget trajectory. Naturally, former CBO directors are not taking this too kindly: "Obviously I completely disagree," emails Doug Holtz-Eakin, who directed the CBO for nearly three years when Republicans controlled Congress under President George W. Bush, and now runs the conservative American Action Forum. "Regardless of his view of the merits of CBO's analyses, it remains the case that it is a strictly advisory body that identifies the budget costs (not the economic costs or social benefits) of policy options. The rest of the benefit-cost analysis and ultimate decision-making likes with Congress. If he is unhappy with legislative outcomes, his fight is with Congress; not the CBO." Alice Rivlin -- a Brookings Institution economist and founding director of the CBO concurred. "Congress needs the CBO more now than ever, because policy differences have become so partisan," Rivlin said in an email. "Each side slants the numbers to favor their outcome. There has to be a neutral nonpartisan scorekeeper. Everybody hates the referee--and no ref gets all the calls right--but the game would be chaos without one." Anyway, what's really important about this week in Gingrich is that he's got another book coming out. You can't possibly be surprised.

It's a pretty controversial opinion, to be sure, but Ezra Klein suggested this week that Jon Huntsman's campaign has been "disappointing." Yeah, you know, I think Klein may be on to something! "Disappointing" is a pretty good term for someone whose polling "remains mired at one percent...down from his peak of...2.4 percent." That does sound somewhat "disappointing," I guess. But who knew? Huntsman was in Vogue, after all, and everyone knows the path to the White House runs through Vogue. Klein says: To many, his candidacy looked like an effort to prove that the Republican Party could still make space for moderates. But Huntsman has taken precisely no moderate positions. When the debate moderators asked if any of the Republican candidates would reject a deal comprised of $10 of spending cuts for every $1 of tax increases, Huntsman was right there raising his hand. When it came time to release economic plans, he proposed massive tax cuts for the rich. He has called for a balanced budget amendment. In perhaps his boldest moment, he tweeted, "I believe in evolution and trust scientists on global warming. Call me crazy." But like the other candidates on the stage, he opposes policies to actually reduce carbon emissions. In a sense, that really is crazy. It's certainly crazier than someone who doesn't believe in global warming opposing policies to reduce carbon emissions. So, in other words, what your Speculatron was telling you a few months ago. In fact, we've said all along that Huntsman launching a presidential bid in the current environment was simply extremely ill-advised, so we're not sure what there is to be disappointed about. It's like lamenting the fact that your meth addiction didn't lead to positive life outcomes. But with the rest of the field shaping up be a pack of disappointments, and also Mitt Romney, Huntsman is getting one of those "pre-second looks," where everyone says "Huntsman might get a second look" in the hopes that someone will take a second look at Huntsman, so that everyone can then report, "Ha, told you, he is getting a second look." Then, the second look is taken, and ... well, it confirms the first look, that, once taken, caused GOP primary voters to say, "Ugh, this guy?" And then NOTHING ACTUALLY CHANGES, except the B-plot of the media narrative, for a short period of time. Also: Huntsman's daughters get a record deal, or something. So, the Huntsman Second Look is starting. He kicked it off this week with an appearance on "Meet The Press," where he complained that the rest of the field was promoting the notion that it was okay to threaten default during the debt ceiling crisis, I guess because he forgot that he had raised his own hand to indicate that he would "reject a deal comprised of $10 of spending cuts for every $1 of tax increases." Somehow, this led RedState's Erick Erickson, flushed with sadness over the impending reality that Mitt Romney is going to be his nominee, to start saying things like: "I'm starting to think I need to walk it back on my rejection of Jon Huntsman." And let's remember that his rejection of Jon Huntsman was one in which he essentially branded the man a traitor. During that "second look," Erickson is likely to find that Huntsman doesn't support the "personhood" movement and is a fan of right-sizing the banks and charging a transaction tax. So that second look is not going to go well! The second look will also reveal that Huntsman, while being ready and willing to run anti-Romney ads, is -- like Tim Pawlenty -- not willing to confront his rival when the two of them share a stage at the debates. Real profile in courage, this guy. But okay, Jonathan Capehart, we won't "count Huntsman out," because maybe he is just like Bill Clinton -- wait...WHAT?

Since there was yet another debate this week, we arrive at the part of the slideshow where we start grimly lamenting the fact that Gary Johnson, Fred Karger, and Buddy Roemer continue to be excluded. First Read reported that Johnson spent this week's debate watching it "flicker across his laptop screen with his son Erik in what he calls his rented 'log cabin,' where he doesn't get CNBC on cable." At some point, doesn't it get boring to see the other eight candidates continue to repeat the same things at every debate? Surely having someone new on the stage would create the potential for, you know, something new to happen? Surely this is true. But we suppose what really matters are the new opportunities for Rick Perry Comedy that each debate represents. Well, fortunately, media elites cannot prevent Johnson from doing what he can in terms of retail politics. And so the former New Mexico governor has been spending his time in New Hampshire, making the best boots-on-the-ground effort he can mount to get in front of potential voters. As the Exeter Patch reported, Johnson is "is banking on Granite Staters to help his campaign gain prominence": Johnson spoke to a crowd of about 25 people at the RiverWoods senior community. Johnson said it was his 19th trip to New Hampshire. "You take the time to listen to what (candidates) have to say," Johnson said. "I think I'll fare well in that regard." The audience was a fraction of the amount who came out for appearances by Newt Gingrich and Jon Huntsman at RiverWoods. Johnson today advocated for establishing a fair tax, reducing the size of the EPA, and getting rid of the Department of Education and the U.S. Department of Housing and Urban Development. He added Herman Cain's "9-9-9" tax plan is a bad idea. From there, Johnson participated in the Granite State Patriots Liberty PAC's radio town hall. There, it is reported that he received applause when he pledged to stop using Air Force One in order to save money, saying that there "are more efficient ways for the president to travel," and that "the president needs to lead by example." (The Secret Service will likely have their own opinions on this.) In addition: Sticking with his position to reduce federal spending by 43 percent, he would want to see the elimination of the IRS with the institution of a fair tax system. He also reminded the crowd of his promise to present a balanced budget by 2013.

Fred Karger may have been sidelined from debate participation once again, but he remains determined to get to the stage with the other candidates: "I will be in a debate. I have pledged that from Day 1...That is my measure of success." But Karger's actual measure of success may ultimately come in the form of being as pathbreaking as a candidate as he can be. His unique status as a gay Republican continues to get him a portion of online ink. Here, Karger shows up in an Instinct Magazine piece, ruminating on the rarity of openly gay Republicans: Fast-forward to 2011 and in walks possibly the first openly gay candidate for President of the United States--long time Republican Fred Karger. While he's a long shot for the oval office, Karger's existence forces the Republican Party to acknowledge their position on gay rights and other social issues like abortion and marijuana legalization--if he can muscle his way into one of the national debates, that is. Karger considers himself an "Independent Republican." He tells Instinct that being a gay Republican is "difficult at times, but the Republican Party that I grew up with was very different and I am determined to moderate it." Historically speaking, the Republican Party wasn't always the socially conservative nightmare that it is at present. Even its formation was largely to oppose black slavery, which was unanimously supported by the Democratic Party. Abraham Lincoln was, after all, a Republican. Karger says that his hero, President Theodore Roosevelt, was the last progressive Republican President--and he served about 100 years ago. It wasn't until the mid-1960s that the Republican Party, thanks to its support by the growing evangelical Protestant movement in the south, started to become a social conservative powerhouse. But his openly gay status is not the only thing that sets him apart from the crowd. As the Columbus Republic reports: "Fred Karger says he relates more to Occupy Wall Street than to the Tea Party. He supports same-sex marriage and abortion rights. He voted in the last two presidential elections for Ralph Nader." His politics are different, but he's not one to abandon the GOP: "I'm not one of these Republicans who say, 'Oh, you're too conservative, you should leave the party.' I believe everyone should stay in the Republican Party. But I think it needs to reflect this moderate view more than it does."

First of all, you're probably wondering, "Is there a sexxxy Ron Paul pin-up calendar I can buy for the people I love this holiday season?" The answer is yes! Go forth, and you will not be able to un-see it ever again! Coming into this week's debate, Politico's Alex Burns described Ron Paul as "the libertarian congressman whose devoted base of support never really diminishes or grows." And, indeed, over the past two weeks we've noticed an eerie consistency in the polling numbers that have strayed past our line of sight. In almost every case, Paul has held at 12 percent. Nationally, in various states, wherever he came up, he was associated with "12 percent." Now, there are signs that his support has started to falter, most notably in Iowa. But the expectations for Paul have been well set by his own campaign: Ron Paul campaign chairman Jesse Benton said Wednesday that his candidate must finish in the top three in Iowa and New Hampshire in order to win the Republican presidential nomination. Benton said that Paul is already looking down the primary calendar to organize heavily in caucus states. In those contests, Paul's grassroots following could have an outsized impact. [...] "We need to do well in Iowa and New Hampshire, because it's very important for perception," Benton told POLITICO after the Michigan GOP debate. "It's also important because the voters in those states are very adept and astute at evaluating candidates, so we need to be in the top three in those states, no question about it." And after a week of laying low and letting the media make an attempt to get Herman Cain's silly season escapades out of its bloodstream, Paul is back laying out policy arguments and defining distinctions between him and his competitors. Here at home, Paul's grown close to the Occupy Wall Street movement -- it helps that it's become a venue for dedicated Paulites and liberal critics of the bailout state to find common ground. As such, Paul got up to a little railing at the 1 percent: PAUL: I'm pretty critical of a lot of millionaires and billionaires because they ripped us off. They got the bailout, they enjoyed the benefits of the bubble, they get contracts from government, they're part of the military industrial complex, the banking system is in bed with the government. So they don't deserve this money. They should not only be taxed, but they should have all their benefits removed. But if you're productive, and you're producing jobs, and you're rich because the consumer voted for your product and made you rich because you made an honest living, gave them a good product at the right price, they shouldn't be punished. If we don't sort the two out, it's going to be very destructive. That's pretty much the straight distillation of the Occupy Wall Street ethos that led many people to move their money from big Wall Street banks to credit unions over the past month. Paul's also edged up to supporting a tax on the banks. Now we get to the part where Paul potentially puts some distance between himself and Occupy Wall Street: He's solidly in favor of phasing out government assistance for college education: "The policy of student loans is a total failure. I mean, a trillion dollars of debt, and it's going to be dumped on the taxpayer?...There's nothing more dramatically failing than that program...We should get rid of the loan programs." Paul's also been out promoting his foreign policy platform, which causes consternation among traditional Republicans because it involves taking a lenient stand on states like Iran. He's also criticized President Barack Obama for extending the Bush-era idea of executive power, saying that Obama has brought "the modern presidency dangerously close to an elective dictatorship." Hopefully, Paul is not on the White House's drone-kill list! One thing that Paul has definitively ruled out is making an independent or third-party run for the White House. "I don't want to do it," Paul told Fox News Sunday's Chris Wallace. Like we said, that's a pretty definitive answer. So naturally, it's not definitive enough for anyone! Here's Politico: If Paul really has absolutely no interest in running outside the GOP, a shorter answer would be "no." But he keeps going back to "no intention," a famously non-binding construction. What part of I DON'T WANT TO DO IT is giving you Rick Perry disease, Politico? Those are six very intelligible one-syllable words!

Look, Rick Perry is well aware that he's got problems -- he's faded in the polls and has to deal with the fact that Herman Cain now stands between him and Mitt Romney on the polling totem pole. And in Iowa, Katrina Trinko visited some fairly desolate Perry campaign outposts that reminded her of what she saw from the Pawlenty campaign. (Her descriptions remind us of what we heard McCain campaign outposts were like in 2008.) But, she said, there was nevertheless potential support to be mined. And at the start of the week, his campaign was clicking along, doing what needed to be done to rebuild Perry's standing one painstaking step at a time. Veteran campaigner Joe Allbaugh was stepping up, getting his knowledgable hands on the operation. The campaign got engaged on the retail level. It brought air cover to Iowa. LOTS AND LOTS OF AIR COVER. The campaign ads continued to lean on the personal and biographical -- the message: "Let's start over." Really, there were only three things Rick Perry needed to do this week: show up at the places he was told to show up, get through the week without making any major cock-ups, and...uhhhh. Oh, man. There was a third thing...hmmmmmmmmmmmm, uhh...the EPA? Oops. Yes, as everyone knows, Rick Perry had a historic political brain spasm at the worst possible time, and struggled to name a third agency of the government he would dispose of after a week spent rattling them off on the trail. "Oops," became the line that permanently took Adm. James Stockdale off the top of the list of terrible debate performances. It was all anyone wanted to talk about after the debate. Which was kind of a bad thing? Because the debate was about the economy? All we know is that the happiest guy on the stage that night was Herman Cain: "This will give the media a new shiny ball to play with," he thought. Lots of people defended Perry, because they probably figured that one day they'd be rattling through a list and suffer a similar mental lapse. Mary Matalin opined: "It's never the action, it's the aftermath. He cleaned it up fine this morning. In the real world, people are sympathetic to those kinds of embarrassing moments; the only people who haven't experienced something like that are people who never talk to anyone but themselves. Others weren't so forgiving. Here's Kevin Drum: Sure, this could happen to anyone. But Perry didn't forget a complicated point, and he didn't forget something he had just formulated in his mind. He blanked on a single word. And he blanked in a way that made it obvious this wasn't something he really knew or cared about. It was just a talking point. He was like a kid reciting a poem in front of class and forgetting his lines. Drum found affirmation for his opinion from Jonah Goldberg (who wouldn't be our go-to source for affirmation but whatever!): I think people in some ways are letting Perry off easy precisely because this "gaffe" was so egregious (we've all frozen up in front of audiences before. I think I can remember every time it's happened to me with excruciating accuracy)....But put aside the queasy awkwardness of the moment for a second. Perry couldn't remember that he wants to shut down the Department of Energy!? For weeks, energy reform was the only substantive policy he'd put forward. Energy is still one of the only topics he can discuss with anything approaching fluency. But he couldn't remember he wanted to shut down DOE? Rick Perry has gamely attempted to play this off, telling folks he "stepped in it" and going on the "Late Show with Dave Letterman" to do a self-deprecating comedic mea culpa. It's actually a little admirable, watching him work to own this moment. He's actually fundraised off of it. But he also draws the distinction of being the first American politician who Yelp has ever made a viral joke about.

Buddy Roemer takes one look at Rick Perry spewing brain vomit all over the debate stage and wonders, I'm being kept out of the debates in favor of this guy? As Eric Randall reports for the Atlantic: After watching Rick Perry fumble, Buddy Roemer, the former Louisiana governor and congressman who is running for president but hasn't qualified in the polls for the televised debates, was dumbfounded: "Oh, how I wish I could be at just one of these debates." NBC's Jo Ling Kent watched the debate with Roemer last night and unlike Rick Perry Roemer did not forget which federal departments Rick Perry would eliminate: "It's energy, Rick! Energy! Oh come on, Rick, it's energy," Roemer shouted at his flat screen TV as Perry floundered, searching for the name of the third federal agency he'd eliminate if elected. Roemer definitely showed energy on the night of the debate, offering a steady stream of commentary to his 5,924 Twitter followers, who could potentially yield somewhere in the vicinity of $500,000 in $100-per-person donations assuming none of them have donated already. First Read dovetails off Roemer's debate-watching to offer something of a profile: "It's frustrating. I try to make fun of it but at the end of the day it's frustrating. No one else up there has been both a congressman and governor. I've actually done this stuff," Roemer said while making coffee during a commercial break. Roemer is one of two Republican presidential candidates who have been elected to statewide office, but who have not been invited to participate in this fall's series of nationally-televised debates. (They've been excluded due to poor poll numbers.) As a result of limited exposure, New Hampshire -- geographically small and accessible -- has become the focus of his entire strategy as he tries to maximize his shoe-string budget. Roemer drove his car up from Louisiana to New Hampshire a few months ago and moved into a small one-bedroom basement apartment near the Manchester airport. His wife Scarlett stayed behind in Louisiana, where she works as a nurse. And he continues to beat the drum against the toxification of our political discourse. This week, he appeared in one of Stephen Colbert's satirical super PAC ads, railing at the absurdity of super PAC ads. (And, again, he demonstrated energy, along with a camera-ready sense of comic timing.) And he's been making his case by playing it straight, as well: "This isn't a campaign about ideas. It's a campaign about money," Roemer told the paper's editorial board. "It's a government run not by its leaders, but by their money sources," he said. "They're addicted to the money." In recent years, the country's campaign finance system has tied candidates' hands by leaving them in debt to special interest groups, which have donated heavily to campaigns, said Roemer, who served four terms in Congress before being elected governor in 1988. This corrupt system has led to weak reform efforts in health care, banking and energy, among other areas, he said. "These things are not accidents," he said. "Our dependence on foreign oil, our addiction to it. ... These are the forces that run America." Over at the Boston Review, Roemer has a piece up titled "Leadership, Free to Lead: The Urgency of Campaign-Finance Reform" that espouses what may as well be considered his candidacy's founding set of principles: The question Congress asks over and over is not what makes sense just for America but what makes sense for Congress. And not Congress the institution, Congress the jewel of the republic that our framers gave us. No, but Congress as in the 535 fundraisers who must find a way to raise revenues that the Congressional campaigns need. We tax or we don't in order to inspire campaign contributions. We listen or we don't in order to inspire campaign contributions. We regulate or we don't in order to inspire campaign contributions. We don't govern, we grovel. We don't lead, we collect. This is a government in which members of both parties spend the majority of their time raising money. This is not the republic our framers intended. A government that thinks first about how to secure campaign welfare, not general welfare, is not a government that can answer the challenges that the world is giving us day after day. We need a Congress that can afford to talk honestly and openly and seriously about the complex issues of our time. We need a Congress that can lead. And Buddy's got Hot Air's Jazz Shaw begging for the elites to let America have a little "Roemermentum": Let's face it... we're running out of names in the hat. And Buddy Roemer has been waiting patiently on the sidelines in a grossly underfunded campaign, just in case everyone else imploded. I'll be the first to tell you that I've been needling people on the social media circuits about Buddy's campaign, and not just because I was trying to get in on the ground floor in hopes of eventually being named the U.S. Ambassador to Key Largo. (Though I'm still open to the position if you win, Buddy.) But beyond all of the conservative side-show humor, Roemer is a solid fiscal conservative who actually gives a compelling presentation on the stump when he can drag enough people away from the pre-annointed superstars to listen. No, I don't agree with all of his positions, but I suppose I can say that about all of the candidates. His campaign finance positions disturb me on multiple levels, since I don't care for the idea of the government dictating how people spend their money or express their political speech. But that doesn't mean that I would deride his personal decision to limit donations to his campaign to small amounts from individual donors. If the GOP won't let him play in their reindeer games -- and the reason they're likely not letting him is because of how those games are funded! -- then Roemer may opt for something of a third-party candidacy. But going prolific on Twitter and partnering with Stephen Colbert seems like a sign that Roemer's going to do what he can to keep his ideas in play for a long haul.

With another week passing, we have another occasion to say that everything continues to be moving in Mitt Romney's direction, in terms of inevitably claiming the GOP nomination. Sure, Herman Cain remains Romney's one serious contender in terms of how the polling has shaped up this week, but does Mittens have any sexual harassment skeletons in his closet? Nope! And thus, Romney is doing extremely well with female voters at the moment. The new Washington Post poll, which tested the GOP candidates on various personal qualities, contained some concerns for the Romney team: "On empathy, 21% say Cain is the one who best understands their problems, compared with Romney's 17%. On honesty, it's Cain at 22%, Romney at 17%. The two also run closely on the economy and issues generally, while Newt Gingrich rivals Romney on upholding core Republican values." But you know where Romney is running the strongest? Electability. Team Romney will take that. And they'll also happily take the growing warmth that the Wall Street Journal's editorial board is showing their campaign. What this means is that the clock is ticking for Romney's rivals to get serious about taking him on. In this week's debate, it didn't really happen. Jon Huntsman has been dogging Romney pretty hard in his campaign ads, but he pulled a Pawlenty on the debate stage and begged off from an opportunity to go on the attack. And the rest of the debate was largely remembered for Rick Perry's brain problems and Herman Cain having to fend off a question about his sexual harassment accusations. (The debate moderators tried to get Romney mixed up in that line of questioning, but Mitt wisely kept himself aloof.) The good news for Romney's contenders is that all of these debates help to keep their campaigns alive -- and some of those candidacies, which are underfunded, undermanned, or otherwise flagging are finding sustenance from the constant debating. The bad news is that these rivals are just a farcical mix of unforced errors and bad impulses. Romney hasn't always been an ace at these debates, but when he gets stuck in a question, he's smart enough to default to tribalism ("I will repeal Obamacare!"). It's a good trick, and it bails him out again and again. About the only thing that seemed to go wrong for Romney this week was his hair. Though, his soft support for the Mississippi "personhood" bill probably rubbed some social conservatives the wrong way. (Other conservatives, however, care mostly about the way he's accorded "personhood" to corporations, and on that score, Romney does just fine.) If Romney's opening himself up to a general election attack, it's the persistent way he's out-of-touch with ordinary Americans. He's straining very hard to come across as someone who authentically cares about the middle class he's never been a part of, but when he claims that federal employees are making more money than he is, it's hard not to roll your eyes. (It doesn't help that his working-man's Halloween costume included some super pricy blue jeans. Then, there's Romney's plan for Medicare -- a program about which Romney appears to know very little, but nevertheless wants to transform into something that will leave many Americans without access to affordable health care, driving up household debt and impoverishment. Romney's health care hammer falls especially hard on seniors. (Romney should also reconsider referring to deficit reduction as a "moral imperative" while he's creating new, large deficits.) But none of this is going to make a difference in the primary, and one thing that Romney can take a sort of perverse pleasure in is the way everyone has started to paint a target on his back. That the Boston Globe is planning a compendium of past reporting called The Real Romney, and ThinkProgress is out with its "You Don't Know Mitt" series, only means that the idea that Romney is the inevitable nominee is getting further entrenched. It's clear that the White House and the DNC consider Romney to be the only member of the GOP field that worries them -- and that suits Team Romney just fine.

Why not Rick Santorum? Ask Quin Hillyer: As almost any conservative will readily acknowledge, Santorum's record of actually legislating on principle is stellar. Almost every conservative interest group rated him highly, with the American Conservative Union's lifetime 88.1 rating for Santorum being typical. Yet those who buy into the media image of him as a saber-rattler without real effect haven't looked at the real record. One doesn't get chosen as Senate Republican Conference Chairman, the party's third-ranking Senate position, if you can't get things done and work well with others. He was a lead Senate author and floor manager of the 1996 welfare reform act, and the author of other successful legislation ranging from various anti-abortion bills to the Iran Freedom and Support Act. Those with longer memories will remember his leadership of the Gang of Seven in the early 1990s that did so much to publicize various ethics breaches in the House, helping set the stage for the historic 1994 Republican takeover of Congress. Finally, conservatives heavily engaged in the wars over judicial nominations know that even though Santorum wasn't on the Judiciary Committee, he ranked was one of the Senate's two or three most stalwart, and effective, supporters of conservative selections, even when much of the rest of the Republican caucus didn't want to be bothered. In this campaign, meanwhile, nobody has been more substantive. His major policy speeches on defense and the role of faith in public life were tours de force, and on Friday he added a bold speech on a plethora of social issues. He also enthusiastically embraced House Budget Committee chairman Paul Ryan's spending reforms even when others like Newt Gingrich were trying to distance themselves from it. Why should Rick Santorum be ignored? Ask Patrick Caldwell: Even as the Republican Party drifts further and further right with each passing month, that shift is largely contained to issues of economic justice or disparaging undocumented immigrants. Santorum's sole selling point is his appeal to the most intolerant sensibilities of the social conservative movement, putting him to the extreme of the current crop of candidates. It would be a completely alienating style for the general election. Just look at the policies he will layout today in an Iowa speech to kick of his "Moral, Cultural Policies for a Santorum White House" tour: "The congressional directives he's going to include in the speech are calling on Congress to abolish the Ninth Circuit Court of Appeals, advocating for a personhood amendment, and calling on Congress to reinstitute Don't Ask/Don't Tell. The executive orders he's going to mention are wanting to reinstitute the Mexico City Policy to 'stop tax-payer funding or promotion of abortion overseas.' He's also planning on repealing Title X family planning regulations and will direct Health and Human Services 'to restore the separation of Title X family planning from abortion practices and restore a ban on referrals for abortion.' He's going to include an issue he aggressively advocated for while in the Senate: trying to revive the Defense of Marriage Act, a federal amendment that would legally make marriage between a man and a woman despite state laws that allow for same sex marriage. Those views fly in the face of polls on public sentiments. Someone here is wrong!

In terms of how some of the polling fundamentals went, this was one of the best weeks President Barack Obama has enjoyed for a long while. His numbers have experienced a slight uptick, and in the swing states, he's in the thick of it with Romney -- his Ohio numbers are especially good. And, of course, this past election day was a great day for Democrats in general. A bit further afield, there's more evidence that a central Democratic argument -- that the GOP is deliberately trying to tank the economy -- is gaining traction. No one seems to understand an essential irony of this argument, though: For this argument to prove itself to be true, you kind of have to root for the economy to continue to trend badly and for the GOP to keep obstructing the efforts to improve it. The big news out of the White House this week, of course, was the unofficial demotion of White House Chief of Staff Bill Daley, which Capitol Hill Democrats have welcomed as wonderful news. Jonathan Chait captures the move as the reversal of one of the Obama administration's "biggest mistakes": But the interesting legacy of Daley's tenure is not his mechanical performance. It's that he conducted an experiment based on the Washington elite view of the Obama presidency. That view, shared by business leaders, centrist pundits, and other elites, holds that Obama's main problem has been excessive partisanship, liberalism in general, and hostility to business in particular. In December, 2009, Bill Daley wrote a Washington Post op-ed endorsing precisely this analysis. After the midterm elections, Obama - pelted by Daley-esque complaints - appointed Daley chief of staff. "His moderate views and Wall Street credentials make him an unexpected choice for a president who has railed against corporate irresponsibility," reported the Post. Republicans like Mitch McConnell, Karl Rove, and FedEx CEO Fred Smith raved. Daley, pursuing his theory, heavily courted business leaders. He made long-term deficit reduction a top priority, and spent hours with Republican leaders, meeting them three-quarters of the way in hopes of securing a deal that would demonstrate his centrism and bipartisanship. The effort failed completely. The effort failed because Daley's analysis -- which is also the analysis of David Brooks and Michael Bloomberg -- was fatally incorrect. Americans were not itching for Obama to make peace with corporate America. Americans are in an angry, populist mood -- distrustful of government, but even more distrustful of business. Of course, there have been other reversals of late, ones pretty nakedly designed to forestall any tough battles between now and election day. This week, the Obama administration caved on the Keystone XL Pipeline, temporarily postponing any further work on that project until 2013. This was seen as a victory for environmentalists, one that was undone by the administration reversing itself on expanding oil drilling off the coast of Alaska and the Gulf of Mexico. The White House also caved, perplexingly, on a planned promotion from the Department of Agriculture that would have boosted the sales and preserved the jobs of Christmas tree growers across the nation. This campaign was to be funded by a teeny tax that growers had agreed to levy on themselves in order to raise seed capital for the promotion. Republicans objected because of what they perceived as a 15-cent tax, and in so doing, have taken a very odd stand in the debate over Yuletide cheer -- they now prefer plastic trees to the real thing. Oh, well, we at the Speculatron hope that your sales won't continue to decline in 2011. These are more reasons why you shouldn't confuse Barack Obama with FDR. The administration also announced some further staff shake-ups, including the news that Obama's official "body man," Reggie Love, would be leaving the White House at year's end. Will Obama be able to win without the help of Reggie Love? (Well, Duke did, for example.)
[Would you like to follow me on Twitter? Because why not? Also, please send tips to tv@huffingtonpost.com -- learn more about our media monitoring project here.]

| | | |
| --- | --- | --- |
| | | |
| | Obama | Romney |
| | 332 | 206 |
Romney leading
Romney won
Popular Vote
| | Obama | Romney |
| --- | --- | --- |
| Total | 65,899,660 | 60,932,152 |
| Percent | 51.1% | 47.2% |
33 out of 100 seats are up for election. 51 are needed for a majority.
Democrat leading
Democrat won
Holdover
Republican leading
Republican won
| | Democrats* | Republicans |
| --- | --- | --- |
| Current Senate | 53 | 47 |
| Seats gained or lost | +2 | -2 |
| New Total | 55 | 45 |
* Includes two independent senators expected to caucus with the Democrats: Angus King (Maine) and Sen. Bernie Sanders (Vt.).
All 435 seats are up for election. 218 are needed for a majority.
Democrat leading
Democrat won
Republican leading
Republican won
| | Democrats | Republicans |
| --- | --- | --- |
| Seats won | 201 | 234 |
Click for Full Results