This week, the GOP candidates flocked to Michigan -- The Great Lakes State! -- for the CNBC debate at Oakland University in Oakland County, Mich. But pizza man Herman Cain beat CNBC to the state by about a month. He came to Michigan to do a little tourism.
Cain didn't swing by any of those Great Lakes -- no, no! Instead, Cain was drawn to the city of Detroit, where he could do what every hack does in the Motor City: shoot some ruin porn for a new campaign ad.
The Michigan Central Depot is a hulking, bombed-out turn-of-the-century train station that's constantly used by papers and magazines as a symbol of the city's rot. The only problem is, aside from looking the part, it doesn't have too much to do with any of the issues it usually gets plastered above. It's owned by a billionaire trucking tycoon, not the bankrupt city; it was shut down back in the 80s, not because of any of the recent crap. Nevertheless, back in December when the auto executives were in front of Congress, Time ran a photo essay to go with the story, opening and closing with shots of the terminal. Three months later they ran another spread about the city's decay, although this time they limited the depot shots to one.

In addition to being a faulty visual metaphor, the train station has also been completely shot to death. For a derelict structure, it's kind of a happening spot. Each time I passed by, I saw another group of kids with camera bags scoping out the gate. When I finally ducked in to check it out for myself, I had to wait for a lady artist from Buffalo, New York, whose shtick is taking nude portraits of herself in abandoned buildings, to put her clothes back on. Afterward I was interrupted by a musician named Deity who was making a video on the roof.

The city's second-most-overused blight shot is of the mile-long ruins of the Packard Auto Plant in East Detroit.

"This is the visiting reporters' favorite thing to see," [James Griffoen, who often plays "urban sherpa" for out-of-towners,] said. "The people all come here to shoot the story of the auto industry and they love this shot because they can be like, 'See that? That's where they made the cars,' and then forget to add the footnote that the plant's been closed since 1956."
As the piece goes on to describe, in order to get the perfect shot of Detroit's urban calamity, you have to be really careful to crop out all the signs that life and health have returned to the city:
James took me out to the grassy mound where he photographed a long shot of the abandoned elementary school. For several blocks on either side there's nothing visible except waist-high grass and crumbling strips of asphalt.

"If you angle the camera the correct way it looks like you're in the middle of nowhere -- but then you turn a little to the right and there's a well-maintained, fully functioning factory, and to the left there's this busy office park. Still, people love to take this shot, crop it so it's just prairie, and be like, 'Look, this is a mile from downtown, it's turned into woods.'"
The Huffington Post Detroit editor, Simone Landon, who watched this Cain video, says that most of it was shot two blocks from her office. "It omits the bustling, gentrifying strip of Michigan Avenue that runs opposite the crumbling train station," she notes.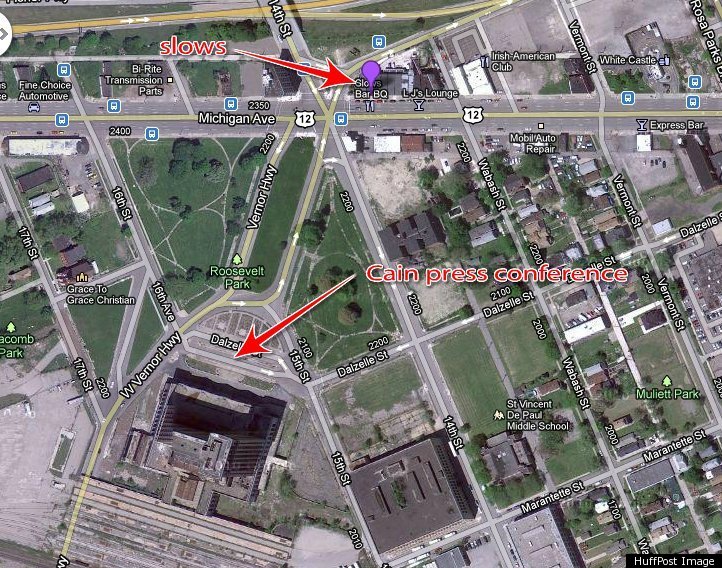 There's shots of the "Detroit Revolution!" speech bubbles that have been coming this summer since, forever. I still don't know what the Detroit Revolution! is, but I know those signs have been sitting on the empty Bittersweet Coffeehouse on Woodward for more than a year now, and Bittersweet Coffeehouse is still empty.

When Cain spoke in front of the Michigan Central Depot last month, he asked the crowd to look at the "remnants of failed liberal policies." But wasn't MCD closed during the Reagan era? Just sayin'.
Cain's not the first GOP 2012er to wallow in some Motor City Ruin Porn, but he at least cared enough to serve up some fraud with good production values. Mitt Romney's done the same, and despite the fact that he's always pledging his love for the state of Michigan and its residents, he didn't even respect them enough to make quality ruin porn -- watch Mitt's video, and you'll see him drive by the same derelict house twice.
Foley writes, "But if we didn't have ruin porn, then what platform would candidates run on?" The good news is that Cain's platform isn't going to undermine the ruin porn anytime soon. See, Cain's pimping urban "empowerment zones" as a means to bring the unemployment rate down. The only thing is, all of the "empowerment" flows to the people doing the hiring, in the form of tax giveaways. The people who would be hired to work in these empowerment zones? Well, that's another story:
In the zones, businesses would receive tax credits against the corporate income tax side of his 9-9-9 proposal. But for a jurisdiction to qualify, it would have to adopt a number of conservative policies, including eliminating the minimum wage, instituting school vouchers and declaring the area "right-to-work" -- or non-union.

Areas with state or city laws preventing them from adopting the policies would be eligible for waivers.

"Bottom line, folks -- 9-9-9 equals jobs-jobs-jobs," Cain said.
Simone Landon contributed to this report.
SUBSCRIBE AND FOLLOW
Get top stories and blog posts emailed to me each day. Newsletters may offer personalized content or advertisements.
Learn more