China Desert Structures (PHOTO)
Are these mysterious structures in the Chinese desert part of a military experiment, a "giant targeting grid," or the remnants of industrial-grade digging? That's what Gizmodo asks in its somewhat extensive collection of satellite images from Google Maps. According to Gizmodo, the white lines are located in the Kumtag Desert in northwestern China.
The publication of these photos marks the second time this week that Google Maps has revealed satellite imagery raising interesting questions. On Tuesday, Google released photos of parts of Iran showing possible nuclear facilities.
Below, see the satellite photo of the Kumtag Desert from Google Maps: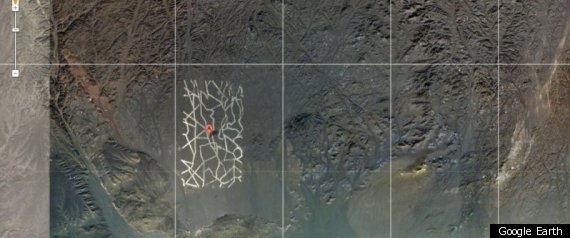 What do you think? Chinese military experiment? Alien crop circles? If this maze-like pattern isn't enough for you, Gizmodo also points out other interesting formations in China captured by Google Maps.