Call it a tempest in a D-cup: There is a brassiere bruhaha brewing over who deserves to own the record of the world's biggest bra.
On one side is the size 1222 B-cup brassiere recently commissioned by the makers of British stain remover Vanish. The garment was hung across a skyscraper in Central London as part of a "Wear It Pink" campaign by the British-based Breast Cancer Campaign. It measured nearly 88 feet under the bust and 102 feet around the chest, and required more than 4000 square feet of lightweight, pink spinnaker nylon.
The brassiere was colossal by any standards, so judges for Guinness World Records awarded it the coveted title of "World's Largest Bra."
As titillating as that honor may be for the folks who made this brontosaurus-sized brassiere, it doesn't deserve a world record according to a Big Apple-based artist who claims he built an even bigger bra 42 years ago in New York.
Back in 1969, Joey Skaggs, a famed conceptual artist and media prankster, created a bra that was reportedly 120 feet long -- 50 feet for the cups alone -- as a statement about America's fixation on breasts.
"There was a woman named Francine Gottfried, who was an office worker on Wall Street who had very, very large breasts," Skaggs told HuffPost Weird News. "When Francine would go out to lunch many Wall Street workers would point, stare, whistle and hoot."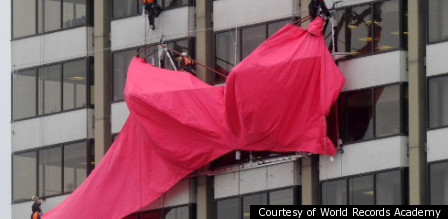 The story got national attention and inspired Skaggs to build a bra big enough to satisfy anyone with a chest obsession.
Although Skaggs first wanted to hang it around the Statue of Liberty, all attempts to provide support for Miss Liberty failed. Another attempt, stretching it across the Wall Street intersection, failed when Skaggs was removed from a lamp pole, bra in hand, by police officers.
Skaggs says he finally was able to show his support for Gottfried -- and all women -- on Valentine's Day 1969, when, with the help of friends, he tied one end of the bra to the outstretched arm of the statue of George Washington in front of the U.S. Treasury building on Wall Street.
After stretching the bra across the front of the building and tying the other end to a column, Skaggs waited to see the reaction to his work.
It wasn't good.
"When the flood of workers going to lunch saw what was happening, they became enraged," he said. "Hundreds of men attacked the bra and ripped it to pieces."
Police officers arrested some of Skaggs' friends, but Skaggs himself managed to slip away, narrowly averting, ahem, a big bust.
There is no physical evidence of his bra left, but Skaggs does have numerous newspaper clippings confirming its size and hopes to nip any controversy about the biggest bra in the bud.
SEE WHY JOEY SKAGGS IS KING OF THE PRANKSTERS (Story continues below)
Joey Skaggs: King Of The Pranksters
For nearly 40 years, conceptual artist Joey Skaggs has made it his life's work to hold the media's feet to the fire by creating outrageous pranks that satirize their desire to not let thorough fact-checking get in the way of a sensational story.

In 1976, Giuseppe Scaggoli (aka Joey Skaggs) planned to hold an auction of rock star sperm from the likes Mick Jagger, Bob Dylan, John Lennon, Paul McCartney, and Jimi Hendrix. Skaggs asked about 50 actor friends to gather in front the brownstone home of his attorney where they had put up a name plate that said Celebrity Sperm Bank. Some actors portrayed rock musicians, some were groupies, and some were women with protest signs such as "Do it the old fashioned way." The police officers were real.

In 1981, Skaggs pretended he was entomologist Dr. Josef Gregor, who had created a strain of super-roaches immune to toxins and radiation, and that he had extracted a hormone from them that supposedly cured colds, acne, anemia, menstrual cramps and nuclear radiation. In the hundreds of news stories that followed, no one checked his credentials or noticed his references to the Kafka story Metamorphosis in which the main character, Gregor Samsa, turns into a six foot insect. When he revealed the hoax, many of the major news outlets didn't retract their earlier story.

In 1983, Skaggs protested the fact that artists were being priced out of New York neighborhoods by creating working aquariums for upwardly mobile guppies and called them Fish Condos. Skaggs did hundreds of media interviews and told reporters, "Since we are continually polluting the oceans of the world, fish will eventually need a better home in which to live."

In 1984, Skaggs helped a friend break into acting by creating a fictitious talent management agency called Bad Guys, Inc. for bad guys, bad girls, bad kids, and bad dogs. Using head shots designed like FBI Wanted posters, he got his friend a job in films and a story in People magazine. The concept started out as a joke but after he amassed a roster of 300 performers, he handed over the now-successful agency to a friend.

The Fat Squad was a 1984 prank where Skaggs pretended to Joe Bones, ex U.S. Marine drill sergeant and proprietor of the Fat Squad, an organization that supposedly helped people lose weight by having six tough looking calorie cops standing guard around a refrigerator. "Good Morning America" fell for the stunt, but didn't admit their culpability until the New York Post did a story on the hoax.

In 1994, Kim Yung Soo (a.k.a. Joey Skaggs), President of Kea So Joo, Inc. sent 1,500 letters to dog shelters around America soliciting all their unwanted dogs for ten cents a pound. The phone's outgoing message, in both Korean and English, was punctuated by yapping dogs in the background. Skaggs' point was to illustrate the hypocrisy, intolerance, and prejudice harbored by so-called animal rights humanitarians, as well as gullible and racist media, towards other cultures.
"I have 50 feet of cups alone," he said. "Measuring strap-to-strap, I would win hands down, but I wasn't thinking about getting in the Guinness Book at the time."
No, Skaggs had his eye on bigger prizes: Skewering the media for its willingness to follow sensational stories without checking the validity.
According to a 2010 story by AOLNews.com, past examples of this included creating a "cathouse for dogs," where pooches could get sexually gratified by an assortment of female dogs; the "Fat Squad," a group of commandos who would follow larger people around to make sure they stuck to their diets; and the Solomon Project, a revamp of the American judicial system, where super-computers would replace judges and juries.
A Guinness representative says each record is evaluated on a case-by-case basis, but adds, "We have retroactively approved claims, should we receive enough evidence to validate it."
However, the rep is skeptical about Skaggs' bra being 120 feet since the building it was hoisted onto is only 100 feet long.
Skaggs is sticking out his chest at that accusation.
"I needed the extra yardage in order to be able to latch the bra on to the front of the building," he said.
Although this brassiere is just one of many stunts Skaggs has done over the years, he would like support for his achievement, especially because he feels his big bra was done for a purer reason than the British brassiere.
"Although breast cancer is a worthy cause, it seems like the company that commissioned that bra was doing it for a self-serving reason," Skaggs said. "I don't care about kudos, but want to raise awareness of this fixation with breasts and how it kept this woman from being able to walk across the street without being leered at."