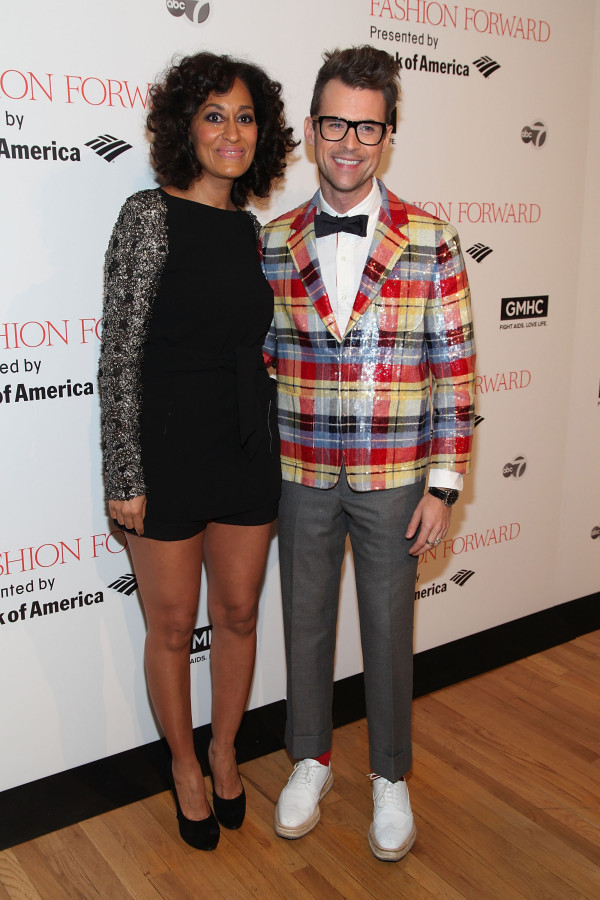 Getty Images
Thursday night, Brad Goreski hosted GMHC's "Fashion Forward" event alongside Tracee Ellis Ross, Julie Macklowe, Thom Browne and Sally LaPointe. THe Gay Men's Health Crisis organization brought out a fashionable crowd including Alan Eckstein of Timo Weiland, Joseph Altuzarra, Andrej Pejic, Jenny Shimizu, Bryanboy, The Blonds, Chrissy Teigen, Carlos Campos and more.
Goreski appropriately attended the event wearing a plaid, sequined Thom Browne jacket, "It's all Thom Browne," he proudly announced, "the best part about wearing shrunken suits is you can't overeat." Not that Goreski doesn't love to eat: "I love sweets; who needs savory?" Apparently, the former "Rachel Zoe Project" star does eat some savory foods. "People have been asking me if I eat a lot of pizza because I am eating it twice in the promo [for new show, 'It's A Brad, Brad, Brad World.']" So much for the "Thom Browne" suit diet.
Co-host Tracee Ellis Ross was similarly decked out in sparkles, "I am wearing Honor all night tonight," Ross declared, "I am obsessed. Giovanna [Randall] makes beautiful clothing! There's something so elegant and strong, yet so feminine about her clothing that I love." Are the two friends? "I actually don't know her. We were supposed to meet tonight, but we keep missing each other. I gave her a quick hug backstage at the show, but I wouldn't call that knowing her."
Who else does Diana Ross's daughter admire in terms of style? "My best friend [stylist] Samira Nasr" and "Katharine Hepburn," "There's some more in this day and age, but I can't think of them now." Ross's classic taste extends to her ideal Christmas present too: "I'd love some diamond studs; I don't have any!"