Penn State Scandal: Mother Of Alleged Jerry Sandusky Victim Claims Mistreatment By Son's School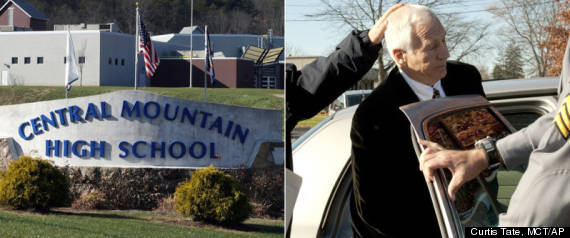 Court records refer to him simply, as Victim One. Outside of a four-and-a-half page section about him in the grand jury indictment of ex-Penn State assistant football coach Jerry Sandusky, little else has been discussed about him publicly.
Last week, his mother (whom I will refer to as "Mother One") removed him from Central Mountain High School in Mill Hall, Pa., where he was a senior and an all-star athlete. In an interview conducted last week, she explained why she pulled him from the school.
"They were not helpful," Mother One said of the school's administrators. "They wanted me to go home and forget about it."
Mother One also alleges that since the Sandusky scandal erupted, fellow students and the high school's football coach (who also serves as assistant principal) have all targeted her son with verbal attacks and threats of violence.
She also claims that the school's principal tried to convince her and her son not to report their allegations against Sandusky to the police, and that as recently as this month, refused to treat threats of violence against her son by other students as credible.
Central Mountain High's principal, Karen Probst, and its football coach, Steve Turchetta, did not return phone calls seeking comment about Mother One's complaints.
Mother One -- who first spoke to the Patriot News earlier this month -- and Victim One, who is now 18, requested anonymity to preserve their privacy and their safety.
THE SECOND MILE
Jerry Sandusky, a prominent member of the Penn State community and the former defensive coordinator for the university's football team, is accused of molesting at least eight boys over a 15-year period. According to the grand jury indictment (PDF link), sometime in 2005 or 2006, Victim One, aged 11 or 12, met Sandusky through his charity for disadvantaged kids, The Second Mile. (Mother One says she isn't entirely certain when her son met Sandusky.)
As a single parent, Mother One said she wanted to take advantage of the opportunity Second Mile offered. Her son enjoyed Second Mile's summer camps, which is where she recalls meeting Sandusky for the first time.
They were in a warehouse where the charity's annual Parent Award Ceremonies were held. "My son grabbed me by the hand and said, 'Come on, I want you to meet someone,'" she recalled. He then "practically dragged" her across the big space to introduce her to Sandusky. "I was like, 'Okay, nice to meet you.' I didn't know who he was. I had no clue who he was. I had never even heard of Jerry Sandusky prior to this."
Mother One remembers regularly seeing Sandusky frequenting the school halls throughout her son's middle school years. She assumed he was volunteering in some capacity and didn't think further of it.
Toward the end of eighth grade, things changed at home. Victim One began to lash out in unusual ways, his mother recalled, "getting mouthy and nasty at home."
"I called the school psychologist and they brushed it off. They said it was just puberty. That he was a good kid and that it would all work out."
Since she had no reason to suspect anything else was amiss, she said she went along with the counselor's advice.
The following year was Victim One's first at Central Mountain High. Once again, Sandusky apparently had a presence at the school.
Mother One says she still didn't find his presence odd -- at least not at first. "I thought he was involved in all the schools. I thought that he just made the rounds."
As stated in the grand jury report, her suspicions escalated one evening after her son asked how to look up "sex weirdos."
"I had a friend at the house with me watching TV when he just came out of the blue with that. My friend and I just kind of looked at each other. I thought he was being a smart aleck. I said to myself, 'Okay, I'll play this game.' I asked him who he was looking up and he said, 'Jerry.'"
"I started laughing and said, 'You're not going to find Jerry on there. And do you have something to tell me?'"
Visibly upset, her son walked out, leaving Mother One and her friend to wonder exactly what the truth was.
"We just stared at each other and I remember saying to myself: What if...what if...what if...?"
She circled back to her son and asked him if he really did have anything he needed to tell her.
"He didn't come out and say anything directly about Jerry at first. He started telling me that he was upset about his school and his grades and that he felt everyone hated him. At first I thought he was just saying what any child says when they're stressed out or in trouble. I reassured him that no one in the school hated him. That's when he told me that they did, because he was always getting pulled out of class."
Victim One then explained to his mother that he was being taken out of school several times a week, sometimes daily. When she pressed him, he explained that Sandusky wanted him to leave the school with him.
She said she immediately knew something was wrong.
"I didn't know about that," she said, shaking her head slowly at the recollection. "I was never aware that he [Sandusky] did that."
According to both Victim One and his mother, it was the assistant principal and varsity football coach Steve Turchetta who authorized and granted Sandusky this access, despite a lack of parental permission or notification.
Turchetta defended his actions, according to the grand jury indictment, saying that it wasn't unusual to "call a Second Mile student out of activity period at the end of the day, at Sandusky's request, to see him."
With her son being taken off school property on a frequent basis without her permission, and his expressed concern about Sandusky being a "sex weirdo," Mother One said she contacted the school.
"I didn't know how to start the conversation with the high school counselor because I didn't know how to come out and say, 'I think Jerry Sandusky is doing something to my kid,'" she explained. "I finally said to the counselor, 'You're a mother. I'm a mother. I have a gut feeling that something isn't right.'"
Mother One explained that her son was clearly troubled by Sandusky and wanted the school to talk with him. She also informed the high school principal, Karen Probst, that she didn't appreciate the school allowing Sandusky to take her son anywhere, and demanded that the school help to stop the visits.
But according to Mother One, the school acted as if there was nothing to be concerned about.
"The principal just waved it off, saying, 'You know, it's Jerry. He's around the school a lot and talks a lot with Second Mile kids. He has a heart of gold.' I was furious. They were defending this guy."
Mother One said she stopped arguing when she realized the principal wasn't willing to admit to any wrongdoing. She then asked that a counselor speak to her son, to see if he'd open up. The school agreed.
A few hours later, her phone rang. It was Probst, who she said asked her to drive to the school immediately.
Mother One already knew where this was going.
Reaching the counselor's office, she saw her son sitting in a chair and crying uncontrollably. He was, she recalled, in "an absolute meltdown."
Then, she said, the principal entered the room.
"The principal said that my son thought something inappropriate might have happened with Jerry. And of course, I instantly lost it."
As her son spoke between sobs, Mother One's worst fears were confirmed. Victim One said he was terrified, and that he thought things would only get worse.
Mother One had heard all she needed to. "Then we're going to call the police," she recalled saying. She looked at the counselor and principal, expecting them to nod, or to agree. Instead, she claims, they told her to think about it, and asked her how it would affect her family.
"I repeated the line three times. I said let's call the police. Right now. Let's do it. And they continued to stare at me."
As his mother described it, her son rocked in his chair and shook his head, looking as if he was about to have a nervous breakdown. Still sobbing, he shouted: "See! They don't believe me!"
Mother One said the counselor and the principal, both women and both employees of the public school system, didn't respond. They didn't offer condolences of any sort, she said.
"I remember saying, 'I'm not playing. This isn't funny. I mean seriously, look how upset he is! Something happened.'"
Mother One said the principal stood her ground.
"Jerry has a heart of gold, he's been around all these kids and you really should just go home and think about what this is going to do to your son and your family if you do that," Mother One recalled the principal saying.
"At that point, I had had enough. I told him that we were leaving. He grabbed his backpack and we just left the women sitting there."
As she drove home, trying to maintain her composure in front of her son, she said she called a close friend who worked with the state's Children's Youth Services program. The friend agreed to meet them at their home, and then took them to the Services center.
That's where she met Dr. Mike Gillum, a licensed psychologist with a private practice in Williamsport, Pa., who has also worked with the state on child abuse cases. He's worked closely with Victim One and Mother One ever since that first meeting.
According to Mother One, Gillum called the principal at the high school to inform her that Sandusky was now the subject of an abuse investigation and therefore could not be allowed near the school or Victim One.
As the full story emerged, Victim One revealed that for nearly two years he was subjected to various sexual acts by Sandusky. Some had even occurred at the middle school and high school, where Sandusky had been given complete access to him by school officials.
On Nov. 7, Pennsylvania State Attorney General Linda Kelly praised Central Mountain High School for "doing the right thing" in the Sandusky matter. The indictment states that the school immediately called the police when it was informed of the abuse.
Mother One said that that description of the school is false and that she removed her son from Central Mountain in part because of the school's reluctance to take action.