Continuing with our weekly column, "That Girl," we are celebrating the accomplishments of real women who make health and fitness a priority because we know that true athletes come in all shapes, sizes, ages and athletic abilities from around the world. So this week we're celebrating Aimee Gallo, an amazing acrobatic performer who says it's important to stay committed to our bodies and try new things!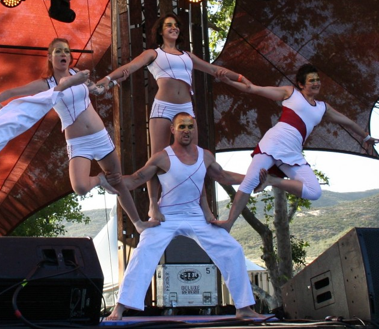 Photo by Aimee Gallo for Blisstree
Meet:
Aimee Gallo (on the right)
San Diego, CA
Age 33
Nutritionist and Acrobatic Performer
I was very randomly scouted in a coffee shop to join a circus troupe in fall of 2010 and have been learning tumbling and group acrobatics. I have no background in this -- or dance, or cheer, or anything remotely applicable! So it has been an incredible learning curve! Our work consists of group stunting; we stand on one another, lift one another up, and make incredible human structures. Before this I was an avid marathoner for over a decade.
More from Blisstress.com:
That Girl: Meet 3-Time Ironman Angie Crawford
That Girl: Meet 60 Year Old Fitness Instructor, Barbara McKeon
That Girl: Meet Triathlete And All-Around Positive Athlete Rebecca Adams
Fitness/health accomplishment you are most proud of:
I ran the Boston marathon in 2010; that was a dream come true for me! I didn't think I would ever be fast enough to qualify. I also trained and ran at a greater level the last 6 months of marathon training than I had ever before. It was an amazing finish to a very rewarding running 'career.'
What inspires you to get fit every day?
I have to be strong enough to safely lift acrobats smaller than me but remain light enough not to break those who have to lift me! I also get very cranky if I don't move my body; the feeling of accomplishment, energy, stamina, and my rock hard thighs and biceps keep me motivated.
What do you do when you don't feel like working out?
I remind myself how much worse I'll feel when I don't, and I call to mind the goals I am currently working on to motivate me. If I give up on myself for work, obligations to others or sheer rebellion I only feel worse in the end. It is very important to be committed to oneself.
Favorite energizing meal:
Blackberry sage tea soaked steel cut oats (or oat bran if I am in a rush) mixed with vanilla protein powder. It super-charges my morning and is a perfect winter breakfast. I also really enjoy egg scrambles with fresh basil, asparagus, sweet peppers and arugula.
What's your favorite way to chill post-workout?
A hot shower or a bath with epsom salts and essential oils! If I don't have the opportunity to relax, I've been known to pick up a latte as a reward for my hard work. I'll also go for an extended walk as a cool down and people watch or take in the day-to-day changes in my neighborhood.
What is your top kick-ass workout?
Thirty minutes of high intensity heavy weight training and plyometric drills followed by intense flexibility training in the sauna.
Where is your favorite/most unique place you've ever exercised?
My favorite is a heavily forested trail run. The most unique was probably a 10 mile run I did up a mountain in 12 degree weather. It took 6 miles for my toes to warm up! I will NEVER do that again!
What's the biggest lesson you've learned through sports?
My body is amazing. It can do the most incredible things and it is always doing its best to serve me, even when I've been reckless, irresponsible, or ignorant. I am really, really grateful for its ability to heal, rejuvenate, and keep up with my shenanigans!
Calling all female athletes (that means you!): Do you surf, ski, swim, climb mountains, mountain bike, compete in races or stay fit with any other sport? We want to inspire other women with your story. Send an email to editor@Blisstree.com with the subject "That Girl."
SUBSCRIBE TO & FOLLOW LIFESTYLE
We're basically your best friend… with better taste. Learn more