You're home for the holidays. You decide to take a stroll around downtown and wander into a local restaurant or boutique or Blockbuster (do those still exist?). You're minding your own business when out of the corner of your eye you spot a (vaguely) familiar face. Before you have time to quickly look the other way, walk swiftly in the opposite direction or take an imaginary phone call from your mother, you've made eye contact with an old acquaintance. The unique torture of unsolicited small talk commences.
The web is filled with information about how to deal with your family during Thanksgiving and Christmas -- we offered our own here, here and here. And we've come across many an office holiday party etiquette guide. But how do you deal with all of the old, now (or always) not-so-good friends that you inevitably cross paths with when you head back home (or who head back to you if you still live in your hometown)?
This "Socially Awkward Penguin" meme offers one option ...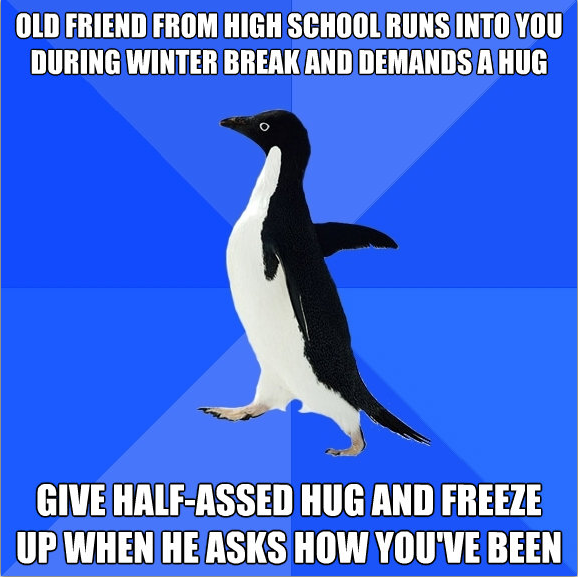 or you could read on for advice from Debra Fine, author of "The Fine Art of Small Talk."
According to Fine, the key to avoiding those freeze-ups is understanding the art of appropriate and engaging conversation -- and knowing when to suddenly realize that you have a pressing engagement to attend to. Most importantly, said Fine, "Don't let somebody hold you hostage."
In order to avoid a hostage situation and to not wear out your fake smile this holiday season, here are some do's and don'ts for dealing with -- and getting out of -- those all-too-familiar chance meetups.
Have more advice on how to deal with these awkward encounters (or any really fantastic, holiday-fail stories)? Let us know in the comments!
It's far too easy for conversations that don't involve close friends and family to sound like stilted AIM exchanges, circa 1999: "Hey, what's up?" "Not much, you?" "Same here." "Cool." Long, awkward pause ensues, except this time you're standing in front of each other, and you can't put up a Goo Goo Dolls lyric as an away message. To avoid these dynamics altogether, simply give a real answer to a question (while still keeping it short and sweet). "Most of us are lazy conversationalists," says Fine. "We're on auto-pilot. Give the person you're talking to the benefit of the doubt that they're genuinely interested, and give one full sentence ... Otherwise, conversations are like interviews." So if someone asks how you're doing, instead of just saying "Good," say, "I'm doing well -- I actually just got back from a business trip / moved apartments / started a new job." If the other person is genuinely interested, he or she will respond in kind. If not, you can head on your merry way.

Ever feel that even if you were a rocket scientist who just discovered -- and visited -- a previously uncharted planet, the first question you would be asked at any holiday gathering is, "Are you dating anyone?" For some reason, inquiring into other people's love lives has become a cherished seasonal activity. Here's what you don't want to say when your recently married arch frenemy from high school begins to probe your romantic life: "Well ... I'm single, but don't worry because I swear I'm dating, but it's just really rough meeting people in [insert any city here] and I'm so focused on my career right now and I don't need anyone to complete me, but I wouldn't say no to being set-up [insert uncomfortable laugh here]." "Women justify where they are [in terms of relationship status] when they don't need to," says Fine. "You're not required to give any information." Of course if you want to disclose exciting new developments, then go for it! But keep it short and direct.

"A lot of people ask really dumb questions," says Fine. (Has there ever been a truer statement?) And some of these questions are bound to put the person on their receiving end in an uncomfortable position. Cases in point: Are you in touch with your ex-boyfriend or ex-best friend? Did you get laid off? Are you still looking for a job? Are you still single? The best thing to do in these situations is to answer quickly and throw the ball back in your acquaintance's court. "So, bring me up to date on your life!" is an appropriate response. Then, enjoy not having to talk for a couple of minutes.

Just because an encounter gets a little awkward, don't feel the need to fill dead air space with endless, empty chatter. We're probably all guilty of rambling -- especially when we start to feel uncomfortable. But your best bet is to do yourself and the person you're talking to a favor and cut yourself off. This is where Fine's recommended one-sentence response comes in handy. "Conversations should go back and forth like a tennis match," Fine told The Huffington Post.

There's no more important skill during the holiday season than being able to make a graceful getaway. Fine suggests using "I need" lines. "I need ... to go to the store and pick up more cranberry sauce" or "I need ... to go to the bathroom" or "I need to go say hi to our other friend over at the bar." The only caveat? Make sure you actually do what you say you need so desperately to do. Otherwise you could get caught in an even more awkward situation. And if the person you're speaking with is in the middle of a very lengthy, mind-numbing story, simply give them a warning that you need to dip out of the conversation soon. To do this, Fine suggests simply saying, "What ended up happening?" which indirectly says "Hello there, the allotted time for us to converse is about to be up -- get to the end of your story."