Spanish tennis champ Rafael Nadal got a little cheeky over the weekend, greeting Argentinean player Juan Monaco in a particularly intimate way as you can see from the photo below.
The clearly chummy pair are gearing up for the Davis Cup finals in Seville, Spain. Nadal has revealed that he is hoping for a much needed mental boost before entering the 2012 season. "My dream is to arrive in 2012 in the right condition. Just to be perfect again," he has said. "I have definitely been a little slower lately, and that is because my mind wasn't perfect."
Check out Nadal's cheeky man-on-man greeting below: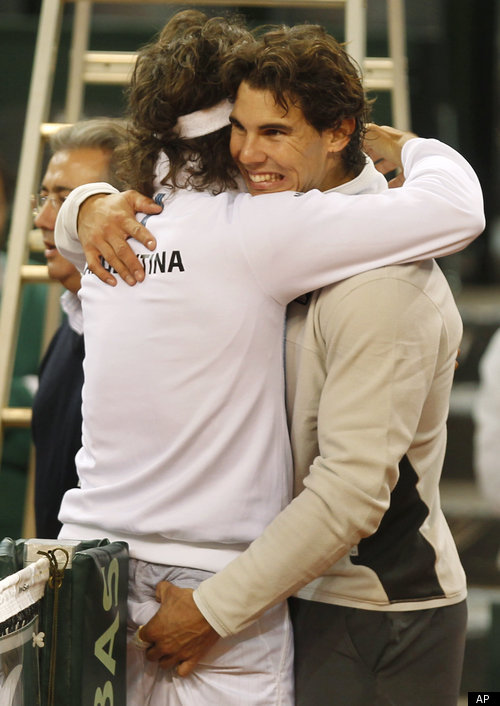 Of course, Nadal's grab isn't the first such gesture to raise eyebrows. Take a look at some other man-on-man moments in sports below:
Gay Moments In Sports 2011
Soccer stars Ronaldo and Rooney are known for being ladies' men. But this photo makes us question if they aren't finding love on the field, too.

A-Rod has reportedly wooed his share of ladies -- Madonna, Kate Hudson and Cameron Diaz among the more famous names. This embrace with teammate Derek Jeter make it look as if he's batting for the other team.

Enough said.

What's better than a soccer player twosome? A soccer player foursome!

Although Tim Tebow filmed a Superbowl commercial in 2010 for the anti-gay, anti-abortion organization Focus On The Family (FOTF), he seems to have no problem sharing a male-on-male lip-lock with fellow Bronco Demaryius Thomas in front of thousands of onlookers.

Iranian soccer player Mohammed Nosrati's backside squeeze of teammate Sheis Rezaei was enough to warrant more than just a scolding -- they were not only been banned from the league, but are prohibited from even stepping foot in a stadium.

Becks has never been modest, but he got tongues wagging when he revealed a full shot of his skivvies while dropping trou right on the field.

Nadal's steamy underwear ads made him a darling of both women and gay men.