Art Basel Miami Beach is the more celebrity-obsessed, nightlife-centric sibling to the original Swiss contemporary art fair. And while the main art fair in the convention center doesn't open to the public until tomorrow, many of the fringe and satellite events start today. Sure, there's nearly 20 satellite fairs, but it's the off-the-radar pockets of culture that are the true must-sees this week. Chief among them are feats of strength, an installation you can eat and swine performance art. Here are the top ten things to do on Wednesday.
Jennifer Rubell's Free Breakfast
For the 11th year, Jennifer Rubell, artist and daughter of art collectors Don and Mera, presents a free breakfast installation at Rubell Collection. Last year, she evoked Goldilocks with endless amounts of porridge (see the below video). This year, she presents Incubation, a meditation on creativity. In one gallery, yogurt will be made, and in another, the dairy product will be anointed with honey and then consumed. (Wednesday through Sunday, 9 a.m. to noon)
Video Art, Free and Al Fresco
For the first year, Art Basel presents their Art Video program for free to the public with nightly screenings at SoundScape Park. The series starts tonight with a collection of videos centering on the idea of Landscapes and moves onto Americana and Painterly work. Artists include Tracey Emin, Cory Archangel, and Ryan McGinley. (Wednesday, Friday, Saturday)
Mr. Brainwash Pop-Up Exhibit
Mr. Brainwash, street artist Thierry Guetta, rocketed to fame thanks to the Banksy film, Exit Through the Gift Shop. He returns to Miami for Art Basel with another pop-up exhibit at the condo space, Boulan South Beach. Last year he lined the building with armed storm troopers and a giant Albert Einstein figure with a sign: Love Is the Answer. (See below video.) (Wednesday through Sunday)
Miru Kim's Four-Day Pig Performance
Korea-American artist Miru Kim spent days with her naked body pressed up against filthy hogs for her photo series, The Pig That Therefore I Am. This week, she'll recreate the experience on a much smaller scale by living in a pen with livestock at Primary Projects. (10am Wednesday through the weekend, 24 hours/day)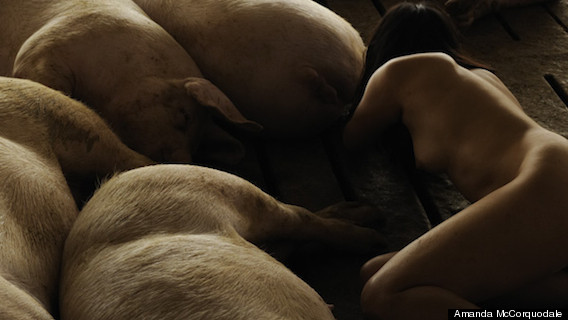 Seven Miami's Anti-Fair
Seven galleries created this fair after getting frustrated by the larger art fair's ten-page contracts of how they could exhibit their art. By abandoning the booth set-up, Seven Miami permits a dialogue between the exhibited artwork. It's a great antidote to the stuffiness that pervades much of the Basel festivities. (Through Sunday)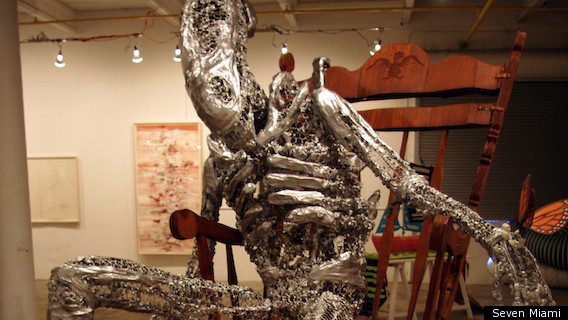 Shop Wynwood Walls
High-end brands such as Christian Dior and Pringle of Scotland are opening temporary shops for Basel. For the rest of us with reasonable budgets, Shop Wynwood Walls is the more accessible of this year's pop-ups. Look for limited edition T-shirts and prints by Wynwood Walls artists, including Shepard Fairey, Ryan McGinness, and Nunca. (Through Sunday)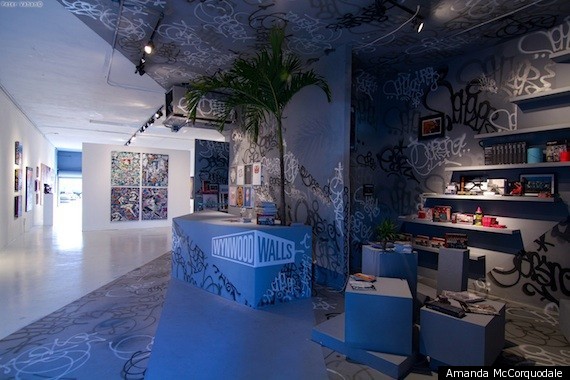 Longest Running Satellite Fair
The only satellite fair that predates Art Basel, Art Miami is a favorite on Basel itineraries. More than a few of the works will make you look twice. Last year we spotted stuffed sheep and bird bestiality.


Innovative Interiors
The official sister fair to Art Basel, Design Miami/ is a celebration of applied design – think home accessories, furniture, and other functional yet beautiful objects. There's always a healthy dose of mid-century eye candy, but this year, the main attraction is a luminous LCD floor installation. (Wednesday through Sunday)
Levitating the Fair
Los Angeles artist Glenn Kaino wants to test the public's support for the arts by asking hundreds of volunteers to lift up a 20'x20' platform for the duration of Art Basel. Those interested can sign up here. See it outside the Bass Museum in Collins Park. (Wednesday through Sunday)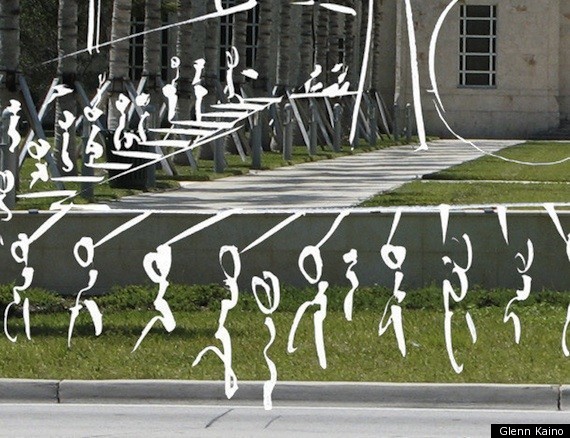 SUBSCRIBE AND FOLLOW
Get top stories and blog posts emailed to me each day. Newsletters may offer personalized content or advertisements.
Learn more