Greetings! Your humble arts team, Travis, Andrew and Priscilla, will be blogging live this week from Miami for the Art Basel art fair craziness. Make sure to check in to see the most exciting artworks, silliest outfits and craziest parties.
TV On the Radio played an inspired set on Friday night that was a work of art on its own. The band was in town for a Spotify showcase at the new Ricochet music venue in Midtown, playing an expansive set in an intimate venue.
From their soaring opener "Young Liars" on, the band seemed to be switching costumes like actors in a play. "Red Dress" gained a whole new life as a jazzy riff on relationship. At times the band flipped from country to rock and roll, and the overall effect was like some sort of mid-80s DC band pacing through the limits of punk.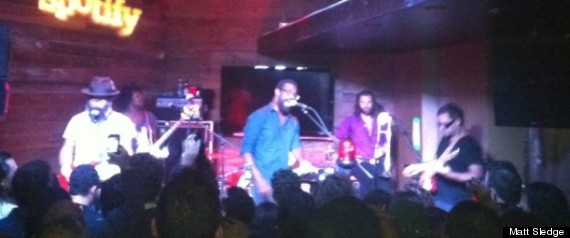 TVOTR's very appropriate closer: a cover of "Waiting Room" by Fugazi. Tunde Adebimpe's Ian MacKaye impression is very convincing.
The band may have been taking a page from video and performance artist Kalup Linzy, who opened the evening by singing a mesmerizing set of songs dressed in a red wig and a chintzy green bathrobe with a plunging neckline. Linzy's work, inspired by soap operas, has been picked up by MoMA's permanent collection and ballyhooed by James Franco -- but on stage he strikes an alluringly approachable presence, albeit a profanity-laced one.
The night was a homecoming of sorts for Linzy, who lives in New York but grew up in nearly gothic circumstances in the small town of Florida -- and upbringing that's left him with a strong Southern accent.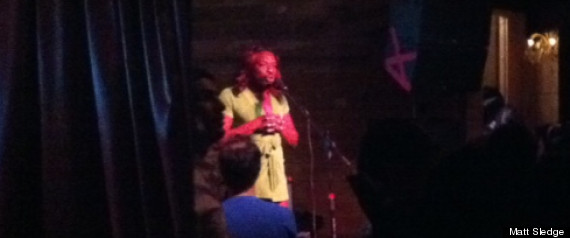 Standing in front of a sort of video collage of city streets at night, Linzy sang confusing, piercing songs about police and men, and sometimes both at once.
"Come and get this motherfucker police, I'm about to catch that case!" he belted out in one.
One line in another seemed like a shot at the world's most honest R&B song: "Fuck youuu, I don't need this abuse."
The night was part art, part music -- and all performance.
-Matt Sledge