Greetings! Your humble arts team, Travis, Andrew and Priscilla, will be blogging live this week from Miami for the Art Basel art fair craziness. Make sure to check in to see the most exciting artworks, silliest outfits and craziest parties.
12/05/2011 12:37 PM EST
TV on the Radio and Artist Kalup Linzy Put on a Play in Midtown
TV On the Radio played an inspired set on Friday night that was a work of art on its own. The band was in town for a Spotify showcase at the new Ricochet music venue in Midtown, playing an expansive set in an intimate venue.
From their soaring opener "Young Liars" on, the band seemed to be switching costumes like actors in a play. "Red Dress" gained a whole new life as a jazzy riff on relationship. At times the band flipped from country to rock and roll, and the overall effect was like some sort of mid-80s DC band pacing through the limits of punk.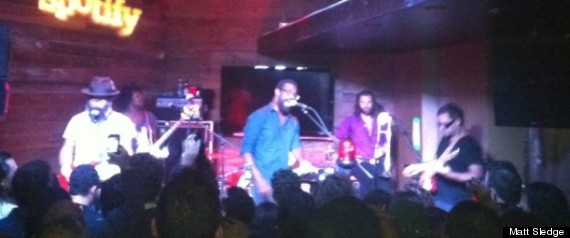 TVOTR's very appropriate closer: a cover of "Waiting Room" by Fugazi. Tunde Adebimpe's Ian MacKaye impression is very convincing.
The band may have been taking a page from video and performance artist Kalup Linzy, who opened the evening by singing a mesmerizing set of songs dressed in a red wig and a chintzy green bathrobe with a plunging neckline. Linzy's work, inspired by soap operas, has been picked up by MoMA's permanent collection and ballyhooed by James Franco -- but on stage he strikes an alluringly approachable presence, albeit a profanity-laced one.
The night was a homecoming of sorts for Linzy, who lives in New York but grew up in nearly gothic circumstances in the small town of Florida -- and upbringing that's left him with a strong Southern accent.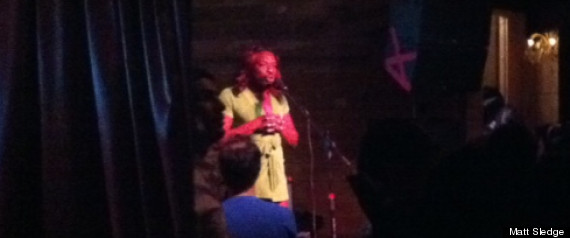 Standing in front of a sort of video collage of city streets at night, Linzy sang confusing, piercing songs about police and men, and sometimes both at once.
"Come and get this motherfucker police, I'm about to catch that case!" he belted out in one.
One line in another seemed like a shot at the world's most honest R&B song: "Fuck youuu, I don't need this abuse."
The night was part art, part music -- and all performance.
-Matt Sledge
12/02/2011 9:07 PM EST
I swear we're not just sucking up, but Nick Cave is perfect.
12/02/2011 8:19 PM EST
Nick cave video paired with a house beat that you can only fully hear on the Beats headphones. I feel that there's a metaphor here...
12/02/2011 8:08 PM EST
12 hours left in Miami
This is serious. Andrew ran off to mr chow with p.diddy while trav and I are on our way to nick cave/dre/party. Forever's gonna start tonight...
12/02/2011 4:57 PM EST
Scope Recap
Scope was a seamless mix of fine and street, no need for distinctions. As expected, Corey Helford Gallery set the standard for contemporary collectibles of the future with D* Face and Ron English. Even though consider the alternative my area of expertise, I was pleasantly surprised by Cooper Cole Gallery out of Toronto. They were easy to miss in the ruckus, but their roster of artists tells me that I should keep my eye on them. Overall, Scope is my kind of fair, but we'll have to see what Pulse has to offer.
- Andrew
12/02/2011 3:58 PM EST
Scope
Scopin out scope lol... So many juicy pics to come. -p.
12/02/2011 3:53 PM EST
Dental care
Had to floss alligator out of my teeth. Yes I had alligator for dinner. So much alligator... -p.
12/02/2011 1:55 PM EST
Scoping It Out
Leaving NADA for Scope right now, look forward to a big update soon with clips from Studio Voltaire and ADA Gallery.
- Andrew
12/02/2011 12:07 PM EST
Satellite time
We just finished up at the Sender collection, very progressive for a private collection and we couldn't think of a better way to start our day. There were staples such as Keith Haring and Barbara Kruger, but also some unexpected gems in Dash Snow and a bedroom filled with Sarah Lucas. We're off to Nada Fair now, stay tuned...
- Andrew
12/01/2011 10:49 PM EST
Headed to the Mondrian hotel for James Franco / Harmony Korine event. Hoping that it's a cross between Gummo and Spiderman. -Travis
SUBSCRIBE TO & FOLLOW CULTURE SHIFT
Every Friday, HuffPost's Culture Shift newsletter helps you figure out which books you should read, art you should check out, movies you should watch and music should listen to. Learn more