Thomas Friedman To Obtain Obama's Deficit Reduction Plan He Didn't Think Existed Thank you, Fox News' Ed Henry, for the scoop that Thomas Friedman is at the White House today, and for pointing out that he may, at this minute, finally be in possession of the very deficit proposals that the White House made months ago. These proposals, widely available on this thing called "the internet," have eluded Friedman for quite some time, if his recent columns can be used as a guide.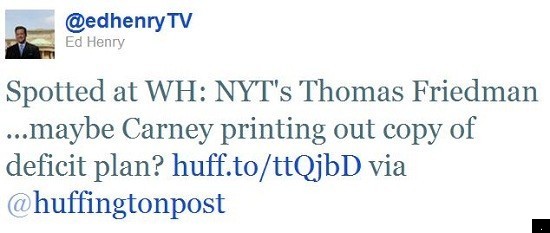 How will this affect Friedman's forthcoming output on the matter of "Grand Bargaining?" Let's just say that the next six months will be critical.
PREVIOUSLY, on the HUFFINGTON POST:
Thomas Friedman Needs Someone To Help Him Access Widely Available Facts About Politics
[Would you like to follow me on Twitter? Because why not?]