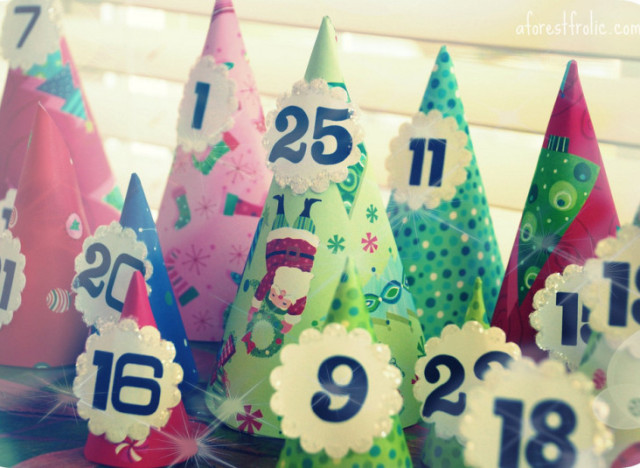 Flickr Photo by AForestFrolic
Alright, we admit it - we're a little behind on our holiday crafts. December came way too quickly this year, and for everyone who feels the same, here's an awesome last-minute DIY advent calendar that's big and bold. While most advent calendars are made for hanging, these cones can be set on top of the mantel or on a side table alongside fresh greenery and faux-cotton snow. To make one of your own, keep reading to get the full step-by-step.
What You'll Need:
Holiday themed paper
White paper
Paint brush
Scissors
Printer
Glitter
Glue
Tape
How To Make It:
1. Using a word processor, type out the numbers 1-25 in whichever fun fonts and sizes you want, and print the page(s) on white paper.
2. Cut the numbers out. If you have decorative scalloped scissors, use those, or try to make your own unique edge with normal scissors.
3. Place glue around the edges of the number cutouts using a paint brush and sprinkle the glitter on.
4. Let the numbers dry, and turn your attention to the holiday paper.
5. Take one page, roll it into a cone and tape it. (You can use glue too, it is just more difficult because you need to hold the cone in place until the glue dries).
6. Use scissors to trim the bottom of the cone, making it flat and able to stand on its own.
7. Repeat this process 24 times. (Remember to cut the cones to different sizes for more visual interest).
8. Use tape or glue to attach the numbers to the cones.
9. Find some treats and display your calendar!
Check out our other great DIY advent calendars below:
Craft of the Day: Advent Calendar
Count Down to Christmas With A DIY Advent Calendar