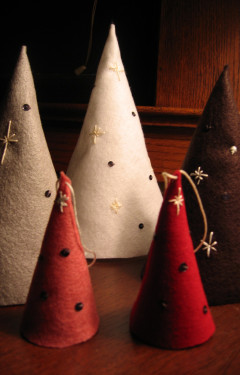 Flickr Photo by Brooke Raymond
Trees are a Christmas staple, and you may think one large tree ready for presents is all you need, but small decorative trees are important too. Our Craft Of The Day is the perfect accent piece for the mantel or an end table and is easy to customize for your decor. For a more traditional theme, use red and green felts, or for a more modern winter wonderland, try white felt with silver accessories. If you really want to be unique, try a blue or purple scheme - the beauty of trees during December is that they can match any style and still make people think of Christmas.
What You'll Need
Cone Foam Form
Felt
Needle and Thread
Glue
Sequins
How To Make It
1. Lay the Styrofoam cone on top of your felt and roll the felt around the foam.
2. Trim the excess off, leaving about 1/2-inch of overlap around the bottom of the cone.
3. Unroll the felt and add your embellishments. We suggest sewing on stars and sequins as shown above, but you can also add miniature ornaments or a faux-garland.
4. Spread glue around the cone and roll the felt back on.
5. Glue the overlap to the base and let dry. (For the best results, cut slits in the overlap before glueing so it folds easily and evenly).
6. If you want to make this an ornament instead of a table decoration, sew a loop of string through the tip.
And, be sure to check out our other great crafts in our Craft Of The Day slideshow below.
Have something to say? Check out HuffPost Home on Twitter, Facebook, Pinterest, Tumblr and Instagram.